7

min read
Regular radio has existed in Germany since 1923. Some companies created milestones of design through the innovative design language of their devices. This year, an exhibition and a conference at the Technoseum in Mannheim are dedicated to radio as a medium and phenomenon. Reason enough for us to pay tribute to radio and its anniversary.
By Gerrit Terstiege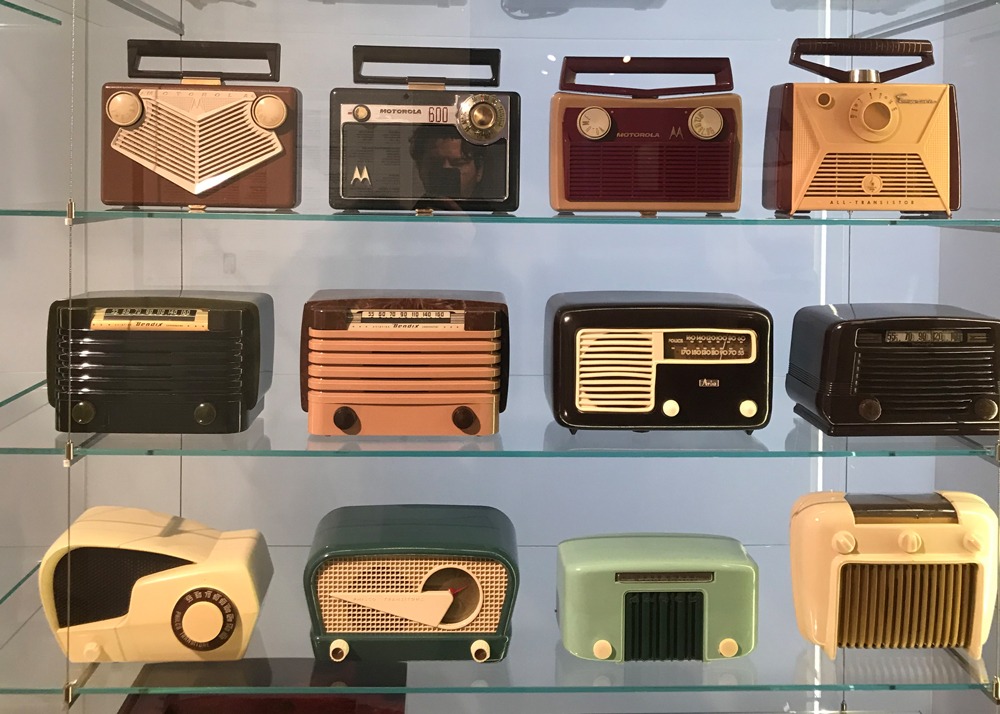 Melodious names in German economic history: AEG, Blaupunkt, Braun, Graetz, Grundig, Loewe, Nordmende, Saba, Schaub-Lorenz, Siemens, Telefunken, Wega. But hardly any of these companies, if they still exist at all, are likely to make significant revenues from the manufacture and sale of radios today. In many households, the devices that transform invisible waves into sounds have disappeared from everyday life. The radio most of us use today is flat, square and has rounded corners. We are talking, of course, about apps like "Simple Radio", "FM Radio", "radio.de" or "radioplayer" on our smartphones. The "Deutschlandfunk Audiothek" is also wonderfully rich. If you tap on the app icons of "WDR5", "SWR2", "br2" or "Byte FM", audible worlds open up that make it clear that the transformation from analogue to digital was and is the best thing that could have happened to radio "as an idea". Via podcasts, many are now becoming producers of acoustic content themselves – with social media as a feedback and resonance space.
Incidentally, Bert Brecht had already thought of radio as an interactive medium and formulated his vision as follows: "Radio is to be transformed from a distribution apparatus into a communication apparatus. Radio would be the most magnificent communication apparatus imaginable in public life, a tremendous channel system, that is, it would be if it understood not only to transmit but also to receive, i.e. not only to make the listener hear but also to make him speak and not to isolate him but also to put him in relation to others "1 Surprisingly contemporary thoughts!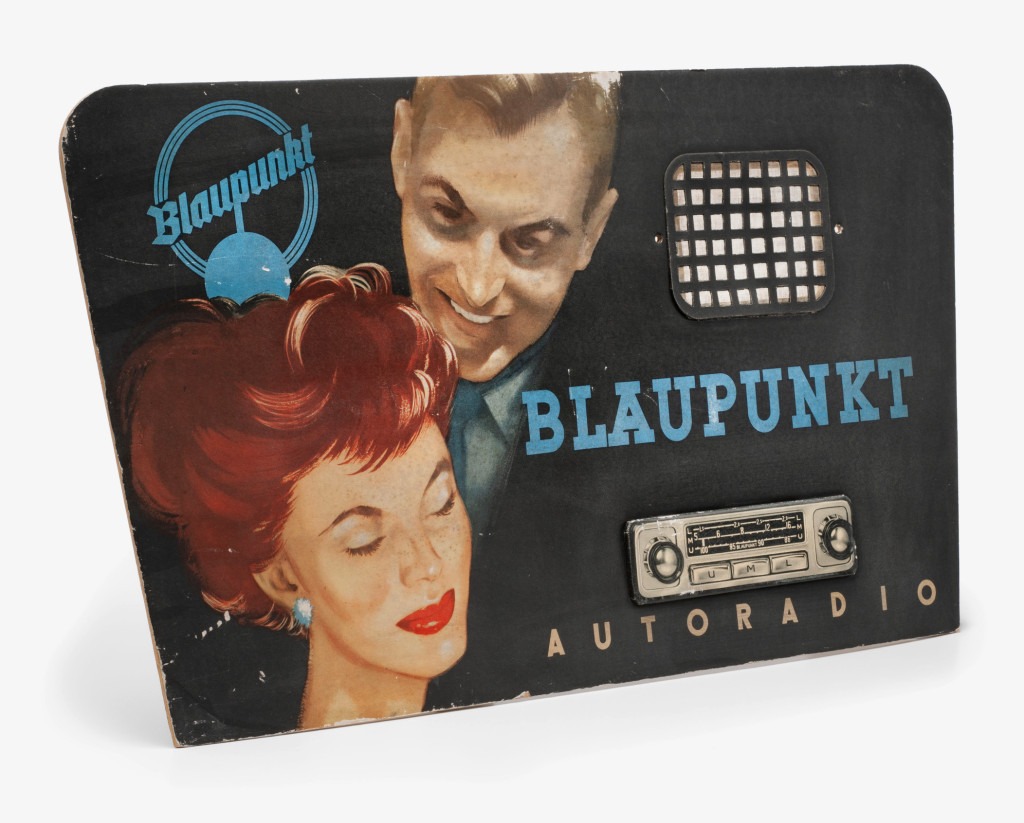 The Radio as a T-shirt
So cheers to digital radio – but those interested in design and design history will undoubtedly fall for the charm of historic devices, many of which are still broadcasting – even if many medium- and long-wave transmitters have disappeared. Some radio classics, such as the RT20 designed by Dieter Rams (produced from 1961), are now celebrated purely as cult objects on platforms such as Pintrest and Etsy, you can buy the graphically recreated layout of its front as a poster, there are the famous round of its loudspeaker perforations as motifs on coffee mugs and T-shirts – not to mention postings from all over the world on Instagram. Some even try to recreate the famous design from Frankfurt completely as a 3-D rendering, including the fine typographical division of its scale. Many only know the RT20 as a digitally reproduced emblem and know nothing of its wonderful sound – or of the enormous pressure you have to exert with your index finger to even turn it on. Only on the real object can one understand why Dieter Rams provided the five buttons with deep indentations: The fingertip should simply have a grip while pressing and not slip off. Welcome to the realm of real, analogue radio experience! Even though many examples of the RT20 by Braun, just like the "Nocturne" by Sparton, the "Toot-a-Loop" by Panasonic or the "Cubo TS 502" by Brionvega, have found their way into museum showcases, with a little luck you can still find such a design classic at an auction, stock exchange or on eBay and then enjoy it every day.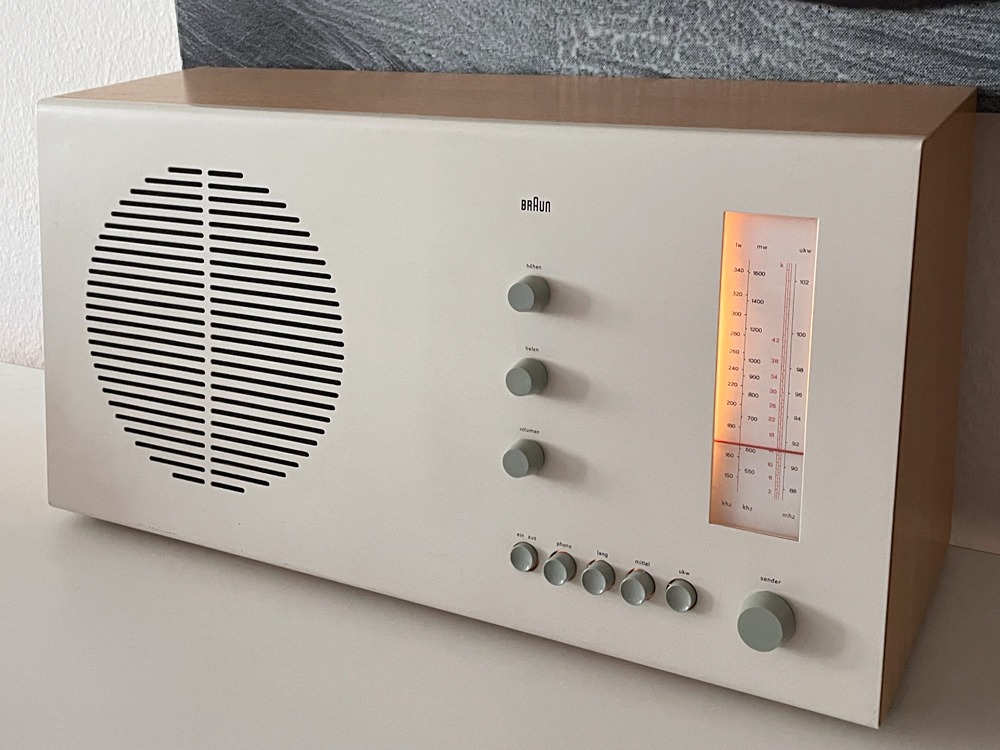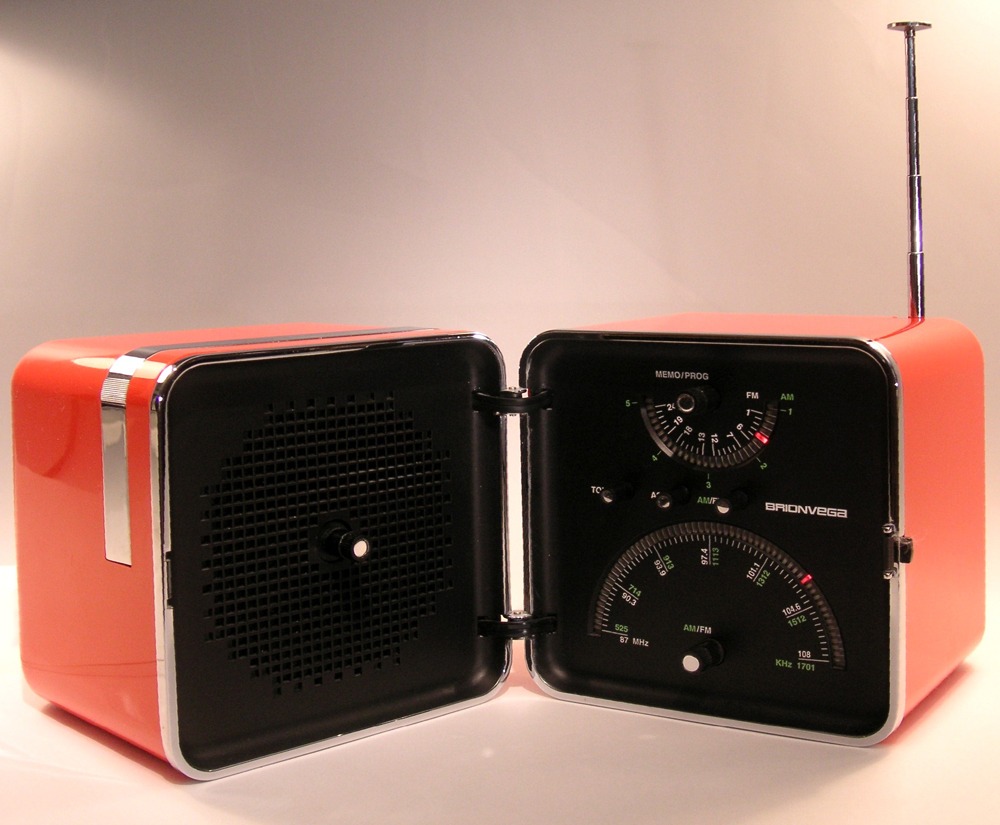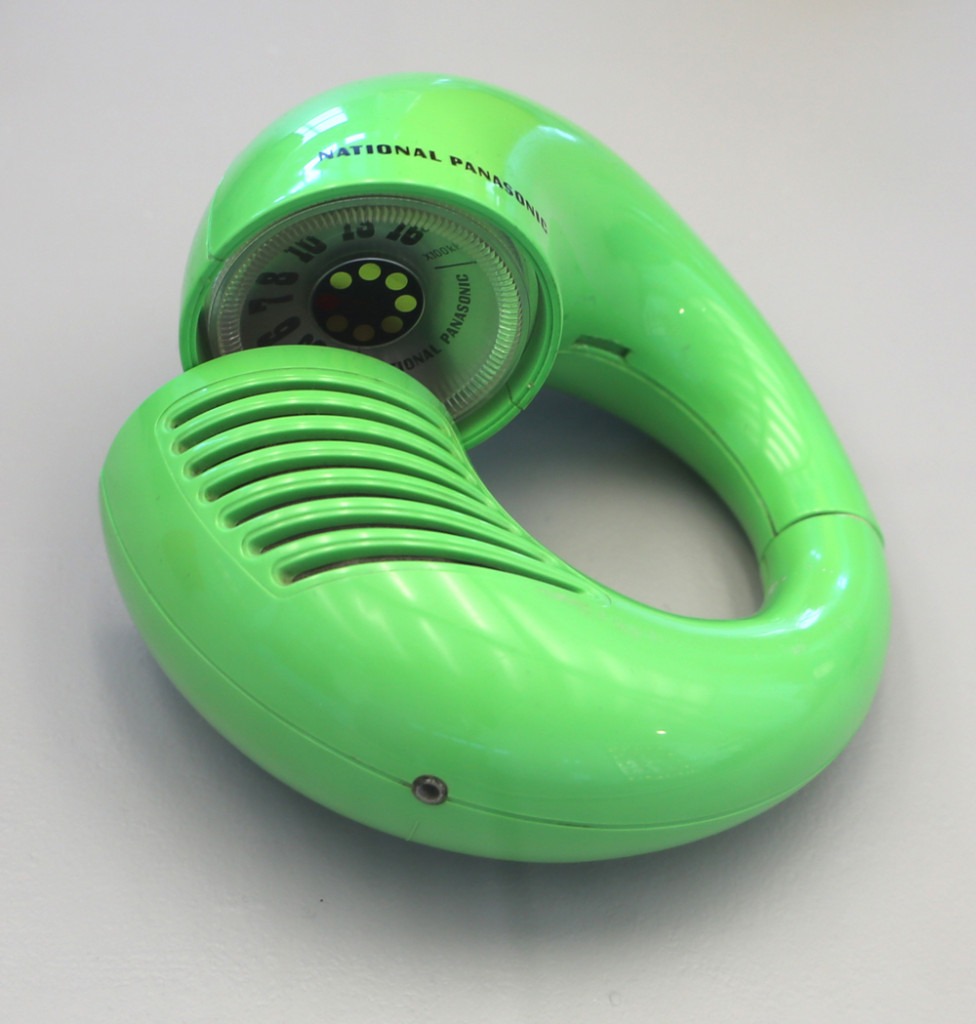 A Strange Incongruence of Content and Form
This is like travelling back in time, because you are still using an old technology in exactly the way it was once conceived. This is comparable to driving a vintage car – with the difference, however, that such a car, if well cared for, has the euphony of a historic engine, while the radios of past decades now emit the often disturbing news and sounds of 2023. This creates a strange incongruence of content and form, which can only be dealt with by connecting a modern Bluetooth transmitter to the RT20, for example, using the appropriate adapter – and this is technically no problem. In this case, it is again possible to determine for oneself which year, decade or century one would like to transport oneself to musically: Never before have various pasts been so easily retrievable. It's no wonder that new radios nowadays like to come in retro designs, in the nostalgic zombie design of past decades. All of a sudden, kitsch, chrome and textile loudspeaker covers that were thrown overboard by the Braun brothers, Fritz Eichler, Hans Gugelot and Dieter Rams in the mid-1950s are back.
The Present of the Past
Just type "retro radio" into the Google image search – what you see here is often window dressing: brand-new radios in the old bulky look, with dark veneer and shiny golden trims made of brass or lacquered plastic that make you think the aesthetic achievements of the last 70 years did not exist. Formal quotations, however, can be made in kitschy as well as clever ways. Even the last radio racer to date, which enjoyed great popularity for a long time due to its strong FM reception and is still appreciated by many today, picks up on the sixties aesthetically: The "Tivoli Audio Model One", was a must-have a good 20 years ago. It is based on a design by the American engineer and tinkerer Henry Kloss (1929-2002) and its basic model still wants to be nothing more than a simple radio with excellent mono sound and a strikingly large button for station search. No one misses something like "automatic station search" or a digital display that lists preset stations. After all, you usually only have one or two favourite stations anyway – and when you make your way from one to the other, you hear fragments for seconds of the most horrible radio spots from local furniture stores or music you didn't even know you detested! Yes, the radio is by no means a medium that consistently elicits pleasure. Sometimes you just have to turn off the power.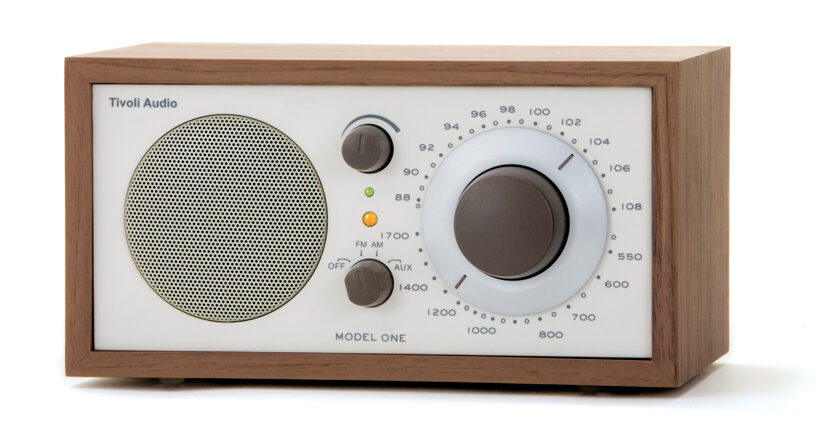 This is why branding became so important for broadcasters from the 1990s onwards: the clear acoustic focus on target groups now ensures that the programmes and music genres find broad appeal in the respective segments. The price for so much congruence with diverse tastes is probably that surprises and musical discoveries become rarer. At least when listening to your favourite station. But who still dedicates themselves to one station alone? While cooking at home or on long car journeys, podcasts (including 30 ndion episodes by now), curated playlists, thousands of audio books and stations from all over the world entice us: from obscure student pirate radio to the 101 episodes of the "Theme Time Radio Hour" by Nobel Prize winner for literature Bob Dylan.
---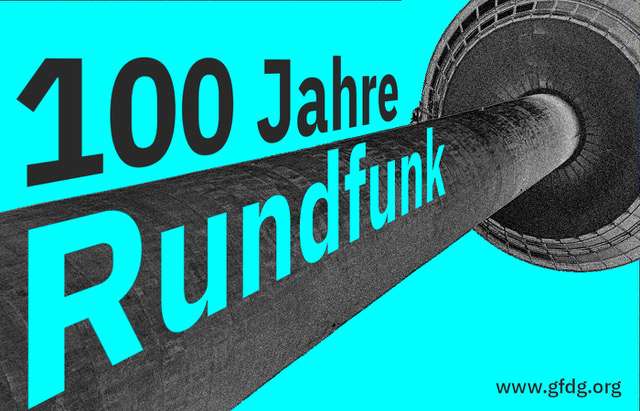 On 2 and 3 June, the annual conference of the Society for the History of Design entitled "100 Years of Broadcasting" will take place in Mannheim's Technoseum, the State Museum for Technology and Labour. The house is a cooperation partner for the conference and brings together the collections of the Rundfunkmuseum Berlin, Südwestfunk and the WEGA-Werksammlung.
Until 12 November 2023, the exhibition "Auf Empfang! The History of Radio and Television", which is complemented by a catalogue well worth reading.
---
1 Bertolt Brecht: Der Rundfunk als Kommunikationsapparat. Speech on the Function of Broadcasting; Proposals for the Director of Broadcasting; Radio – an antediluvian invention? All in: Werke, vol. 21, Schriften I, Berlin u.a. 1989.
---
More on ndion
More articles on the topic of product design.
---
---
Share this page on social media: