5

min read
They are reduced, spartan – quasi the underdogs of furniture design: stools. One of the classics of this genre is undisputedly the "Stool 60", which Alvar Aalto designed 90 years ago. For the anniversary, Formafantasma have presented a version that uses defects in the wood to emphasize sustainable raw material management.
By Thomas Wagner
Squatting is not sitting. If you squat, you crouch in a more or less hunched posture. Only one's own body tension, which is not supported by any backrest, ensures an upright posture, whether on a stone or a stool. Gladly an excess of statics is imputed to the squatting: If you squat (not just at school), you can't move. Which is why activity junkies notoriously despise peaceful parlor and stove stools. As far as the design task is concerned, the furniture designed for civilized squatting is not simply chairs without backrests. Among furniture designers, the idea circulates that designing a chair means competing in a supreme discipline; the design possibilities are limited, the solutions already realized legion. This is hardly any different with stools, although the design appeal of achieving a functional and aesthetic maximum with minimal means is probably even greater.
Underdogs of furniture design
Charm or king discipline – stools are often regarded as the underdogs of furniture design. Nevertheless, there is no shortage of well-known models. Even some new stools, such as Steffen Kehrle's "ADD Stool" for Stattmann, have tried their hand at an original interpretation within the typology in recent years. Fritz Hansen has just introduced one designed by Cecilie Manz called "Taburet." Made of FSC-certified solid wood, the stool follows the principle of a box rounded at the back and open on two sides – balanced in dimensions and handcrafted. Whether a seat, side table or step is needed, a stool is quickly at hand. The classics include Max Bill's "Ulmer Stool" as well as the Eames' examples turned from walnut, the massive E15 "Molar" by Philipp Mainzer, the "Tabouret Berger" by Charlotte Perriand reminiscent of a milking stool, and the simple Eiermann stool "S 38 S/1". Not to forget the "Butterfly Stool" by Sori Yanagi as well as "Sella" and "Mezzadro" by the Castiglioni brothers.
Fabricate right-angled bent legs
Another famous classic celebrates its 90th birthday this year: Alvar Aalto's "Stool 60". In Aalto's resonating spaces, the three-legged stool made of birch wood forms almost something like the basic unit of his design grammar. In addition, Aalto was a master of detail who dealt flexibly with standardized processes. It takes 24 work steps in the Artek factory near Turku to turn the trunk of a Finnish birch tree into the L-shaped foot for a "Stool 60". To make the typical legs (in the past, they were bent by hand), several slots are sawn into a piece of squared timber on one side, filled flush with strips of veneer, and, provided with glue, bent at right angles using wooden molds and heat. After six minutes, a set of several legs is formed into shape, as used for the famous stool, but also for chairs and tables.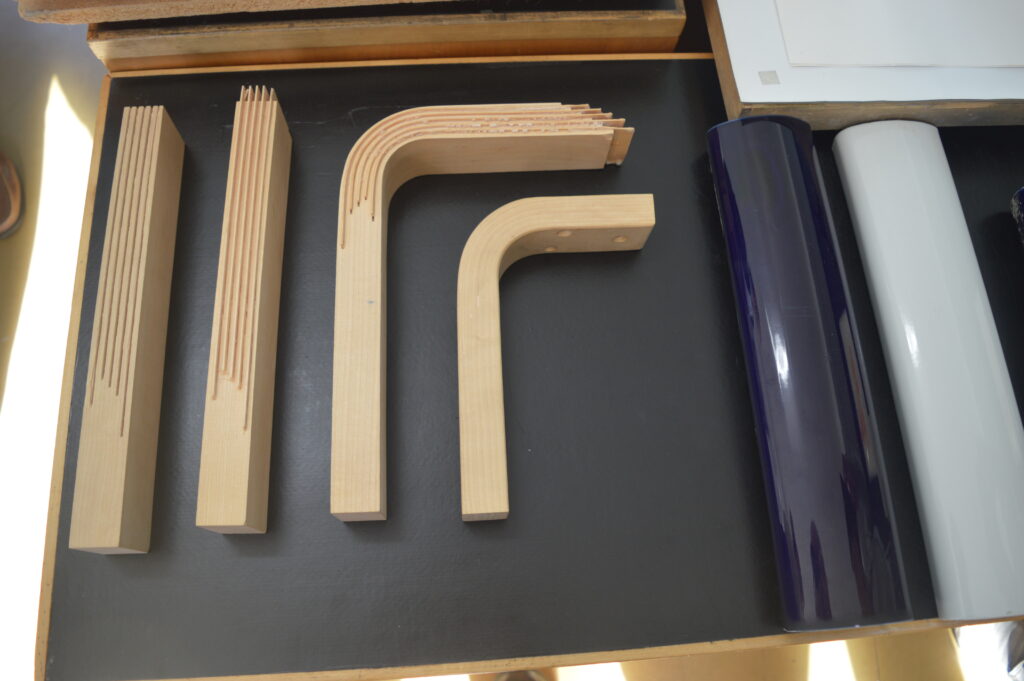 Artek
Aalto designed the "Stool 60" in 1933 for the seating of the library in Viipuri (now in Russia). Despite numerous copies, the stool has since become the main export of Artek, founded in 1935 by Alvar Aalto, his wife Aino, the art historian Nils-Gustav Hahl and the industrialist's wife, art collector and art patron Maire Gullichsen. There were many reasons to set up their own sales department: It was necessary to become independent of other manufacturers when furnishing one's own buildings, to take the distribution of Aalto's furniture and glassware into one's own hands, and, it must not be forgotten, to promote modern living culture through events and exhibitions as well as the issuing of publications and a trade journal. The name was programmatic: Artek is a combination of "art" and "teknologia" (technology) in Finnish, which, in the spirit of Bauhaus and International Style, manifested Aalto's desire to unite art, technology and function in the spirit of a new way of life.
It's not a bug, it's a feature
To celebrate the anniversary of "Stool 60", Artek has teamed up with Italian design studio Formafantasma to present a new version of the classic "wild birch" chair, designed to promote a more sustainable and responsible use of wood. The "Villi" variant (which means "wild" in Finnish) showcases the natural characteristics of the wood – and deliberately celebrates the quality of imperfection. In addition, Artek aims to make manufacturing even more sustainable, as evidenced by the fact that the company recently began offering a lifetime warranty on all of its Stool 60. With their versions made of wood, which is not regularly used in the production of the stool, Formafantasma confirm a trend: as a research-based design studio, Andrea Trimarchi and Simone Farresin deliberately design products not only for international manufacturers; in teaching assignments, research initiatives and exhibitions such as "Cambio" and "Oltre Terra. Why Wool Matters" they address the boundaries between design and the natural environment, investigate material supply chains and their (adverse) consequences – as well as the potential of design to initiate and shape transformative processes.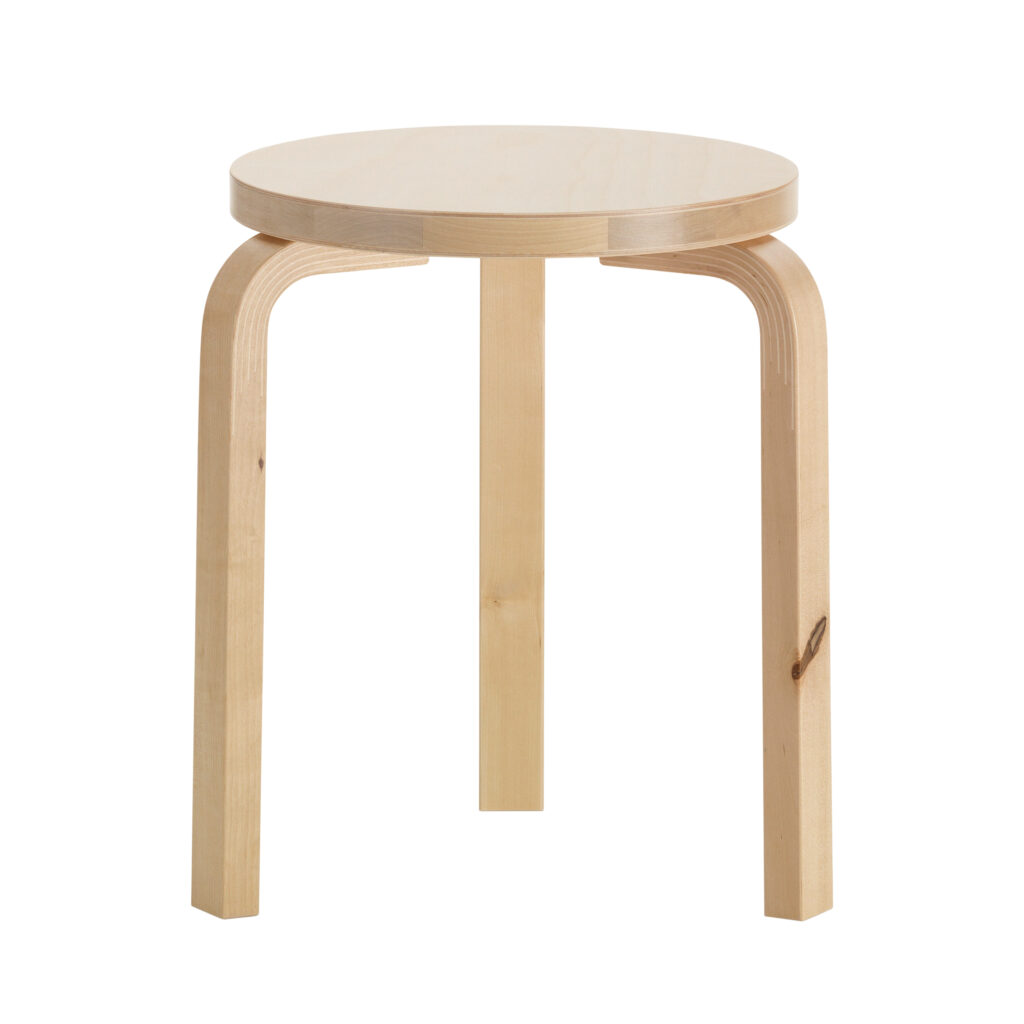 The initiative fits well with Aino and Alvar Aalto's approach of using local wood to develop a design alternative to the machine aesthetic of bent steel tubing. Alvar Aalto, Formafantasma says, began working with the limits and possibilities of the local context: "The technology and techniques he developed came from the forest." Today, more than 80% of Artek's furniture is still made from 50- to 80-year-old native birch trees that are grown, felled and stored to dry near the factory. According to a winged word from the tech scene, the "wild" specimens present themselves according to the motto: "It's not a bug, it's a feature." Flaws in the wood such as knotholes and imperfections, traces of insects or darker heartwood are neither removed nor hidden; instead of being flaws, they are presented as visible signs of a sustainable and nature-loving culture of authenticity – each stool a unique specimen. The "wild birch" is not only used in the "Stool 60 Villi" and its four limited variants "Bark", "Core", "Knot" and "Trail" (some are already sold out), it is to appear in the entire range in the future.
---
More on ndion
More articles on the topic of Design.
---
---
Share this page on Social Media: