5

min read
Nike with Tiffany & Co., Ikea with Lego or Snocks with Airwaves: the list of brands making common cause is long. And there's also a long list of advantages that the collaboration brings for both partners: Attention, image transfer, new target groups – in other words, a rule-breaker that no one expected. But not every brand date turns into a great love affair.
By Julia Gundelach
Many sneaker fans had marked March 7 in red on their calendars this spring. It was the launch date of a collaboration between two partners that surprised many: With Tiffany & Co. and Nike, two iconic American brands teamed up to launch a new pair of shoes: the Nike / Tiffany Air Force 1 1837 model. "A legendary pair" – that's how succinctly the partners announced their collaboration on Instagram. 1.4 million followers liked it. The sneaker, emblazoned with the famous Nike swoosh in the world-famous Tiffany Blue (the color, by the way, was developed by Pantone especially for Tiffany and is officially called "1837 Blue", named after the founding year of the jewelry brand), was only available in select boutiques, and fans could also enter a raffle via the app for a chance to snag a pair.
But it wasn't just sneaker fans who got their money's worth from this collaboration – sneakers were suddenly socially acceptable for loyal Tiffany & Co. customers, too. A plus for both brands, who not only managed to sell a new sneaker model within minutes with this extraordinary collaboration. It also caused a worldwide sensation in the media and social networks.
No industry boundaries
Brands joining forces for individual projects is not a rare phenomenon. Whether it's furniture manufacturer Ikea teaming up with Lego to launch a storage box for the Danish Klemm building blocks, Philadelphia cream cheese refined with Milka chocolate, the Königliche Porzellan Manufaktur Berlin launching plates by furniture designer New Tendency, or DHL and mybudapester.com with sneakers in a yellow Post design: the list of brand collaborations and co-brandings is long. And extends across all industries, boundaries are virtually nonexistent. And that's what makes them so exciting. Because that's how things that don't necessarily belong together at first glance come together. But they work together nonetheless.
Why do brands often perform so well together, and what is the secret behind the collaborations? "It sounds banal, but for a successful cooperation, it is first necessary to define what success means," explains Colin Fernando, brand expert and partner at Brandtrust, management consultancy for brand-centric business management. "What are the goals? What does the brand need and through which cooperation can I achieve these goals? That's why a successful collaboration starts with clarity of purpose."
The right partner as a basis
And of course with the search for a partner – the basis for the success of a cooperation. It, too, depends above all on what brands actually want to achieve with their cooperation: tap into new target groups, position themselves in a new area, rejuvenate the brand, attract attention, develop innovative products, become more attractive; if you know exactly what you want to achieve with the partnership in the first place, you also know with whom at your side this is most likely to succeed.
A look at the target groups also makes the search for a partner more successful: those who rely on brands that represent a similar target group and comparable values increase the probability of success. "In particular, the current status quo of the brand should be considered: How well known is the cooperation brand? How attractive and appealing is the brand? What does it stand for?" says Fernando. The expert has an example for this: "A brand with a high level of awareness cooperates with a rather unknown, up-and-coming brand. If the goals for both sides are not clearly defined here, a one-sided advantage quickly arises: The lesser-known brand gets a boost in awareness and attractiveness. The 'big' brand is left with a few sympathy points in the most positive case."
Small plus big
But the example of small, up-and-coming plus large, established brand can also be successful, as shown by Snocks and Airwaves: together, the partners launched Snocks socks with a chewing gum logo. Chewing gum and socks? It's not as far-fetched as it sounds. After all, it's okay to be a little "fresher" on the feet, too. Win-win for both brands: "For Airwaves, the result was a kind of rejuvenation; for Snocks, it was a boost for the still young socks and underwear brand," explains Colin Fernando.
Eyes open when choosing a partner
If brands choose the wrong cooperation partner, the consequences can be disastrous. A famous example is Lego, which almost ten years ago gave Lego racing cars to Shell customers at gas stations, including Lego figures with Shell logos and tank trucks. Criticism from Greenpeace followed promptly, and the toy manufacturer ended the cooperation.
More recent is the case of Adidas and Kanye West: a popular rapper designs sneakers for a popular brand – what initially sounded like a guarantee of success was quickly over when Kanye made anti-Semitic comments and became a problem rapper. Where to go with the shoes now? In May, Adidas announced that it would sell some of them and donate the proceeds. Certainly a good idea, because choosing the wrong partner is one thing – dealing with it when there are problems is another. "If scandals are not managed properly, the spill-over effect occurs – both brands are negatively impacted," says brand expert Colin Fernando. "Calculated rule-breaking is good. But there's a fine line to irritating and scaring off existing customers and fans."
Cooperations as a marketing tool
For some brands, breaking the rules through brand collaborations is practically part of the daily business – like smoothie manufacturer True Fruits: Whether it's Kinder Em-Eukal ("Cough? Fuck off"), Cini Minis ("Are you still all crunchy?"), Ahoj Brause (Ahoj shots) or the CBD brand Ottmanns (with grinder in the bottle cap), the juice brand always brings unexpected partners into the bottle and is loved by fans for it ("When will there be more?"). It's worth it for everyone involved, explains Colin Fernando: "By choosing unusual collaboration partners, True Fruits usually lands a rule-breaker, which in turn creates buzz and attention for both sides." Brand fans are happy, too. Win-win.-win, what more could you want?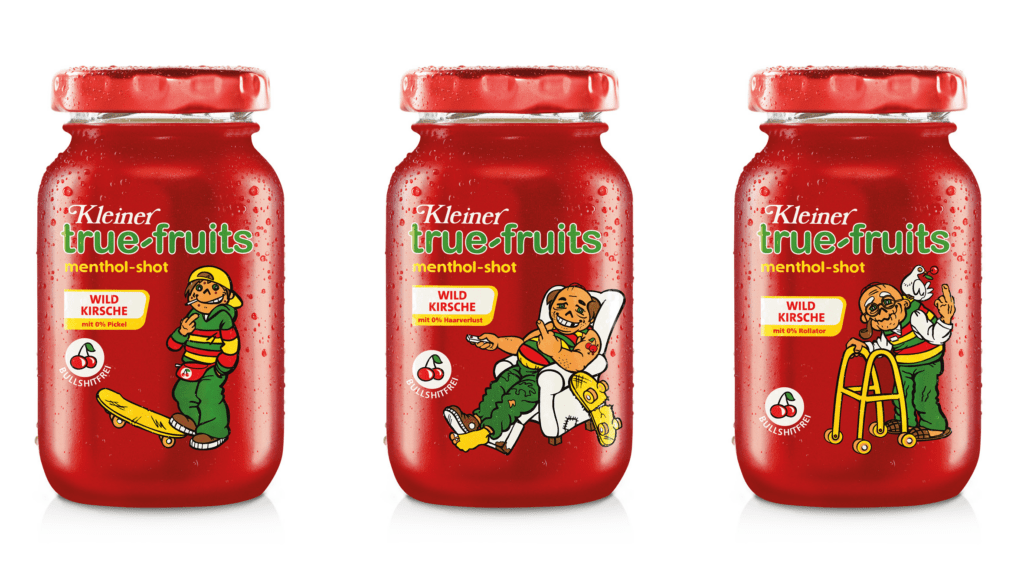 ---
More on ndion
More articles on the topic of brands.
---
Share this page on Social Media: