2

Min Lesezeit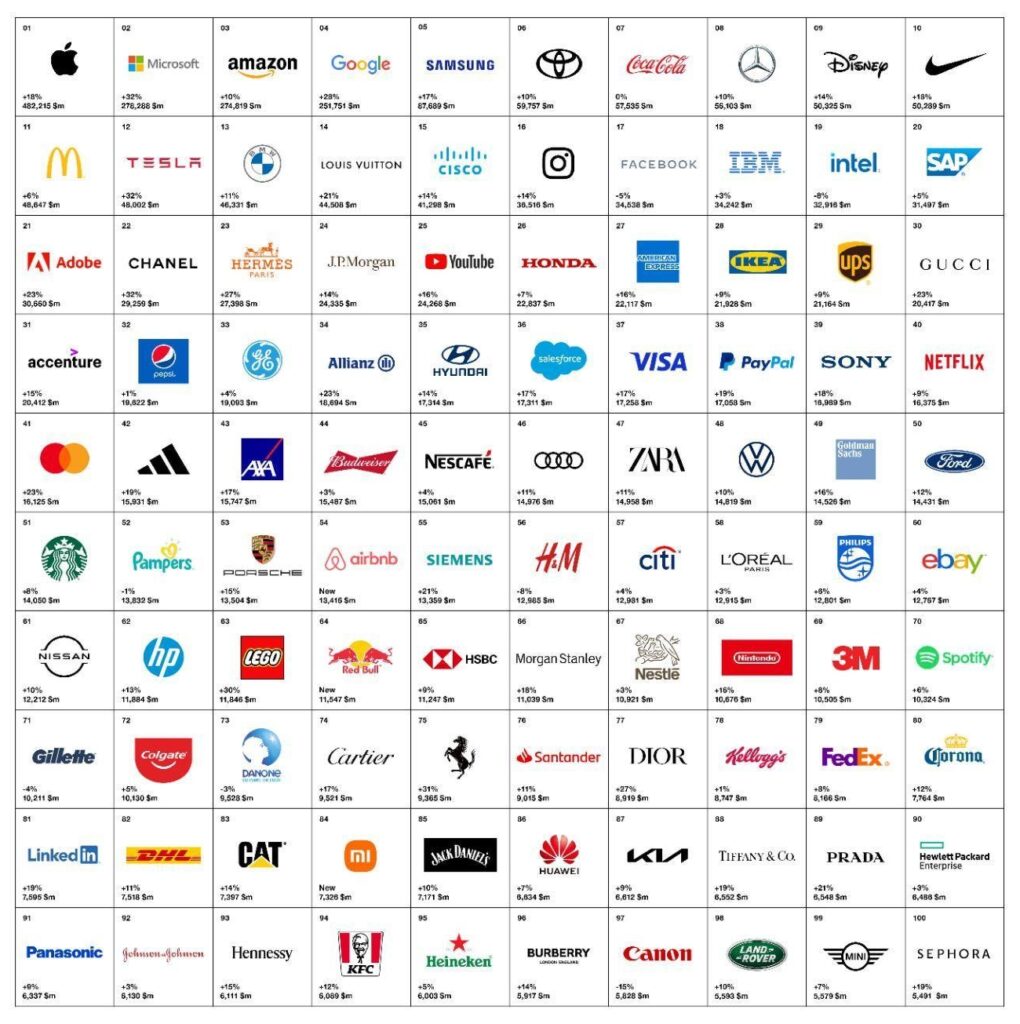 In the summary of the current study "Best Global Brands 2022", the agency Interbrand states: "The top 10 brands account for 53% of the total value of the table. For these brands, we see exponential growth and the emergence of a 'super league'. Based on exceptional experience and strong integrity, these companies can go in different directions and increase their share of customers' lives as well as their brand value and market capitalisation." In short, the process of concentration continues in the brand sector. The top 10 brands are worth more than the other 90 brands combined, with a brand value of $1.65 trillion this year.
Interbrand's 23rd annual report, entitled "Brands as Acts of Leadership", analyses "how the world's leading brands successfully navigate a rapidly changing corporate landscape". Brands that "aspire to true leadership" are expected not only to "deliver exceptional experiences for their customers, but also to act with integrity and do the right thing for people and the planet". The report covers the period from 1 June 2021 to 30 May 2022; analysis took place from June to September 2022.
The current ranking of the Top 100 Brands records a 16% increase from the previous year, surpassing the three trillion US dollar mark for the first time. Apple (brand value 482.22 billion USD; +18%) remains in first place for the tenth year in a row. The technology group can thus extend its lead over Microsoft (No. 2; 278.29 billion USD; +32%) and Amazon (No. 3, 274.82 billion USD; +10%), which have swapped positions compared to last year. Microsoft is thus worth more than Amazon for the first time since 2017. Google occupies 4th place with a brand value of USD 251.51 billion (+28%), the same as last year, while Samsung takes 5th place (USD 87.69 billion; +17%). Toyota (59.76 billion USD; +10%), Coca-Cola (57.54 billion USD; +0%), Mercedes-Benz (56.10 billion USD; +10%) and Disney (50.33 billion USD; +14%) follow in 6th to 9th place. Nike enters the top 10 for the first time with USD 50.29 billion (+18%). Mercedes-Benz is thus the only European brand in the top 10 of the Best Global Brands.
With 32% each, Microsoft (2nd place), Tesla (12th place) and Chanel (22nd place) have recorded the largest percentage growth. Luxury brands Dior, Chanel, Hermès, Gucci, Louis Vuitton and Prada are growing particularly strongly this year, with an average growth rate of 22%. Airbnb (54th), Red Bull (64th) and Xiaomi (84th) are new additions in 2022; Uber, Zoom and John Deer, on the other hand, have dropped out of the top 100. Losers include Canon (-15%) and H&M (-8%). Overall, only seven brands have lost value this year; in 2021 there were 15 brands.
Eleven German brands are among the 100 Best Global Brands in 2022. All of them can report clear growth. The brands Allianz (rank 34; +23%), Adidas (rank 42; +19%) and Siemens (rank 55; +21%) shine with the highest growth rates in the German market. SAP in 20th place grows by 5%. The German car manufacturers are also stable and, with the exception of Mini (99th place; +7%), can report double-digit growth: Porsche (53rd place; +15%), BMW (13th place; +11%) and Audi (46th place; +11%), Mercedes-Benz (8th place; +10%) and Volkswagen (48th place; +10%).
---
More on ndion
Discover more articles on the topic of brands.
---
Share this page on Social Media: