6

Min Lesezeit
From its base in Brakel in Ostwestfalen, FSB has made a name for itself worldwide as a specialist for aesthetic and functional hardware solutions as well as for barrier-free furnishing systems. The metalworking company sees itself as a pioneer in environmental protection and sustainable production. Managing directors Tobias Gockeln and Jürgen Hess have jointly headed FSB since 2022 with the aim of rapidly driving forward transformation processes in terms of sustainability. The CO2 footprint is to be reduced to a maximum in the course of this.
By Heike Edelmann
As a manufacturer with a high level of design competence who produces holistically oriented components and systems, Franz Schneider Brakel – FSB for short – has been a well-known address for architects and planning offices since the 1980s when it comes to equipping building projects with handles that are harmonised in terms of design. Traditional craftsmanship and high-tech complement each other in the manufacturing process. Yet many work processes at FSB, as a metalworking company, are still very energy-intensive today. Since the beginning of 2022, the two managing directors Tobias Gockeln and Jürgen Hess have been running the company. Since then, they have been pushing investments in advanced technologies to minimise the climate effects of production. On the company premises in Brakel, many complementary individual measures ensure that energy consumption is reduced and fed from the most renewable sources possible.
Multifaceted Measures to Improve the CO2 Balance
A local heating system connects FSB's production halls with a wood-processing company, Becker Brakel. The specialists for moulded wood products in the neighbourhood use wood waste thermally, which benefits FSB's hall heating and production. In this way, more than 3,000 MWh of gas can be saved per year. Hot and warm water are also supplied by local heating.
In order to be able to determine the carbon footprint of a particular product, FSB looks at the entire life cycle – starting with development, production and distribution, through use to the return of its components to the production cycle. Digitalisation supports the monitoring and streamlining of production processes. Resource use can be reduced in this way, and rejects can also be kept to a minimum. Recycled materials also help to reduce the consumption of raw materials. The "10 rules for sustainable product design" defined by the company help to reduce material consumption and increase the reusability of products after their useful life. In addition, modularly designed systems facilitate repair and maintenance, making FSB's products long-lasting and contributing to sustainability.
Recyclable and New Materials
Aluminium, stainless steel and bronze are the main materials used at FSB. In production, care is taken to ensure that their respective properties are optimally utilised. Aluminium can be recycled again and again without any loss of quality. FSB processes "Hydro REDUXA Aluminium", whose carbon footprint is a quarter of the global average. Furthermore, Tobias Gockeln and Jürgen Hess have set themselves the goal of using more secondary aluminium for production. Recycling secondary aluminium requires only five per cent of the energy needed to produce primary aluminium. To increase the proportion of secondary aluminium, FSB has initiated a research project with the Bergakademie Freiberg and the aluminium manufacturer Hydro.
As FSB's recycling rate of 75 to 90 percent shows, stainless steel can also be recycled well. In the production of bronze, which consists mainly of copper, a large proportion of the energy required can also be saved through recycling.
Close Cooperation with Development Partners
The FSB team attaches great importance to ensuring that the raw materials used are obtained in as environmentally compatible a manner as possible. It is also important to reduce the use of hazardous substances and heavy metals in production to a minimum. Together with university research and development partners, the company is exploring the possibility of using non-metallic materials such as biocomposites for the environmentally friendly production of handles for doors and windows in future. Initial tests suggest that such materials meet the qualitative requirements that are a matter of course for the production of high-quality handles.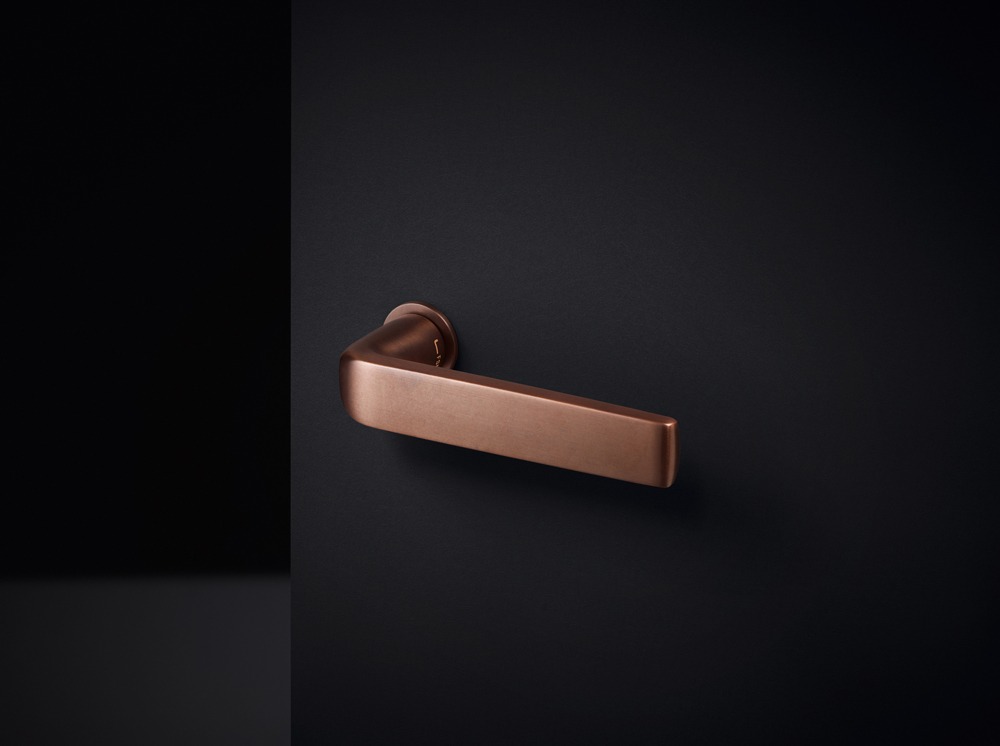 FSB is relatively independent of complex global supply chains due to the high degree of vertical integration at the Brakel site. By involving regional partners, long transport routes are avoided and at the same time the economy in the immediate vicinity is strengthened. Around 93 percent of suppliers come from Germany, another five percent from Europe and only two percent from countries outside Europe. FSB is constantly looking at how transport for materials and products can be better bundled and routes further optimised in order to come a step closer to climate neutrality.
Ambitious Goals for Production
Today, architecture and planning offices must use technological standards to ensure that their designs are ecologically, socially and economically sustainable. Buildings are certified, components and their sustainable properties play a decisive role. FSB wants to be a reliable partner for the building industry and therefore also sees itself as responsible for vigorously reducing the carbon footprint of its products.
In order to further reduce energy consumption from fossil fuels in production, Brakel is increasingly using renewable energy sources such as solar energy or district heating. Within two years, 10 percent of electricity consumption and a quarter of natural gas consumption have been saved. The roof insulation of the largest production hall was energetically renovated and completely covered with photovoltaics. In 2022, a compressed air system with heat recovery was put into operation and a catalogue of measures for sustainable corporate strategies was developed.
FSB – Pioneer for Environmentally Friendly Manufacturing
The company sees itself as a pioneer of sustainable production. "We started thinking about the ecological impact of our actions about 30 years ago," says Wolfgang Reul, Head of Communication Architecture. At that time, the topic of sustainability was still wearily smiled at." As early as 1991, FSB concluded Germany's first company agreement on environmental protection. In 2010, the manufacturer from Ostwestfalen was the world's first company in the building hardware sector to implement environmental product declarations in accordance with ISO 14025.
Improved heat recovery for the refrigeration systems and the commissioning of the photovoltaic system are planned for 2023, says Reul. The following year, a new sustainable energy concept is to be implemented in order to further reduce the impact on the climate from 2025 onwards through the changed processes at FSB. Wolfgang Reul also knows: "The last few metres on the way to climate neutrality are certainly the hardest."
The manufacturer FSB is an example of how the transformation to CO2-neutral production can be accelerated. The prerequisite for this is the willingness to invest in advanced technologies and to consistently optimise production processes.
---
More on ndion
More articles on the subject of brands.
---
---
Share this page on social media: