8

min read
When supply chains are interrupted and energy reserves are scarce – real scenarios here and now – then it is no longer enough to substitute individual materials or increase the efficiency of selected processes. The BurgLabs at Burg Giebichenstein Kunsthochschule Halle are working on fundamentally rethinking material cycles and production systems. In doing so, they are making an important contribution to the urgently needed transformation in the way we deal with limited resources.
by Karianne Fogelberg
How can we use growth processes of living organisms to make things? Where will we get plaster from when all the coal-fired power plants are shut down? Can rammed earth be thought of as a robot-assisted additive manufacturing process? The BurgLabs at Burg Giebichenstein Kunsthochschule Halle have been researching these and other questions since 2020. It was not foreseeable that the first project phase would fall into a time of crisis-ridden upheaval. The necessity of such approaches is all the more apparent. "Time is short, and 'small things' are no longer enough," write professors Mareike Gast and Christian Zöllner on the occasion of the "BurgLabs present" exhibition. "If fundamental changes are really desirable, the collaboration of designers is indispensable. Feasibility is not only "to be researched scientifically and technologically", but it is equally important to "outline futures in order to make these new ways of life imaginable, vivid and discussable".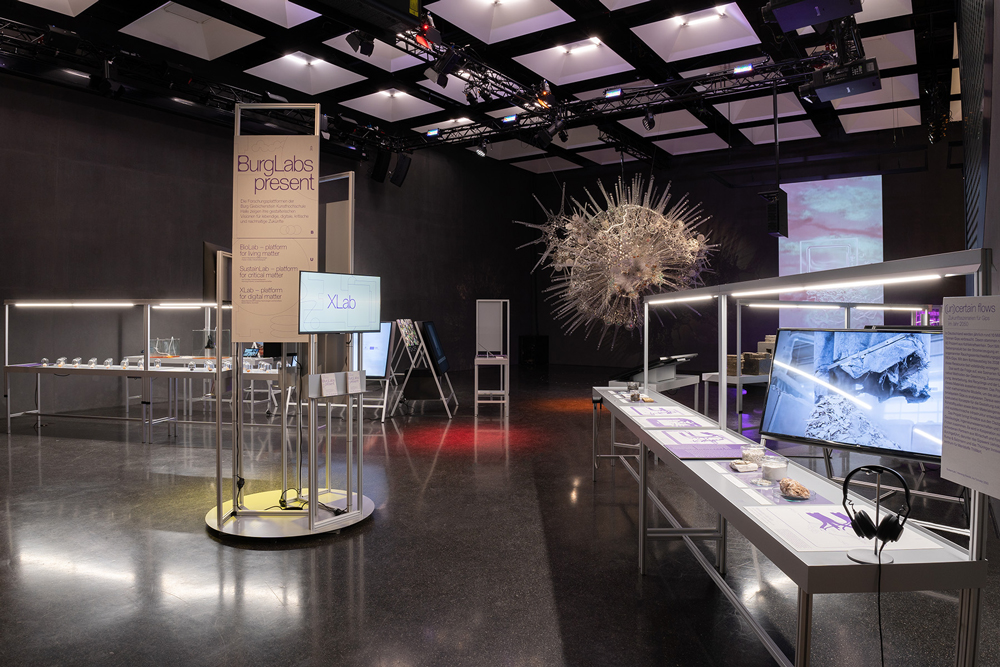 Potentials of Design Research for Innovation
The three BurgLabs – BioLab, SustainLab and XLab – are each led by interdisciplinary teams and enable students to explore future-oriented technologies and materials in terms of design and potential applications. The head of the BioLab, biologist Dr Falko Matthes, sees the value of design from the perspective of a scientist who himself worked in research for many years, most recently at the Leibniz Institute of Plant Genetics and Crop Plant Research Gatersleben: "You can quickly try out concepts. Especially in basic research, you often invest a lot of time before industrial application possibilities become visible. With design, on the other hand, artefacts are created early on that can be touched and discussed." And this is just one example of how scientific and design-artistic work, which at first glance seem to contradict each other, can complement each other in a meaningful and beneficial way.
In the BioLab, students can work independently with the material and processes of biotechnology after a safety introduction. Having your own place to work is important: "In the past, the designers in laboratories were always at the end of the line," says biotechnologist Johann Bauerfeind, a research assistant at the BioLab. "If they wanted to work with fungi or microorganisms, they had to rely on the researchers granting them access to their laboratory and knowledge. Many failed structurally because of this. There simply wasn't enough time or resources to develop an impact. With the BioLab," says Bauerfeind, "we are turning the tables and bringing the skills of biotechnologists and biologists to the university for them."
Shoe from the Incubator
The BurgLabs staff support the students in the realisation of their ideas, but also work on their own research questions. Together with designer Fabian Hütter, an artistic collaborator at the BioLab in the first phase of the project, Bauerfeind explored the interface between biological materials and industrial production techniques in his work Habitat: can the growth processes of microorganisms be specifically controlled with the help of industrial production processes in order to manufacture individualised, biologically traceable objects? Research is being carried out on a shoe model for whose sole the slip casting process, known from porcelain production, served as a template. In initial experiments, they succeeded in bringing the growth of various microorganisms into three dimensions. This approach opens up new manufacturing concepts. For example, different material properties can be created in one and the same process: "By using a higher temperature, stronger growth can be favoured in selected areas," Bauerfeind explains. "In this way, we can generate softer and more stable zones within the same sole in perspective."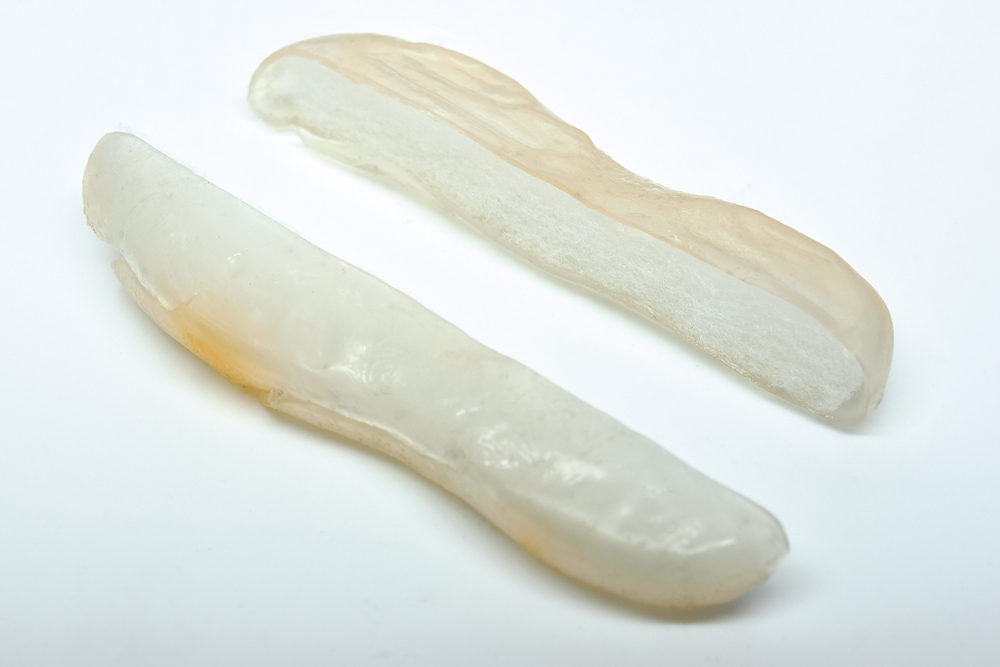 Sharpening Sustainability Methodically
In the SustainLab, designer Ina Turinsky and environmental scientist Henning Frančik work across disciplines on sustainable processes and their design possibilities.
As in the BioLab, their aim is to interlink the perspectives of design and science more closely. On the one hand, the SustainLab faces the challenge of sharpening the inflationary use of the term sustainability: "For us, it is important to develop systematic methods to decipher the term sustainability," explains Turinsky. "What do we mean by it in a specific case? For example, is it about material flows that are fed back into the cycle? Or about making a local material sustainable?" At the same time, they strive for "a de-hierarchisation of the different approaches" by valuing systematic-methodical procedures as much as more experimental ways of working. The latter are not always quantifiable or directly usable, but they can provide equally important impulses and insights.
Plaster from Sewage Sludge
In their work (un)certain flows, for example, Turinsky and Frančik used a mathematical model to analyse the current material flows of gypsum and, based on this, developed future scenarios for how gypsum can be extracted, used and recycled in 2050. They worked together with the region's gypsum plant Rump & Salzmann in Uehrde and Mitteldeutsche Umwelt- und Entsorgung GmbH. Currently, 60% of the total production of gypsum in this country is obtained from a by-product of power generation in coal-fired power plants, the so-called flue gas desulphurisation gypsum. If this source dries up with the coal phase-out, gypsum could – according to one scenario – be obtained from wastewater or sewage sludge, thus linking disposal processes with the production of new substances and closing cycles. Parallel to the speculative scenarios that take us into a future in which gypsum is already generated from alternative sources, diagrams show how the respective material flows within the material system could change as a result.
Rammed Clay as a Digital Process
While (un)certain flows is more "quantitative, logical, stringent and functional" in combining approaches from speculative design and material flow analysis, as Frančik states, they have taken a more open-ended approach in the work prog/rammed earth. In collaboration with architect Simon Maris from XLab, they have investigated the centuries-old building technique of rammed earth and explored new formal as well as functional typologies for rammed earth inspired by digital manufacturing processes such as selective laser sintering. Considering the enormous amounts of excavated soil each year in Germany, rammed earth holds great potential as a local and recyclable material, and her work opens up new perspectives on the use of local sediments in this context.
The inter-lab work that has proven successful at prog/rammed earth is to be intensified at the BurgLabs in the coming funding phase. At the same time, even closer integration with regional companies and research institutions is planned. An example of this is the insectmatter research project starting at the beginning of 2023, which will involve the BioLab and SustainLab with their respective competences and perspectives as well as regional partners from industry and research. In all of this, the BurgLabs will continue to focus on enabling student projects. For example, there are plans to create more far-reaching start-up opportunities at the Designhaus Halle, the Burg's business start-up centre, in order to transfer them into application. Because as BioLab director Matthes says: "Students are the multipliers of the future."
---
More on ndion
More articles on design and research.
---
---
Share this page on social media: