1

Min Lesezeit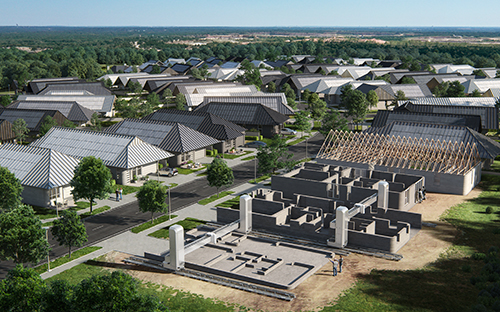 Innovative processes are more in demand than ever in the construction industry. However, many of them have hardly progressed beyond the status of prototypes or experiments, including industrial 3D printing of houses. A project from the USA shows that this does not have to remain the case: in Texas, probably the largest 3D-printed residential area to date is currently being built, with 100 houses and numerous print robots working simultaneously. Built by ICON, a pioneer of large-scale 3D printing, and Lennar, one of the nation's leading home builders, and co-designed by BIG-Bjarke Ingels Group, the development of homes in modern Texas ranch style has eight floor plans and 24 elevations. Solar panels on the roof will partially power the houses. Made of a concrete-like material, the homes will have three to four bedrooms and two to three bathrooms. They will be better protected against earthquakes and storms than conventional buildings. Georgetown's Wolf Ranch community, planned north of Austin, will use innovative robotics, software and advanced materials.
"We are very pleased to be working with ICON and BIG to build a unique housing development that combines innovative designs with sustainable features at an affordable price," said Stuart Miller, Executive Chairman of Lennar. "With a nationwide housing shortage, it has never been more important to innovate and find new construction methods that allow for greater design flexibility and production at affordable prices." Homes in the Genesis Collection at Wolf Ranch project are expected to be available for reservation in 2023.
---
More on ndion
Discover more articles on the topic of architecture and 3d-printing.
---
Share this page on Social Media: