5

min read
The traditional Italian caffettiera by Bialetti has long been a popular item throughout Europe, and many households cannot imagine living without it. The octagonal aluminium Moka pot is now celebrating its 90th birthday.
By Thomas Wagner.
Who hasn't heard of the "Bialetti" or "La Moka" for short, also known as "Caffettiera" in Italy? Anyone who enjoys a good cup of coffee will adore it. Especially since its benefits cannot be overstated: It is inexpensive, can be used on a stove or gas stove, and is simple to use. Its design is "super normal" in the best possible way. Alfonso Bialetti (1888-1970) was an inventor rather than a designer. Nonetheless, he created a design icon. Because Bialetti began his career in an aluminium factory in France, aluminium played an important role. In 1918, he returned to Italy and established his own aluminium products factory in Omegna-Crusinallo.
In casa un espresso come al bar
Alfonso's concept was not to make espresso using the principles of professional bar machines – a model in the spirit of the futuristi can be Gio Ponti's famous coffee machine "La Cornuta," which resembles an engine polished to a high gloss – which presses water through the ground coffee powder at high pressure. (About 9 bar, produced by a tensioned spring and nowadays mostly by means of a pump).
After overcoming the technical challenges of producing the percolator-type pot, Bialetti introduced the "Moka Express" in 1933, which was entirely made of aluminium. It allowed you to make an espresso at home (almost) like in an Italian coffee shop ("in casa un espresso come al bar") with little effort. Bialetti initially sold his pots at market stalls, which is why the Moka pot was only known regionally. Renato, his son, was the one who turned his father's invention into a successful innovation. He recognised the potential of the "Moka Express," applied for a patent, and professionally marketed the pot. As a result, Bialetti established the world's largest coffee maker factory.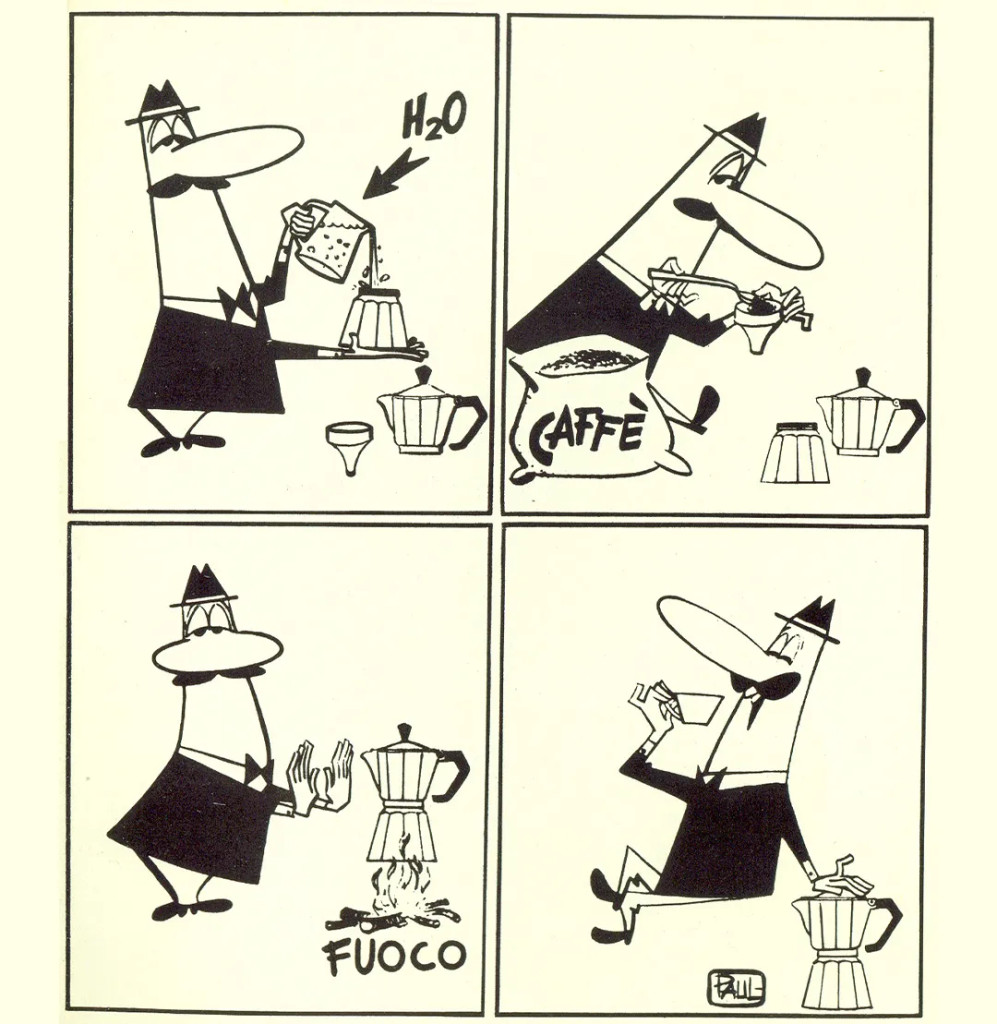 An eight-cornered classic
The octagonal shape of the aluminium jug, which comes in a variety of sizes, has remained largely unchanged to this day. In addition to the classic models, lacquered versions in a variety of colours are now available. The angular, almost architectural shape of the Moka, unlike later stainless steel models, makes it easy to grip and thus easy to handle when screwing it on and off. Aluminium (which is always the subject of toxicological debate) conducts heat twenty times better than stainless steel, and its thicker walls allow it to heat up faster and more evenly.
Three parts, that's all it takes
A Moka Express consists of only three parts. The lower part (the boiler) is filled with water. Coffee powder is put into the funnel insert, and the upper part with the riser tube is screwed on. When the water heated on a hotplate begins to evaporate, excess pressure is created. This forces the hot water in the kettle through the coffee powder in the funnel insert – and the caffè flows through a fine sieve on the underside of the top, rises in the riser tube and runs from the top into the actual pot. There is no easier way to prepare a caffè. (Unlike caffè/espresso prepared in a bar under high pressure, caffè/moka brewed at home tastes different and does not form a stable crema, owing to the lower pressure).
A small volcano for the stovetop
Every moka is essentially a small volcano for the home cook. This is what Gaetano Pesce demonstrated with his "Vesuvio" pot in 1993, forming a tongue-in-cheek critique of functionalism. Pesce, an architect, designer, and artist born in La Spezia in 1939, has repeatedly demonstrated his ability to personalise mass-produced goods.
Designing purely practical and functional items was never his forte. Concerning the moka pot and functionalism, Pesce's "Vesuvio" simply depicts the functional principle of a moka pot, in which hot coffee rises and bubbles into the pot like glowing lava flows during an eruption from Mount Vesuvius' crater. Instead of the octagonal architectural form, Pesce created a free natural form, a mountain massif with a crater full of red-hot lava and a plume of steam and ash hovering over it. Which is entirely correct in the sense of the formula "form follows function," because the way the cooker works is identical to that of a controlled volcanic eruption. This illustrates both the moka pot principle and the functionalism that is blown away by the eruption, much like the volcanic mountain.
The brand with the "L'omino coi baffi"
Bialetti's octagonal caffetiera, in contrast to Pesce's postmodern gadgetry, has become a popular item and an integral part of the Italian household – a veritable piece of social design in Italian culture. "La Moka" was created by Alfredo Bialetti. Renato, his son, successfully marketed it all over the world. In the 1950s, he ran television commercials in which he appeared, which was unusual at the time. Renato's likeness, designed by Italian cartoonist Paul Campani, has been emblazoned on all Bialetti pots since 1958 as a comic figure, as "l'omino coi baffi," a little man with a moustache and a raised index finger. Renato Bialetti died in 2016 at the age of 93. And instead of a traditional urn, his ashes were buried in a large "moka" in the northern Italian municipality of Casale Corte Cerro.
---
More on ndion
More articles on the topic of design
---
---
Share this page on social media: