5

min read
Meyers Fügmann keep at it: the Berlin-based designer duo continue to develop their projects, sometimes for years, against a lot of resistance. What helps them? Funding, a good part-time job and persistence.
By Jasmin Jouhar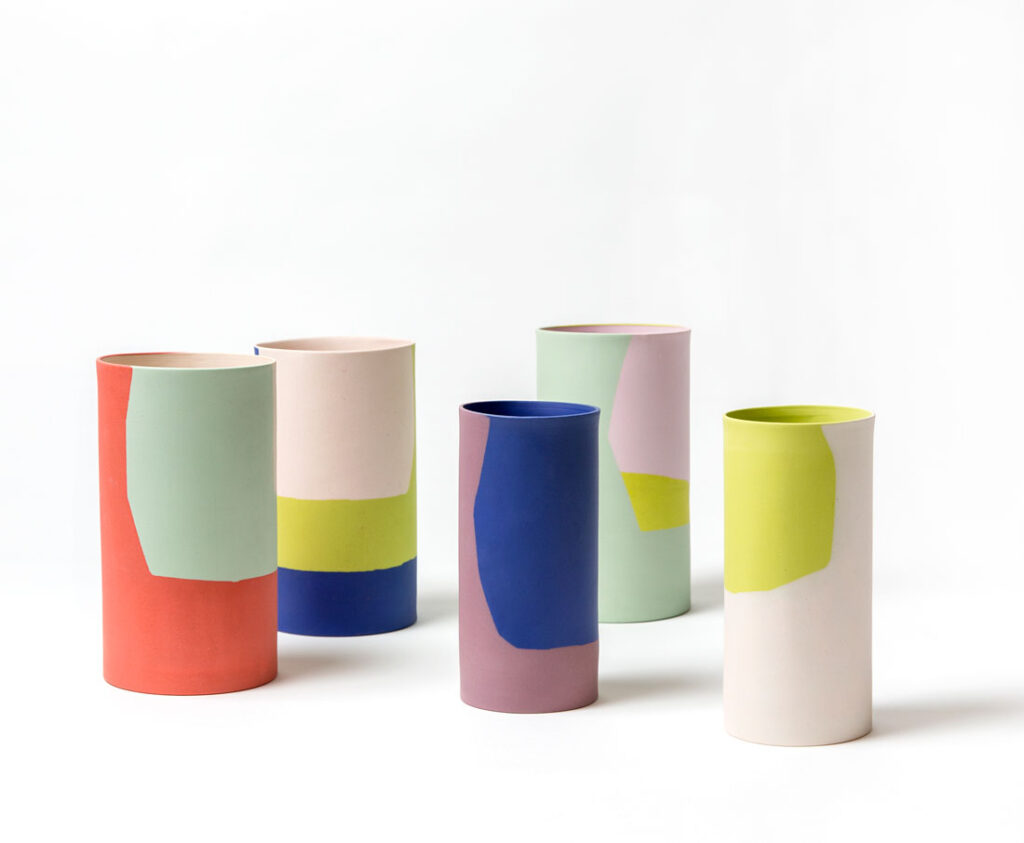 "There is a reason why we still exist," says Sarah Meyers and laughs. But when asked what that reason might be, the designer first has to think. Together with Laura Fügmann, she runs the Meyers Fügmann studio. The two Berliners have made a name for themselves with textiles, ceramic objects and a special feeling for colour and materials. Laura Fügmann also has no quick answer as to why they are still working together on projects after six years. Making the transition from a sheltered university to self-employment and the free market is probably the biggest challenge for young designers. But why Meyers Fügmann exists as a duo at all is an easy question to answer: because of Hella Jongerius. The Dutch designer got to know the two of them as Bachelor students at the Kunsthochschule Berlin-Weißensee during a guest professorship. She then invited them to do an internship in her Berlin studio – on the condition that they complete the internship together. That Sarah and Laura became the duo Meyers Fügmann was actually decided by Hella, says Meyers. "She saw that somehow."
A matter of Pace
After a moment's thought, Laura Fügmann does formulate one reason: "We have quite a good pace. On the one hand, we do a lot of things in parallel, but on the other hand, we are very slow in many areas. At least that's how it feels. "But that makes it more sustainable," Fügmann continues. A good example is their textile project "Slow Patterns", which even has slowness in its name. For several years now, the two have been experimenting with home textiles that slowly fade in the sun and thus change their pattern. The effect comes about because they mix synthetically dyed yarns with naturally dyed ones – the natural colours are less lightfast and slowly but visibly lose their intensity when exposed to UV rays. With "Slow Patterns", they are invited to the Ornamenta cultural project next year in the northern Black Forest. For three months, they will present the fabrics there, once as curtains in a building and as an installation outside. The Ornamenta budget also gives them the opportunity to try out new patterns. Without such external support, they could hardly push ahead with the lengthy and expensive textile development as an independent studio. A few years ago, for example, they took advantage of a special prototype grant from the EU to have the first metres of "Slow Patterns" woven. A grant from Designfarm Berlin also helped them to think the project through economically and conceptually. And indeed, their persistence is beginning to pay off, because for the first time, companies from the textile industry are showing interest in the concept.
Intelligent Hands
Incidentally, Hella Jongerius is also one of the reasons why Meyers Fügmann still exists. Not only did she set the designers up with each other – she has employed them in her studio on a project-by-project basis ever since. "She always says we are her intelligent hands," says Sarah Meyers. The two of them produce mainly textile objects for Jongerius, for example for exhibitions such as the big show two years ago at the Gropius Bau exhibition centre in Berlin. Working for Jongerius is a lot about experimenting and researching, for example with 3D woven wall works and self-constructed looms.
Wool that has been Washed Away
For Laura Fügmann and Sarah Meyers, too, there would have been several reasons to give up. Some of them even have a tragic background: for example, two years ago the flood in the Ahr valley washed away 400 kilos of wool that they had collected directly from the shepherd for a project and sorted themselves. The wool was stored at a specialised laundry in the flood area. "We were sitting out in the dry here in Berlin, unsuspecting," Sarah Meyers recalls. "And when we tried to send the wool to the spinning mill, they just said you don't have any wool left." So they had to postpone the project of developing a local value chain for the previously unused wool for a year. But now, thanks in part to a grant, the project is moving forward, and the wool is to be turned into carpets.
The Irony of Energy Prices
Meyers Fügmann have also felt the effects of the war in Ukraine. A long-standing partner company with which they had produced ceramic objects such as the "Spray Plates" had to close down due to the sharp rise in energy prices. "This has slowed us down," says Meyers. The product and the cooperation had gone well, they actually wanted to develop further projects with the manufactory. Now they first have to find a new producer for the "Spray Plates". The whole thing is all the more ironic because the designers actually wanted to get away from products that they distribute themselves. Too much work and too much distraction from their actual goal of working as designers on behalf of the industry. But in the pandemic, their own products such as plates, vases, woollen blankets or lamps saved them financially: Their studio was on the ground floor, and they simply sold out of the window to passers-by. "We sold more than ever before," says Laura Fügmann. And so they have stuck with it, producing themselves and working for external clients. Obviously, it takes a few reasons to keep a young design studio going.
---
More on ndion
More articles on the topic of design.
---
---
Share this page on social media: