7

Min Lesezeit
We spend up to 90% of our lives indoors, and our indoor environments often neglect our needs. Stress and pollutant levels are known to be higher in enclosed spaces with limited natural light, compared to well-lit spaces that provide access to the outdoors through balconies or terraces. It's no wonder that "biophilic design" is gaining significant importance in architecture and interior design. Coupled with the growing awareness of sustainable product design and the increased use of renewable natural materials, there is a real trend towards nature-inspired design.
By hicklvesting PR
The term "biophilic design" specifically refers to design features that evoke a connection to nature indirectly and make it palpable within interior spaces. The use of plants and natural materials such as wood, clay, felt, and natural stone has a particularly positive effect on humans. Wood is of particular interest, due to its outstanding qualities in terms of acoustics, indoor climate, sensory perception, and tactile experience. This design approach will be essential in future residential buildings, offices, and care facilities. However, biophilic design cannot simply be integrated into conventional interiors; it must be part of a holistic planning strategy.
Biophilic Design has a Proven Positive Impact.
Biophilia assumes that humans have an innate need for a connection with nature. This approach stems from the ideas of biologist Edward O. Wilson in the 1980s. New studies show that nature-inspired design has a positive impact on health and productivity. It supports regeneration, regulates the bio-rhythm, reduces stress, and has been proven to have positive effects on creativity and productivity in the workplace. Therefore, natural materials such as wood, natural stone, clay, thatch, wool, and linen are not just an aesthetic preference, but contribute to creating a healthy and efficient indoor environment.
Biophilic design connects humans, spaces, and nature through various design strategies that sometimes overlap or complement each other. This includes both direct and indirect experiences with nature:
The Integration of Natural Elements
Natural materials such as wood, stone, and plants can create natural accents in interior design. The pandemic has not only taught us how to extend our indoor spaces to balconies and terraces, but also provided creative design aspects. Biophilic design goes even further by integrating air movement and water features. It is also important not to forget large windows for ample natural light and fresh air circulation.

Natural Materials Promote Well-Being
The use of natural materials for interior design has positive effects on the indoor climate, acoustics, and the well-being of people. The range of design possibilities is vast, including choice of furniture, windows, walls, and wooden work surfaces; carpets made from natural fibres; acoustic panels made from hemp or felt wool; as well as the incorporation of green walls indoors or water features on the patio.

Inspiring Biomimicry!
By imitating patterns and forms found in nature, elements of nature are brought into interior spaces in a contemporary way. Natural patterns such as curves, fractals, and geometric shapes like honeycombs are increasingly being incorporated into design.

Creating Spaces to Retreat to in Green Surroundings
This includes outdoor areas such as gardens, terraces, or balconies, which can serve as places of relaxation or retreat during work hours or everyday life.
Creating a Comfortable Climate in Offices and Care Facilities
Biophilic design has had the greatest impact on the design of buildings in the workplace. Simply furnishing the office with ergonomic furniture is no longer enough. Many employers are adopting a nature-inspired concept, incorporating plants, acoustic elements, and furniture made from natural materials to enhance concentration, creativity, and productivity. Biophilic design is has been applied to the design of social gathering spaces within a modern New Work concept in particular.
Biophilic design brings benefits to other types of buildings as well. In hospitals, for example, the choice of materials for air quality and acoustics plays a particularly important role and can support the well-being and recovery process of patients. Studies have shown that the integration of plants, sufficient daylight, and the use of natural materials in healthcare environments can lead to faster recovery rates. Contemporary design concepts for hospitals and care facilities are already successfully incorporating these aspects.
Italian designer and architect Matteo Thun demonstrates this impressively with the Waldkliniken Eisenberg. Biophilic design becomes an integral part of the clinic's healing environment, from the building's aesthetics and organizational structure to the room furnishings and the design of transitions between indoor and outdoor spaces. The project was awarded Germany's Best Hospital in 2020 and has received multiple architecture awards. Similar approaches can be found in Thun's latest design for a senior residence in Ambach, which draws on the successful concepts implemented in Eisenberg. Another example is the Maggie's Cancer Care Centre in Manchester by Foster + Partners. The healthcare centre features an inner courtyard garden and green spaces, as well as light-filled interiors where natural materials such as plants and wood are prominently integrated. The design directs the gaze towards the gardens, creating a calm and healing environment for patients and their families.
The Ambivalent Role of Technology
The desire for calming and inspiring nature experiences is not only met by interior designers and architects but also by apps and digital toolkits. Recently, these apps have brought nature experiences like forest bathing into indoor spaces. They expand on the existing offerings of daylight alarm clocks and bird chirping devices by providing immersive experiences that engage all the senses. For example, these apps combine projected images of treetops or passing clouds with changing lighting conditions and ambient sounds, allowing us to simulate the passage of time and the transition of seasons indoors.
Digital technology plays an ambivalent role in this trend. On the one hand, the advancing digitization fuels the desire for closeness to nature. With the pandemic, digital tools and media have also entered the last analogue areas of our lives and have permeated our work, relationships, leisure, and consumption. In our increasingly exhausted society, where depression and anxiety are diagnosed more and more often, nature-inspired design takes on a stronger focus as a countermeasure. On the other hand, internet-free environments support the need for digital abstinence and allow for undisturbed relaxation or focused work. At the same time, an increasing amount of indoor spaces require intelligent climate control to ensure a comfortable indoor environment as temperatures rise. In this regard, strategies that integrate such technologies into nature-inspired design concepts in a meaningful and minimally intrusive way are sought after.
Biophilia and Sustainability Are Not the Same
The trend towards nature-inspired design is indeed driven by increasing environmental awareness, but the naturalistic design of home accessories and interior spaces is not necessarily synonymous with sustainability. Many biophilic design approaches suggest a connection with nature without actually helping it to benefit: an app that brings the forest into an indoor space or a living room built around an existing tree may have advantages for humans but not for nature. If the desired closeness to nature is to be combined with sustainability goals, biophilic design requires precise concepts to integrate both aspects. Biophilic design is not just a furnishing trend; it requires a complex strategy. A building follows biophilic design principles when it actually makes an impact, and people feel healthier and more comfortable in its spaces.
A Trend That Will Stay
The trend towards nature-inspired design is already very pronounced today and will gain even more relevance in the coming years in all fields, including product design and interior decoration.
It doesn't always need to involve a complete overhaul of an interior design. By incorporating individual elements and materials, the trend can be integrated into existing interior spaces, creating a nature-inspired spatial experience.
---
In June 2023, the official award ceremony and exclusive winners' exhibition will take place as part of the imm cologne 2023 and the PASSAGEN Interior Design Week 2023 from 4 to 7 June in Cologne. Industry guests and design enthusiasts are invited to attend the exhibition opening on 3 June at the Design Post Cologne.
Info: 3 June 2023, exhibition opening at 7:30 pm Get-Together with drinks & flying dinner, Design Post Köln, Deutz-Mülheimer Str 22A, 50 67 Köln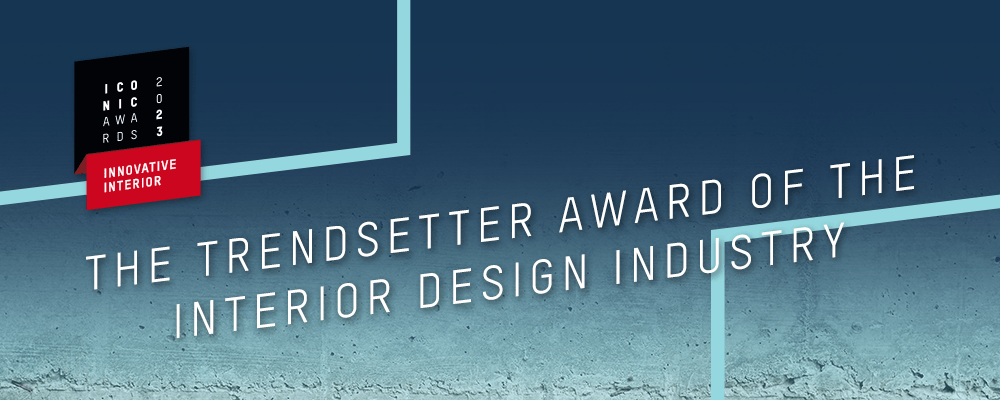 The products presented were awarded the ICONIC AWARDS: Innovative Interior in 2023. All winners of the competition can be found at https://www.innovative-interior.com/winner.
---
More on ndion
More articles on the topic of sustainability and interior design.
---
---
Share this page on social media: