2

Min Lesezeit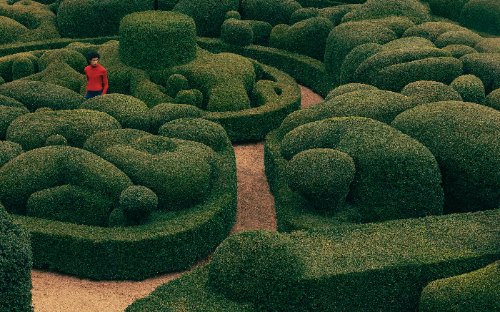 A garden, a man-made piece of nature, has always been more than just a private refuge. Gardens, in various forms, were and continue to be an expression of a number of needs, dreams, and visions. Gardens, as mythical places, contain healing and redemptive powers; they provide respite from the hectic pace of daily life, as well as the turmoil and impositions of history. And, whether historically focused on pleasure or food, they reflected an era's connection to nature as well as hope for a better future. Today, the garden is frequently used as a testing ground for social justice, biodiversity, and a sustainable relationship with nature.
From March 25 to October 3, the Vitra Design Museum in Weil am Rhein will show "Garden Futures. Designing with Nature", a "major exhibition on the history and future of the modern garden" for the first time. Which ideas and concepts, according to the announcement, "have shaped our present-day ideal of the garden? What addition do gardens make to a future that everyone wants to live in?" Such questions are to be answered by means of diverse examples from design, everyday culture and landscape architecture – "from deck chairs to vertical urban farms, from contemporary community gardens to green buildings and gardens by designers and artists such as Roberto Burle Marx, Mien Ruys or Derek Jarman. The exhibition was created by the Italian design duo Formafantasma.
To begin, the garden appears in a media installation as a place with both a very practical and a symbolic or philosophical-religious meaning. Following that, it is examined as a testimony to social and historical developments, political and economic interests, and cultural value systems. Aside from plant imports as part of colonial history, concepts like Ebenezer Howard's garden city (see ndion of 1 November 2022) also played a role in the 19th century. The green guerrilla movement conquered urban space in the 1970s and jointly transformed it into a garden for all. Many of the questions raised back then are still relevant today: Who has any right to a garden? What is the purpose of a garden? And how can gardens be integrated into an urban environment? In the third section of the exhibition, nine pioneering garden designers demonstrate how diverse the answers to these questions can be. In the final part, current projects dealing with the future of the garden in an era of climate crisis, social injustice, threatened biodiversity, and social isolation are shown.
The Vitra Design Museum exhibition is accompanied by a highly illustrated publication that includes essays, interviews, and case studies. Following its debut at the Design Museum Helsinki and the Museum of Finnish Architecture (10 November to 1 April 2023), the exhibition will travel to the Vandalorum in Värnamo (27 April to 13 October 2024), the Nieuwe Insituut in Rotterdam (November 2024 to April 2025), and the V&A Dundee. (April to December 2025). Additional locations are said to be in the planning.
---
More on ndion
Discover more articles on the topic of design as well as current exhibitions.
---
Share this page on social media: