10

min read
One thing is certain: Looking ahead is what motivates Generation Z. They are not interested in "higher, faster, further" progress, but in intelligent and future-oriented adaptation to and improvement of current conditions. It is about collective values rather than individualism. It is about justice and the preservation of our planet's livability. The young generation of designers demonstrates a keen awareness of necessity that straddles the line between idealism and realism. It is about positive change. We examined the design views of the five newcomer finalists of the German Design Awards 2023. During the interview, they discuss what makes their work unique and what inspires them.
Editorial: Rebecca Espenschied, interviews: Dirk Wunder
Tobias Trübenbacher – German Design Awards Newcomer 2023
"We live at a time where radical change is desperately needed."
Tobias Trübenbacher earned his degree in industrial design in 2021 after completing studies at the UdK in Berlin and Munich. At Studios Mark Braun and Konstantin Gricic, among other places, he obtained practical experience. Tobias Trübenbacher concentrates on social design, sustainability, and the creation of fresh approaches to tackle major global issues. He is currently working as an Architecture and Design instructor at the TU Munich on the interface between (product) design and large-scale architecture or urban design. His goal is to get a holistic understanding of the world around us, as well as the (sadly primarily harmful) influence of human design, in order to generate ideas for better material handling and post-anthropogenic manufacturing and recycling processes.
What do you consider to be "modern design"? What specific requirements would have to be met?
Radical change is desperately needed at all levels of our capitalist-influenced lifestyles in the times we live in. Therefore, contemporary design for me always includes transformational design that is dedicated to assisting in the development of this change and creates interdisciplinary approaches to it.
You are working on cultivating mealworms for one project. What precisely is the project about?
When it comes to sustainability and resource conservation, mealworms are a fantastic superfood considering that they are extremely nutrient-dense, require little water, can coexist in a natural setting in close quarters, and can even survive on the basis of industrial waste materials (like wheat bran). On top of that, they are also incredibly tasty. But because eating insects has not been a part of our [European] food culture until recently, most people react to it with disgust or repulsion. In order to address this, I created a mobile food truck that actively educates people about the cuisine and its advantages, thereby establishing the consumption of insects in our culture.
The projects you have shown are heavily focused on the subject of light. Which of the projects is most important to you?
The PAPILIO project, which addresses two pressing issues in our daily, unreflective use of light, is undoubtedly the one I care about the most. In order to reduce the increasingly problematic light pollution as well as energy consumption, the lighting is powered by a wind rotor, which also generates the energy needed for illumination in a way that is climate neutral. The light also turns off again as soon as no one is nearby.
---
Anna Koppmann – Newcomer Finalist 2023
"There are solutions that product design can offer for issues like the climate crisis, forest dieback, and a lack of civic courage."
Anna Koppmann studied fashion design in Munich before enrolling in product design at the University of the Arts Berlin in 2016, where she graduated with a Bachelor of Arts in 2021. In Berlin, she worked for Thomas Demand or Sarah Illenberger, and in Rotterdam, she worked for Simone Post. She is now a scholarship recipient of the UdK Berlin's CREATIVE PROTOTYPING funding project. Her work is centered on the idea of civil courage.
You have organized your work into three key subject categories in your portfolio. What are they, and which one of them is most important to you?
I've dedicated myself to three critical issues of our time: How do we wish to live together? What steps can we take to save energy in our own homes? And how can we make production more environmentally friendly? I aim to demonstrate with my products that product design can provide practical answers to these problems. The theme of civil courage is particularly close to my heart, which is why I invented the product "First Aid Gloves", a disposable glove printed with first aid instructions as a "cheat sheet for saving lives".
You can discuss a wide range of global issues with these topics. Are there any more topics that pique your interest? Perhaps in the future?
As a product designer, I aim to use environmentally friendly items to demonstrate alternatives that support a lifestyle that is becoming more self-sufficient rather than contributing to the climate issue. The Plus Minus 25°C project is an illustration of this; it involves the development of a curtain with a coating that can control room temperature without the use of power. I think it will be exciting to see how solar energy is progressively incorporated into our homes and daily life in the future.
---
Paula Keilholz – Newcomer Finalist 2023
"I aim to ask some socially significant questions."
Paula Keilholz graduated from the Berlin University of the Arts in 2020 and is currently doing her master's degree in Transformation Design at the HBK Braunschweig. This was preceded by psychological studies, which began in 2014, highlighting the designer's strength in merging analytical-methodical and practical-design knowledge. She worked as an intern at Chloé in Paris and spent a semester at Kingston University in London. The designer investigates the relationship between fashion's material and functional aspects, as well as its value production processes, in her work. She searches for different or speculative possibilities for this.
What do you consider as the most challenging aspects for you and your work in fashion design today and in the future?
With and via the medium of fashion, I wish to consider ideal fashion futures and pose socially important questions. In addition to discussing the pressing need for material sustainability in the fashion industry, I also consider other issues, such as the values that a certain style conveys. What calls to action are contained in clothing, too?
How do you approach the problem of diversity in your work?
Intersectional design viewpoints and a desire for diversity in all aspects of design are crucial to me. Fashion work, particularly production work that is racially and gendered, such as the work of female-read people in Southeast Asia, highlights the importance of diverse representation and intersectional viewpoints on ways of manufacturing.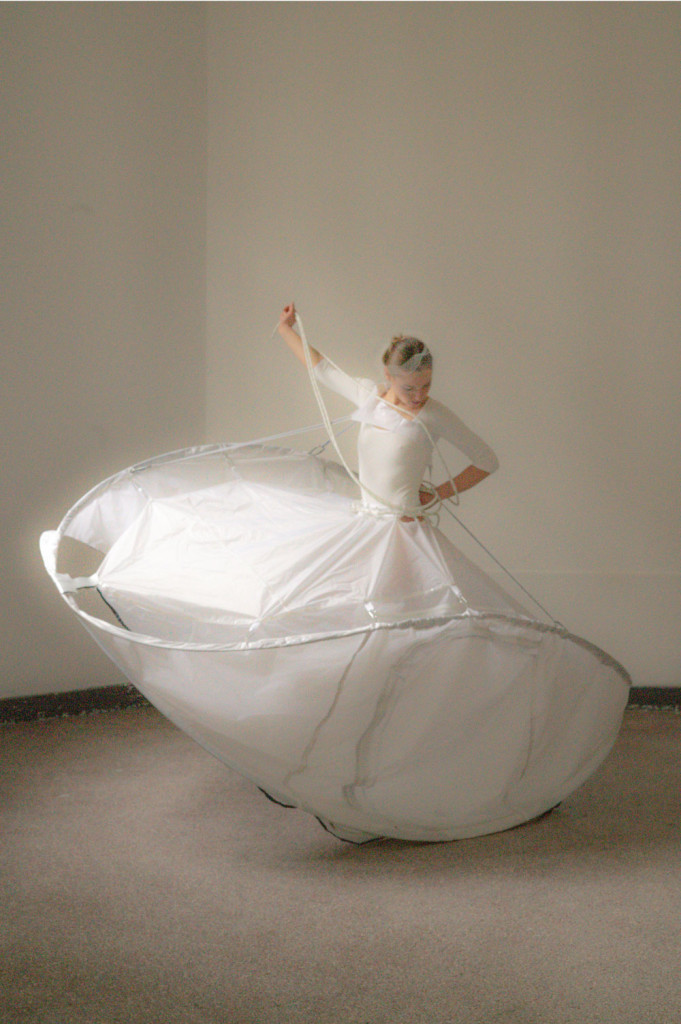 ---
Tim Schütze – Newcomer Finalist 2023
"Critical making – this calls into doubt the democratic look of the make-culture."
Tim Schütze studied Industrial Design from 2016 to 2021 at the Berlin University of Applied Sciences. In 2020, he took a semester off to further his skills of craftsmanship and visual communication at the Bezalel Academy of Arts & Design in Jerusalem. Tim Schütze has been studying product design at Berlin's University of the Arts since 2021. Simultaneously, he is gaining practical experience as a tutor and freelancer. His work emphasizes the development of equality and diversity in society through gender-sensitive design.
What are you currently working on?
I'm investigating the subject of "critical making" for my master's thesis right now. By doing this, I am challenging the democratic image of the making-culture and exploring how factors such as educational background, patriarchy, gender roles, origin, and class intersect and define ,,making" as accessible or inaccessible.
You display a variety of really distinct works in your portfolio. Which one of your projects is particularly meaningful to you?
PRO/CESS is undoubtedly a project that I am passionate about. It exploits innovative technologies to carry out a political objective. A fascinating area of conflict where I also envision my future career.
---
Katharina Düing – Newcomer Finalist 2023
"Design that challenges established institutions and power relations, in my opinion, is contemporary design."
Katharina Düing received her bachelor's in sustainable design from the Ecosign – Akademie für Gestaltung in Cologne, and she has been pursuing her master's degree there since 2022. She focuses on social sustainability in her design work, transforming current societal challenges like mental health, feminism, diversity, and discrimination into graphic novels and other formats. She is currently engaged in painting while also working as a graphic designer and illustrator.
What do you consider to be "contemporary design"? What specific requirements would need to be met?
Contemporary design, in my opinion, is always anti-fascist, extends places for action, offers new modes of representation, and challenges established structures and power relations. Accessibility, language that is acceptable for the intended audience, diversity, and inclusivity are particularly crucial factors.
Your preferred project is titled "Back on top in June." Could you explain it briefly?
The graphic novel's title is taken from Frank Sinatra's song "That's life." According to psychotherapist Thomas Bock, any form of assistance must begin with an inner hope that this particular feeling will pass. This is what the sentence expresses. The aim of the work is to strengthen this hope.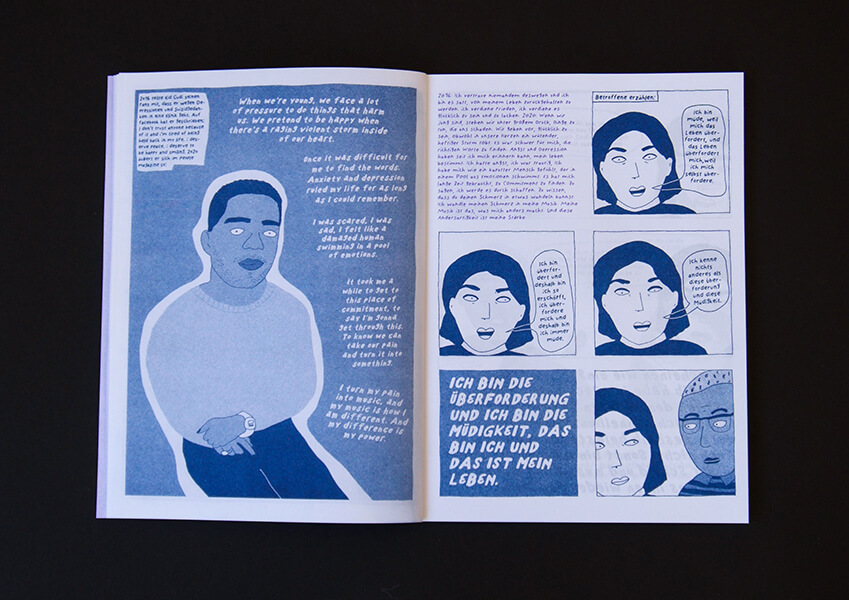 ---
More on ndion
More articles on Design and Newcomers.
---
---
Share this page on social media: