3

min read
Please, no Bauhaus puritanism: whatever he does, it is bursting with fantasy, colour, patterns and ornaments. Jaime Hayon, one of the most distinguished Spanish designers, pays homage to a Mediterranean modernism. An opulent book presents his cheerful design philosophy.
Review by Thomas Wagner
The cover is adorned with a potpourri of drawings in a wide variety of colours: plants, chairs, vases, tables and heads encircle the name of their creator in black brushstrokes: Jaime Hayon. Once you have flipped through a few pages of the monograph, Hayon – undoubtedly one of Spain's most active and distinguished designers – shares his recipe in a short reflection (further aphorisms on his design philosophy are scattered throughout the volume): "The mixing of ingredients that can be influenced," Hayon notes, "the wonder and innocence of the child in me, all these are traits of a creative philosophy based on the idea of constant rebirth." Innocently marvelling like a child and mixing the ingredients well, Hayon understands. Tableware with original décor, quirky colourful birds, painted rice paper lamps, large figures covered in ornaments, idiosyncratic tables and sideboards – everything Hayon touches speaks of an irrepressible desire to create.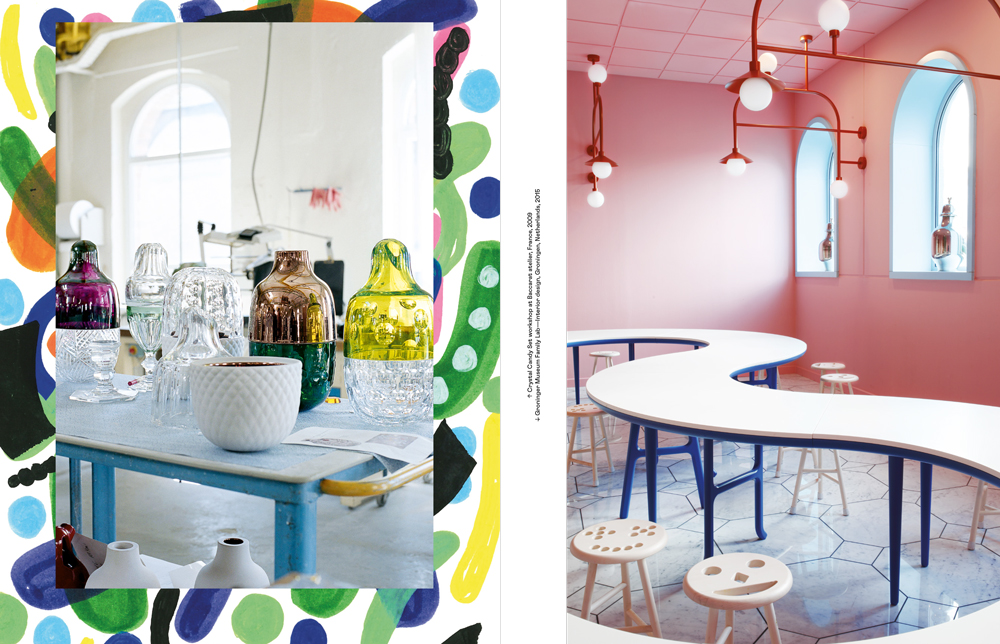 Jaime Hayon's world is bright and playful
The monograph "Jaime Hayon" is the follow-up volume to "Jaime Hayon Works" from 2008. Interspersed between illustrations and texts are the archives of the Hayonstudio as a kind of catalogue raisonné. The richly illustrated volume not only contains a multitude of creations for prestigious brands, it above all celebrates and examines the designer's close, almost erotic relationship with the materials, colours and techniques with the help of which he creates his original realm of fantasy. There is hardly a design that is not painted or covered with colourful patterns or playful ornaments. Hayon's world is cheerful and playful, and you can see that there are no limits to creativity in it. In other words: that the designer does not impose any restrictions on himself, that he does not bow to any limitations except his own. What is extraordinary about it is that Hayon's creations, as amazingly different as they may be, never seem arbitrary. Everything he makes exudes warmth, tastes of the south, of blue skies and joie de vivre. The playfulness of his designs is just as admirable as the virtuosity with which Hayon handles colours and shapes. Wink of the eye and humour included.
Reminiscences merge with the own handwriting
Without detracting from their charm and independence, one discovers a pinch of Picasso or Mirò in one design or another. And in the furniture, Art Nouveau elements mix with echoes of the opulent decorative forms of Antonio Gaudì. Hayon knows how to blend such reminiscences so intimately with his own handwriting that the melange appears entirely contemporary, never historical or even dusty. He pays lustful homage to a frugal Mediterranean modernism that is far removed from the puritanism of de Stijl and Bauhaus. "I look at the world with a third eye," Hayon notes, "and that feeds my vitality. In my dreams, through my research and on my travels, I encounter cultures and learn new perspectives that show me who I am." Hayon's repertoire is wide-ranging. It ranges from side tables to tattoos, from tableware to fabric swatches, from vases to carpet patterns. Whatever he tackles, it positively sparkles with vitality. "Painting takes me to the root of creation. It's the core of my work where the composition is taken from my inner world – it's really an act of extraction." In everything Hayon draws from within, one senses an irrepressible desire to play, invent and create. A book that celebrates design that is simply a joy to behold in its bounty and originality, and with a twinkle in its eye, invites you to dive into the frothy waves of imagination without inhibition.
304 p., hardcover, col. ill,
texts in English
Gestalten Publishing House, Berlin 2022
ISBN: 978-3-96704-054-8
50.00 Euro
---
More on ndion
More articles on Design.
---
---
Share this page on social media: