8

Min Lesezeit
Two years ago, BurgLabs was established as a platform for cross-disciplinary research on materials and technologies at Burg Giebichenstein Kunsthochschule Halle, funded by the state of Saxony-Anhalt and the European Regional Development Fund. Mareike Gast, project manager and professor of industrial design at the Burg, talks about the insights and results of the first funding phase and gives an outlook on how things will continue.
Interview by Karianne Fogelberg
Mareike Gast, since 2020 there have been three labs at the Burg – the SustainLab, the BioLab and the XLab – where materials and technologies are researched with a view to future applications. What considerations were decisive for their establishment?
On the one hand, there was a desire to set up a separate place for technologies and topics such as sustainability, biotechnology, robotics and artificial intelligence, on which work was already being done at the Burg. We are convinced that these topics will be relevant for our production methods and our handling of materials in the future. For example, biotechnological processes: As a designer, I can either wait until the so-called bioeconomy is established, or I can actively participate in its development and help shape what we use biotechnological processes and renewable materials for and how our relationship with nature changes as a result. And therein lies the second motive.
The BurgLabs
The BurgLabs are platforms for interdisciplinary research at Burg Giebichenstein University of Art and Design Halle. The SustainLab, BioLab and XLab focus on sustainability, biotechnology, artificial intelligence and robotics. Each lab gets to the bottom of specific matter: molecules, atoms and bits. The labs operate together in the border areas of design and science.
ndion will present the labs in another article.
As a university of the arts, we see it as an important task to be actively involved in the research of these technologies and materials and the discourse on them in terms of design. With the BurgLabs, we have created a university research structure where artists and designers can research these topics across disciplines and with experts from the respective disciplines.
Will such laboratories be standard equipment at design universities in the future, like workshops and libraries?
Labs differ from workshops in that they address questions that come less from craft or engineering than from the sciences. Such questions are becoming more and more prevalent in design schools. Their institutionalisation in the form of their own laboratories responds to this development and at the same time makes them more visible. As a result, design research is also gaining in importance. I think both will become established at design colleges in the future. Just as what we are researching today will one day be the norm. New methods in biotechnology will soon become a kind of craft. Products will grow in laboratories, just as bread is produced in bakeries today. Processes will move out of research and into production. Design schools, but also designers, will of course contribute to this.
Does that mean that the job profile of the designer is changing with BurgLabs or that BurgLabs is reacting to a changing job profile?
Yes, absolutely. But that doesn't mean that graduates who have worked in the labs will only work in research contexts in the future. That is exciting. At the same time, I am convinced that this way of designing is just as relevant for designers who work for companies or clients from industry or who become entrepreneurs themselves. Design-based development is also gaining relevance in companies, for example with regard to a more comprehensive consideration of materials according to sustainability aspects. Interdisciplinary teams are needed to research such questions – not designers alone. However, designers can participate profitably here. In this respect, we hope that our graduates will apply their skills and knowledge in business and politics as well as in research. Finally, students in the BurgLabs should also develop an understanding of where design can have an effect beyond a narrowly defined concept of design, and develop an awareness of their own effectiveness.
What knowledge and skills do students learn in the labs?
On the one hand, these are concrete practical skills, for example the cultivation of living organisms or the methodical evaluation of sustainability aspects. Much of this knowledge is exemplary. It is not so much about gaining a complete insight into the optimal growth conditions of each individual organism, but about getting to know the underlying principles, the potentials and the issues involved. Above all, it is important to lose one's awe of these topics. For example, students learn that it can make sense to consult an environmental scientist for a life cycle assessment, but that they can also make certain assessments themselves and know the relevant tools, experts and topics. On the other hand, they learn methodological procedures. Of course, this is not taught exclusively in the labs. In the labs, however, the focus is less on a solution-oriented approach than on an explorative approach to materials and technologies. Students learn how to deal with an open-ended process that does not aim to solve a problem, but rather to pursue context-specific questions from which very different answers can result, and how to work productively with this complexity.
The backpack Aggregat is an example for the variable application possibilities of the bioplastic PHB, © Hannah Kannenberg
Can you give an example of what this exploratory approach might look like?
In the semester project Full Circle, industrial design students researched or designed the recyclability of bioplastics. It is often assumed that biodegradable plastics can circulate, but we know that this is not yet given by their material composition alone. Equally important for a functioning circular economy are appropriate business models, take-back and recycling structures and the networking of the actors involved. Only they can ensure that the materials used actually circulate and that desirable materials and products are created from them. The students have looked at selected materials from the region, not only designing products, but also investigating alternative production structures, material flows, business models and approaches to products.
Did this also result in approaches that can be transferred into application?
One of the materials studied was chitin, a naturally occurring polymer that is a residue from the breeding of soldier flies by the Leipzig-based company madebymade as a protein source for the animal feed industry, and from which chitosan can be produced, which has so far mainly been obtained from the chitin of crabs and shrimps. This cooperation is now giving rise to the regional research project insectmatter, which is scheduled to start at the beginning of 2023. There, research partners from the region, with the participation of SustainLab and BioLab, are investigating the extent to which the insect shells containing chitin can be used sensibly and transferred into material cycles in the region. In addition to the company madebymade, which provides the raw material, the chitosan manufacturer BioLog Heppe, the ITM of the TU Dresden (Institute for Textile Machinery and Textile High Performance Materials Technology) and the company NIG from Magdeburg are also involved. The BurgLabs are investigating the material flows with regard to their sustainability and, against this background, are designing products made of and with chitosan that can open up further regional cycles.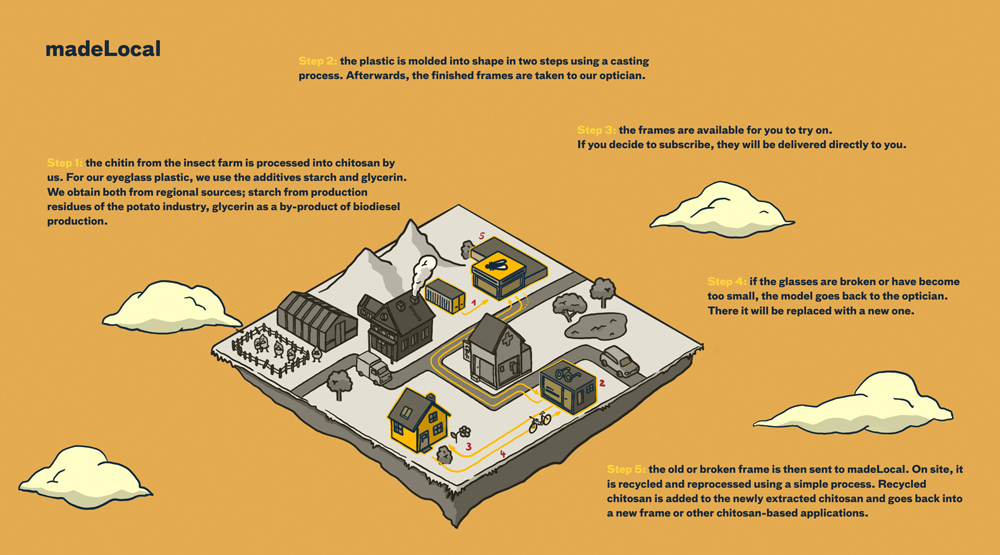 madeLocal wants to fuse insect farm, chitosan production and processing. The fictional company is a collective of designers and natural scientists. A service, that madeLocal offers, is flyWear, a circular eyewear leasing system in which the chitosan used in the frames is maintained in a small bioplastic loop. © Max Greiner
Is insectmatter thus a first milestone in the continuation of BurgLabs?
Absolutely. This is an example of the role design can play in the value chain. There is a lot of upheaval in our region. It is a question of shaping the structural change of a region traditionally based on lignite and the chemical industry. Design offers a lot of previously untapped potential here. For many companies, the contribution that a design university can make here is still a blank slate. Most of the time it is not at all positive or negative, but simply unknown. The research work, publications, exhibitions and student projects of the first funding phase have helped to make the potential of design visible in this context and to create confidence in our work. insectmatter shows not least that we are perceived as a regional partner. We want to position ourselves even more strongly here in the future and mediate even more specifically between design-based research, science and industry.
---
Prof. Mareike Gast
Mareike Gast has been a professor of industrial design with a focus on materials, technology and sustainability at Burg Giebichenstein Kunsthochschule Halle since 2016. Her teaching and research focuses on the development of (more sustainable) material interactions and transformation processes, as well as on addressing the potentials and risks of biotechnology. She is co-initiator and project leader of BurgLabs, a platform for design-based and interdisciplinary research in the fields of sustainability, biotechnology, AI and robotics.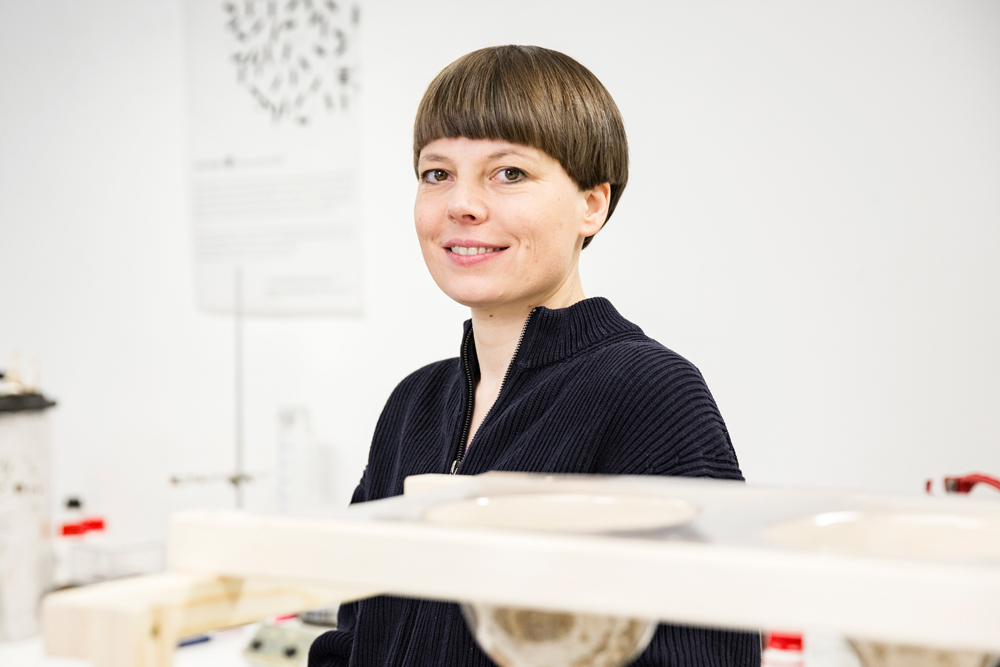 ---
More on ndion
More articles on design and research.
---
---
Share this page on social media: