2

Min Lesezeit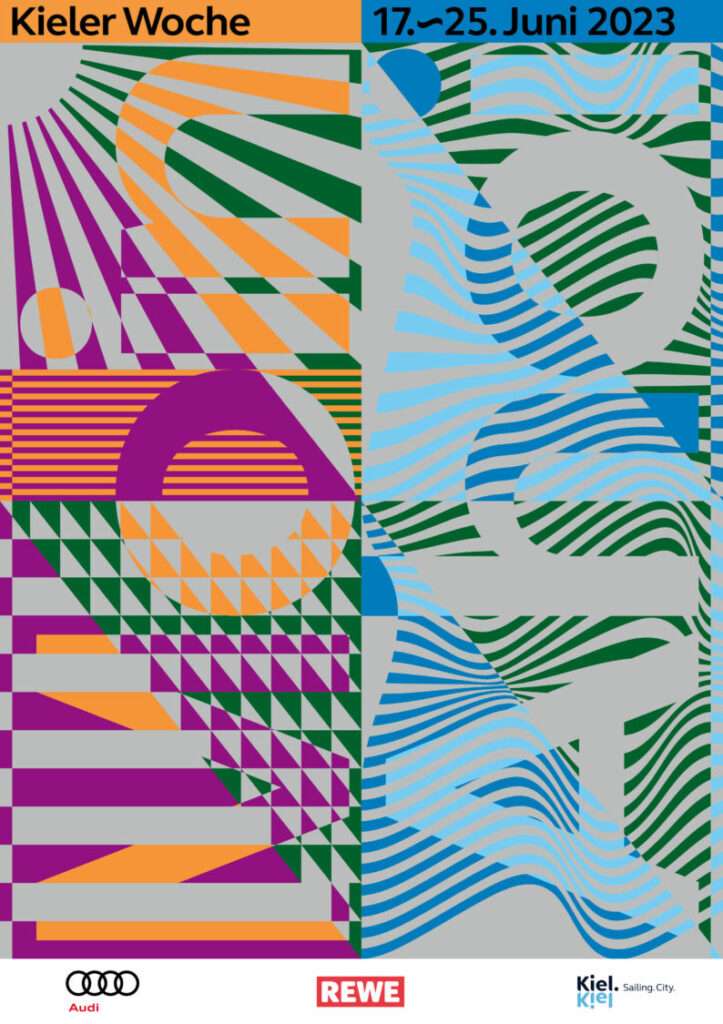 The Kieler Woche sets high standards for its annual new corporate design – and not just recently. Since 1959, the corporate design has been chosen in an invitation-only competition that enjoys a high reputation worldwide. The mere invitation to participate is considered a distinction among graphic designers. Who is invited to participate is decided by two independent experts who have won the competition themselves. Thus, not only the countless poster motifs that have won national and international prizes contribute to the international reputation of the competition, but also the many renowned designers who have been invited. This makes the series, with more than 70 Kieler Woche designs since 1948, unique worldwide, as the designs reflect the recent history of graphic design. Furthermore, since 1974, each design has not only had to prove its originality and conciseness as a poster, but also have to make an impact on articles and souvenirs such as ties, mugs or key rings.
Six renowned graphic design offices and universities from Germany, Poland and Switzerland were invited to submit their designs for the Kieler Woche 2023. The jury chose a design by graphic designers Johanna Siebein and Dirk Laucke from Amsterdam/Berlin, which was justified as follows: "Loud and complex: the winning design skilfully interweaves the greetings Moin and Ahoy with playful and graphic elements. These are reminiscent of waves, sails and the sun. The typographic word layer is not in the foreground, but flickers, floats and behaves like reflections on water and is reminiscent of the colourful hustle and bustle during Kieler Woche. There are always new details to discover in the design."
The terms "Moin" and "Ahoy" divide the poster into two areas; the unusual yet appropriate colour scheme is convincing and also creates colour correspondences to the areas of the folk festival and the sailing event. The overall appearance is also supported in print by the special colour silver. Thanks to its modular structure, the design also offers maximum flexibility for the various applications. The elements can be rotated and even mirrored, with the two orange and blue info bars providing orientation at all times. The current design by Studio Laucke Siebein as well as all designs (and applications of the corporate design) and the posters since 1948 can be viewed on the website.
---
More on ndion
Discover more articles on the topic of design and corporate design.
---
Share this page on social media: