5

min read
In a time of rapid developments in hybrid communication, companies across all sectors are faced with the great challenge of communicating their brand identity confidently on all channels, both internally and externally, in a wide variety of formats. The cross-media demands are high. With the new studio for the RTL Media Group, the architecture and design studio Veech x Veech shows what future brand-oriented communication architecture for multimedia information transfer can look like.
By Ulrike Haardt
Programmable, robotically controlled, and versatile for different broadcast formats: The cross-media interface that Veech x Veech developed for RTL sets new standards for future-oriented, multimedia broadcast design. Viewing habits of the audience are constantly changing, static news programmes with presenters and anchors in front of a stationary backdrop have long since become obsolete. The new studio demonstrates extended possibilities of dynamic information transfer – and thus also redefines the nature of hybrid communication spaces for brand companies.
More flexibility and efficiency through dynamic architecture
After two years of research and development by the Viennese architects Mascha and Stuart A. Veech, RTL will launch one of the most modern TV studios currently available in September 2022: The 445-square-metre studio space can be variably shaped by high-precision robotic drive elements and adapted to the broadcaster's programme schedule around the clock with automatically changing configurations. Instead of a module-based set design, there is a dynamically playable 360° architecture that enables RTL to produce different news formats within a single room – a novelty in broadcasting that enables new efficiency, previously unknown flexibility and fluid format changes
LED technology and mobile furniture for any corporate branding
The basis of the pioneering work of Veech x Veech was the need of the presenters to be able to move freely in the studio without cables while communicating with other actors in the room or with digitally connected studio guests. The room itself now has unlimited possibilities for transformation thanks to its technical equipment: Furniture and walls are movable, as is the freely configurable room setting of LED walls, which can create an individually coordinated room aesthetic and mood for any corporate branding and for any specific format.
Four hanging, movable and rotatable LED walls function as space-shaping image planes for the media presentation and can be combined into seamless video surfaces up to 12 metres wide if required. With cameras controlled by robotics, the customised multimedia information environment can be created from this within minutes for every programme change. Some standard configurations are preset, the others are programmable and storable. The dynamic system supports a variety of format-specific dramaturgies and at the same time guarantees the programmes their distinctive brand identities and the recognisability of the overarching corporate branding. An essential component of the corporate design is the identity-creating design line of the studio furniture.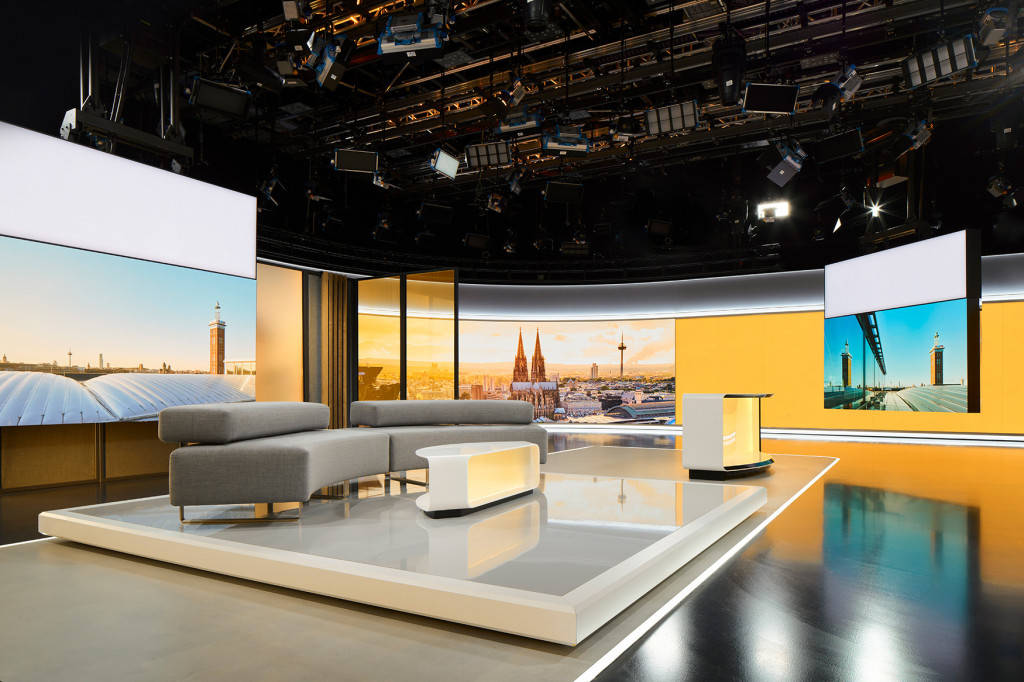 New multimedia environments: Also highly relevant for companies
Veech x Veech has modernised the visual appearance of RTL's broadcast formats and adapted them to the new moving image expectations of the audience, which consumes news via different media channels. This makes the newly developed performative architecture groundbreaking beyond the broadcasting scene. Because dynamic spatial concepts for the effective and efficient communication of analogue or digital content are highly relevant for companies in all sectors and their internal and external communication. Whether team meeting, customer meeting, product presentation or trade fair/exhibition format: especially in times of pandemic, interrupted communication levels and the intense need of institutions and companies for sovereign, brand-true communication, the Veech x Veech space concept demonstrates a vision that is close to reality.
Both architecturally and technically, companies are faced with the task of reaching their diverse target groups. Veech x Veech use the example of the new studio to illustrate what it will take to successfully send messages in the future, and how brands should arm themselves against the hybrid communication that is developing in all directions. Because cross-media and cross-format concepts are the challenge of future corporate communication in all scales – from the everyday CEO video call to the complex digital showroom.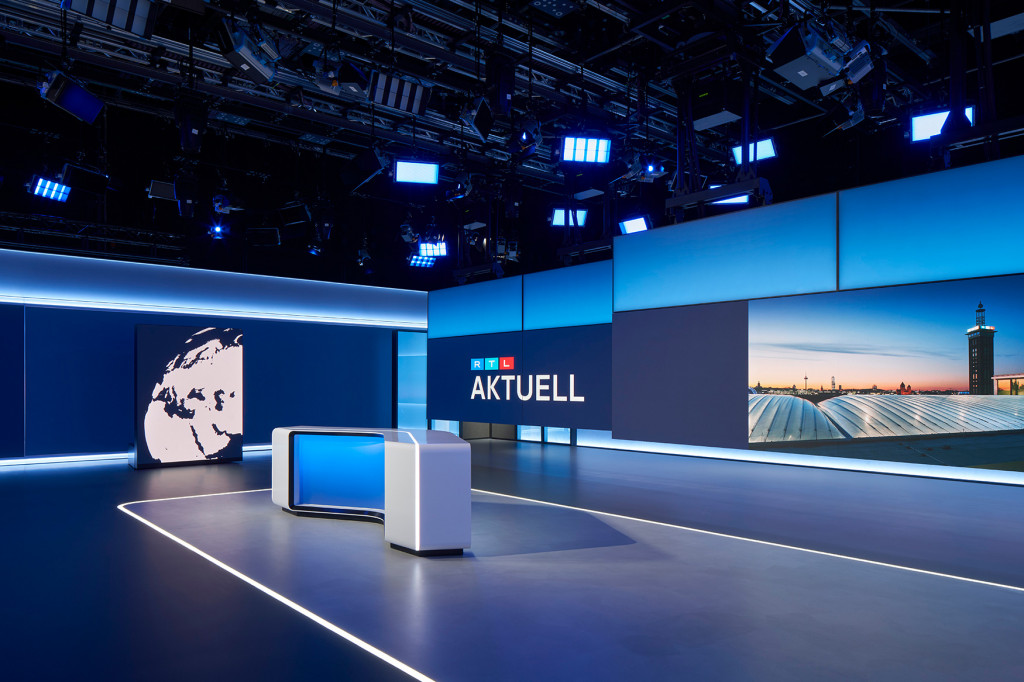 Architects take on a new role in this context. They expand space through multimedia environments: Architecture is created through media use, i.e. virtual transmission technologies, and must remain individually customisable. With these new possibilities of spatial design, they are designing new hybrid worlds whose success remains dependent on the meaningful degree of real experiences.
Communication spaces of the future: the focus is on the human being
Veech x Veech are among the few experts internationally who specialise in the visionary design of news studios. Their work at the interface of hybrid and analogue, their intensive engagement with questions of performance, framing and media-mediated experiences, as well as their experimental approach to materials, is also increasingly in demand in other corporate contexts.
Her custom-made architectures and multimedia environments explore the boundaries of the technically possible in new ways. In doing so, their concepts consciously bridge the gap between concrete space and the possibilities of a digitally expanded reality. The human being remains at the centre as an actor. As a user, it is only through individual programming that he or she gives the variably formable spaces their temporary shape. As a result, people are equipped to use the potentials of an augmented reality and at the same time to ensure that information is handled appropriately and seriously. After all, despite all the technical achievements, the communication of content is still primarily about credibility.
---
More on ndion
More articles on brands..
---
---
Share this page on social media: