2

Min Lesezeit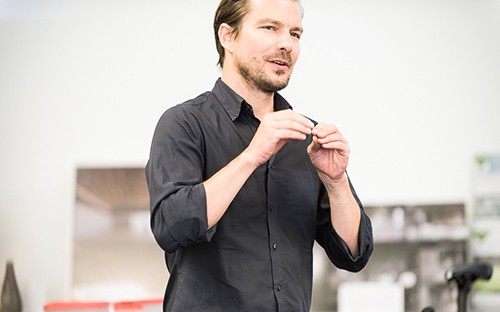 The illustrious circle of Royal Designers for Industry (RDI) has grown. The Royal Society for Arts (RSA) has announced nine appointments for 2022. According to the RSA, the title is awarded annually to individuals who demonstrate "sustained design excellence" and create "work of aesthetic value and significant benefit to society". The structure of the award has recently been revised to include speculative design, regenerative design and design research. Superflux founders Anab Jain and Jon Ardern, furniture designer Sebastian Cox and Munich-based industrial designer Stefan Diez are among the new winners announced by Tom Lloyd, Master of the RDI Faculty, at a ceremony at RSA House in London.
Only 200 designers can be members of the illustrious group at any one time, whose tradition dates back to its foundation in 1936. They contribute to the RSA in many ways, sharing their skills and experience with the organisation, its staff and networks, and supporting design education through the RSA. Designers who are not from the UK are eligible for the honorary title of Royal Designer. Current RDIs include Ron Arad, Edward Barber, Neville Brody, Alison Brooks, David Chipperfield, Ilse Crawford, Es Devlin and Norman Foster, as well as Fiona Raby, Peter Saville and Paul Smith.
Stefan Diez received the honorary title for his work in product design, in which he focuses on designing furniture, lighting and accessories for the circular economy. He founded Büro Diez in 2002 with the avowed aim of changing the way products are designed and manufactured. Growing up in a household of fourth-generation carpenters, Lloyd says, inspired Diez's "practical, experimental approach" to his designs. According to Lloyd, Diez believes that a good product "provides a tangible benefit to the user and is something they hang on to and want to keep". Diez has also been head of the industrial design course at the University of Applied Arts Vienna since 2018. In addition to the currently added Stefan Diez, the Honorary Royal Designers for Industry from Germany include Dieter Rams (awarded in 1968), Erik Spiekermann (2007), Konstantin Grcic (2009) and Hartmut Esslinger (2013).
---
More on ndion
Discover more articles on the topic of design.
---
Share this page on Social Media: