7

min read
Good branding and design make the circular economy attractive, as proven by the success of reCup with its deposit tableware system. In our interview, Greta Mager from reCup team explains how business and purpose came together.
Interview by Rebecca Espenschied.
Coffee-to-go has been a part of everyday life for years. How did the idea of reusable tableware in the deposit system arise?
Our two founders Florian Pachaly and Fabian Eckert came up with the idea for a reusable system independently of each other during their studies. They both noticed the rubbish bins overflowing with coffee-to-go cups and thought to themselves: "There must be another way". By chance, they came up with their idea of a reusable system to the same person, and so they finally got together and decided to approach the matter together. In November 2016, they started their pilot project for reusable cups in Florian's hometown of Rosenheim, and 50 other partners in Munich followed shortly afterwards. In the meantime, RECUP and REBOWL are available at over 21,000 dispensing points nationwide.
How exactly does RECUP work?
RECUP aims to offer consumers a solution that is accessible to everyone and easy to integrate into everyday life. For this reason, RECUP follows the bottle deposit system established in Germany and is based on recyclable deposit cups and trays, the so-called RECUPs and REBOWLs.
Catering businesses borrow the desired number of reusable containers from us for a deposit of 1€ per RECUP or 5€ per REBOWL and hand the containers out to their customers for the same deposit amount. Customers can enjoy drinks and food on the go and then return the reusable containers to one of over 21,000 drop-off and return points to get the deposit back. RECUP partners clean the returned containers and put them back into circulation so that they are ready for use by the next customer.
The legal obligation of a reusable offer has certainly played into your cards….
With the mandatory reusable offer, our product became law on 1 January 2023, to put it bluntly. As the market-leading reusable solution, we were therefore able to perceive an increase in demand for our system as early as October 2022. Since the start of the year, over 5,000 new dispensers have joined across Germany, bringing our reusable system to over 21,000 dispensers. The numbers show: Awareness of the issue of reusable alternatives has increased as a result of the new law. At the same time, there is still a lot of education work to be done, especially among end consumers. Only if customers actively ask for reusable packaging can it become the new packaging standard.
Do you still have to do a lot of educational work with the participating companies or future partners?
Especially at the beginning of the year or during the months before, we noticed that the new regulation became more present, especially with the large key accounts, while some individual caterers were not even aware of the law. Even today, five months after the mandatory reusable offer came into force, many catering businesses are still uncertain about the exact regulations. It is often not clear to the restaurateurs whether they are affected or what exactly they are obliged to do – which is why they often ask for help from us. On the other hand, we can also learn a lot and constantly develop our system further through constant exchange with the industry.
Your reusable tableware can now be seen on almost every second counter. What importance have you placed on product design?
When designing our products, we focus on functionality, sustainability and aesthetics. On the one hand, we want to be able to cover as many use cases as possible with the smallest possible product range, so the products must be able to cover a wide range of food and beverages. On the other hand, they are specially adapted for use in a circular system and in the catering industry: Lightweight, easy to stack and clean and, of course, shatterproof. Before we introduce new products, we conduct an intensive test phase with existing partners and only launch when the containers meet all our requirements. However, the design must not be neglected; the products should be perceived as a sustainable alternative at the POS and on the go and reflect our brand values: Sustainable, enjoyable, convincing and eye-catching and, above all, easy to use for everyone.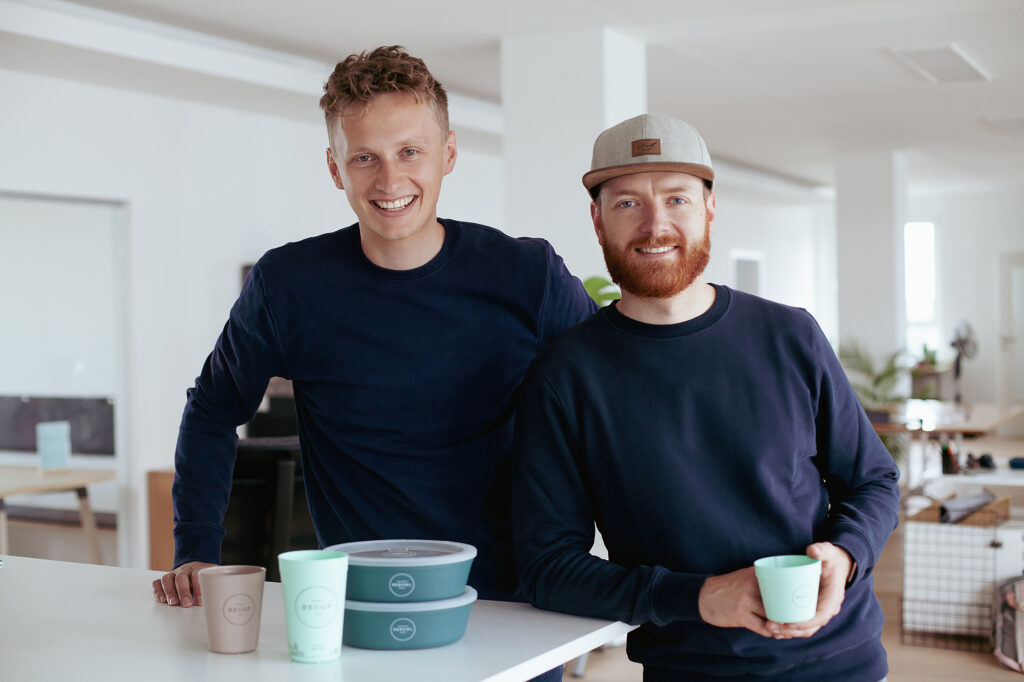 What marketing strategy have you pursued and what marketing channels do you use for this?
What is important to mention is the challenge of the diversity of the target group. On the one hand, we address the gastronomy sector, which is our direct partner. At the same time, of course, we want to reach everyone who consumes to-go and take-away in Germany. Hence the approach of multichannel marketing to reach the target groups at several and different touchpoints.
Basic pillar: a continuous adaptation over the years to the market situation and target group needs. At the beginning, we placed a strong emphasis on brand building, personal branding, brand communication and public relations as well as cooperations, and later on expanding the system, i.e. sales marketing and multichannel marketing, in order to be able to reach the heterogeneous target group at different and as many touchpoints as possible: from the online marketing presence with social media (Instagram, LinkedIn, recently TikTok), direct marketing measures (print mailings, newsletters, promotions), awareness and sales campaigns, trade fairs/events and sales cooperations.
---
"Wir möchten ein Unternehmen aufbauen, das im Kern, in der Arbeitsweise und im Angebot Nachhaltigkeit in den Mittelpunkt stellt."
— reCup GmbH
---
Delivery services, which are becoming more and more popular, certainly also contribute a large share of waste due to disposable packaging. How do you work together?
Each partner can serve REBOWLs (in all sizes) throughout Germany via Lieferando, Uber Eats and Wolt; small regional platforms or the restaurant's own website are also possible.
For Uber Eats & Lieferando, partners and end customers each need the corresponding RECUP app and partners need to scan the bowls.
No RECUP app is required for Wolt. Here, the deposit for the REBOWLs can simply be deposited directly in the Wolt app.
It is also possible to order as usual on the other platforms and select the " reusable " option; the deposit is stored in the RECUP app.
The food is then delivered in REBOWLs and can be returned to the nearest REBOWL partner anywhere in Germany to get the deposit back.
But not only your products, but your entire business model is designed to work ecologically and socially…
We want to build a company that has sustainability at its core, in the way it works and in what it offers. We are convinced that circular business and responsible use of all resources is the model of the future, and we take up this challenge every day. We want to show that this is possible. Against the backdrop of the many ecological, economic and social changes of our time, companies, especially the large and established ones, can and should consistently set an example.
Six years ago, we declared war on disposable to-go and made it our goal to contribute to ecological, social and economic change with RECUP. Currently, we are in the process of understanding sustainability holistically at RECUP and developing and expanding our work on both the social and ecological pillars.
This year, for example, we want to work on concrete reduction targets regarding our carbon footprint. In addition, our goal is to generate a sustainability report according to the DNK standard and our sustainability strategy on the basis of our materiality analysis, from which we will derive concrete goals and measures. We also take various measures in the area of social sustainability. Among other things, working at our company is based on trust-based working hours and full awareness that a life also takes place outside of work. Mental health prevention is also close to our hearts – through a cooperation with Open Up, our employees can book mindfulness training and anonymous and free appointments with psychologists. Through these and other measures, we try to integrate the ecological and social pillars into our work and to understand sustainability holistically.
Which corporate values do you implement within the team?
Since its foundation, our company has been characterized by four core values on which our dealings within the team, but also with our partners and service providers, are based: Togetherness, Transparency, Heart and Boom.
Of course, our purpose is also of great importance, because we always reflect on the reason why we exist and what drives us: We revolutionize to-go – because it is now in our hands that our environment is preserved for us and future generations.
We value personal, happy and humorous cooperation. We also always want to give transparent and honest insights (e.g. into what we can and cannot do) and thus create a cooperation at eye level. We are passionate about what we do because we care about the world and our fellow human beings. And our corporate value "Boom" holds fast: we are alive, dynamic and have the courage for change and to change.
There are laws to avoid single-use plastic not only in Germany. Are you therefore also active in other countries?
We are currently concentrating exclusively on the German market. Germany is a pioneer when it comes to reusables, and demand is high here because of the mandatory reusable supply. But we are well aware that single-use plastic is a global problem. Our vision is to "abolish disposables" – and that doesn't just apply to Germany.
What tips do you have for founders who develop new concepts with added social value?
Our tip for founders: Go where the pain is. In difficult phases, act quickly and honestly and always address important things directly – procrastination is useless. Also: Feedback is a gift, especially criticism – with regular, honest and constructive feedback, progress can be made very quickly.
Information on RECUP: https://recup.de/
German Brand Award
The German Brand Award, initiated by the German Design Council, honours successful brand management in Germany. It discovers, presents and awards unique brands and brand makers. This year, the jury awarded four honorary prizes, whose laureates we present. ReCup was awarded the honorary prize "Best Purpose of the Year".
---
More on ndion
More articles on the topic of brands.
---
---
Share this page on social media: