6

min read
He is undoubtedly one of the most committed personalities of the German design scene: Tassilo von Grolman. As a designer, he thought transdisciplinarily early on and worked in many design fields. As co-founder of the German Designer Club (Deutscher Design Club – DDC), he helped colleagues to be heard more in companies – and in the media. A tribute to his 80th birthday on 23 December 2022.
By Gerrit Terstiege.
Actually, it is only now, in retrospect of his work, that it becomes clear how much two widely divergent poles influenced Tassilo von Grolman's design work and attitude. On the one hand, there is his great admiration for simplicity and clarity, but on the other hand, there is also his tendency towards the experimental and playful, which also includes humour and the deliberate arousal of emotions. If you wanted to sum up these two divergent aesthetic poles, you could name the Bauhaus and the HfG Ulm on the one hand – and on the other hand the often tongue-in-cheek, not quite so serious, "artistic design" that we know from Italy and associate with names like Alessandro Mendini, Ettore Sottsass or Anna Castelli-Ferrieri. But can a designer really feel connected to modernism and post-modernism at the same time? Can you speak just as enthusiastically of Dieter Rams as of Philippe Starck? Tassilo von Grolman can! And even without batting an eyelid – he often laughs out loud during our conversation. The tall man has a winning personality that has certainly often helped him to inspire companies with his ideas, to connect people and to get projects on track.
"Nothing is impossible"
Born in Iserlohn in 1942, von Grolman initially did an apprenticeship as a machine fitter at AEG in Oldenburg. He still remembers an experience from this time, at the end of the fifties and beginning of the sixties: as an apprentice, he got upset with the AEG engineers about what he saw as the unsuccessful handle on the "Vampyrette" stick hoover – and advised them to take a look at what the competitors were doing at Braun at the time. A surprisingly self-confident performance. "Over the weekend, I drew a handle with a more appealing design and showed it to the head of the testing department. I got 25 Deutsche Mark for this suggestion for improvement, which was a month's wage for an apprentice at the time. In the end, however, that was the deciding factor for me to pursue my interest in industrial design." But his father considered design to be a "breadless art" and so von Grolman first had to study mechanical engineering and find his way in the world of formulae and DIN standards. "The sense of aesthetics, of beautiful things – I got that from my mother." In the early 1960s, he took refuge on the world's oceans, also to avoid being drafted into the German armed forces, and on board learned the saying "nothing is impossible" – which was to shape his attitude in design matters as well. In 1967, the way was finally clear for him to study design: "I wanted to go to Ulm. It had to be the HfG in Ulm, of course!" A call to the secretary's office there, however, abruptly destroyed his dream: the university was about to close. But perhaps that was exactly what the English call "a blessing in disguise". For this is how Tassilo von Grolman came into a student environment that, from today's perspective, he describes as very open and free: the Werkkunstschule in Kassel at that time. It was not only designers such as Jupp Ernst, Herbert Oestreich and Günter Kupetz who influenced him. He was also an assistant to Arnold Bode, the founder of the documenta in Kassel. "From Bode I learned that everything is connected to everything else: art, design, architecture, interior design, graphics, photography, typography …" Perhaps this is where von Grolman's unconditional drive to design comes from, even beyond the boundaries of product design. When he founded the German Designer Club (Deutscher Designer Club, DDC) in 1989, the inclusion of all design disciplines was his decisive drive. Tassilo von Grolman was disappointed by the work of other associations, sought inspiration abroad and followed his credo: "Associations need assertiveness".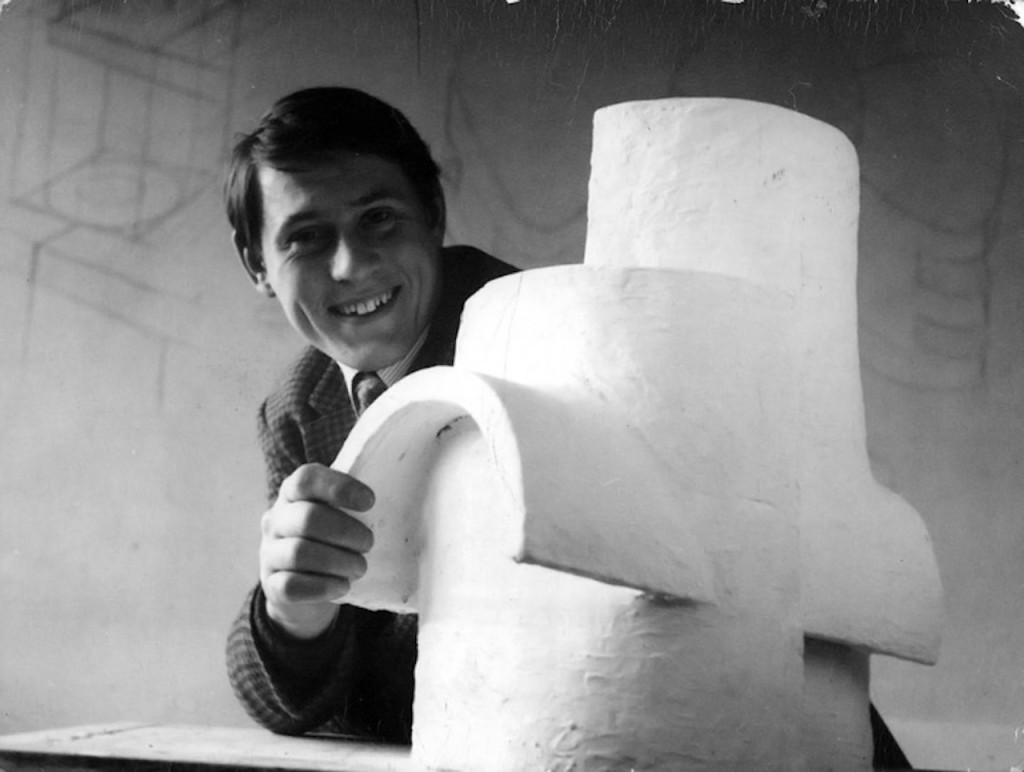 His aim was to create greater awareness of what designers can achieve for industry and society through events, publications and competitions. In the 1970s and 1980s, the peak phase of postmodernism, von Grolman moved to Frankfurt and also got to know the advertising scene at the TBWA and Lürzer Conrad agencies, creating numerous packaging designs and brandings. Even today, his library in Berlin contains numerous books on the legendary minds that shaped corporate as well as graphic design in the 20th century: Paul Rand, Wally Olins, Milton Glaser, Willy Fleckhaus … to name only the most important. A look at the monograph on the designer published by Verlag form shows the widely divergent fields in which he was active – from packaging and interior design to things like a belt hanger in the shape of a coat hook or a purely functional gas meter ("In terms of quantities, certainly one of my bestsellers. If only I could get licences for it!") The book also served as the catalogue for a von Grolman retrospective at the Institute for New Technical Form in Darmstadt, which opened in January 2001 together with the Werkbund Hessen. In his late 50s, the designer was already a museum-goer – in the meantime, several international museums have included Grolman designs in their permanent collections.
The "Mona-Lisa" of tea enjoyment
Today, his name is mainly associated with objects from the Tableware sector, utensils for cooking and frying, for preparing and keeping tea and coffee warm. Some of the thermos flasks that von Grolman designed for the manufacturer Alfi were very successful – not least, the "Tagesschau" and other news programmes advertised these flasks when the camera roamed over covered conference tables. Without a doubt, a teapot for the manufacturer Mono became a modern classic, which came up with a truly innovative concept: as a passionate tea drinker (he prefers "Earl Grey 69" from Gschwendner), many small-sized strainers seemed "like prisons" to the designer, preventing the tea from spreading throughout the pot and thus unfolding its full aroma. The special thing about this crystal-clear idea is probably that it is so simple and plausible – and also immediately obvious as an object. But time passed from the first idea to the finished product: von Grolman had to search for a sieve in the desired size, for a glass manufacturer for the prototype, but above all for a company that met his quality standards – and also his idea of being duly rewarded with licences for this, his "Mona Lisa" (in von Grolman's own words). In the end, this can, which von Grolman has varied and reworked several times, was and is a stroke of luck for both him and Mono. And what is currently on his mind? The designer laughs: "You'll be able to see that at the next Ambiente!" We can be curious – and congratulate him on his round birthday. Especially since von Grolman has a special relationship with the round, with circles and ellipses, with all-round fluting, bowls, cups and plates. He should like the number 80. Also and especially its shape.
---
More on ndion
More articles on Design.
---
---
Share this page on social media: