2

Min Lesezeit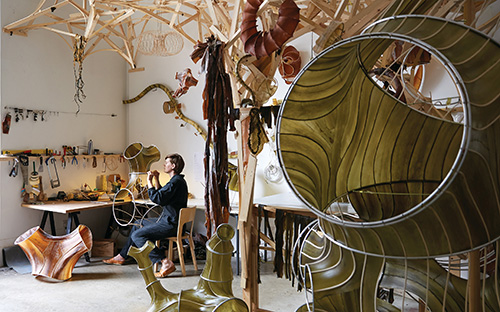 Whether it is the design of furniture, fashion, graphic or industrial design, women have contributed significantly to the development of modern design. They were and are just as successful as architects, entrepreneurs or professors. This is especially true where new design fields are opened up, where research or new technologies are at the centre, where team spirit and interdisciplinary work are in demand. The work of female designers over a period of 120 years is currently on display in the exhibition "The Bigger Picture: Design – Women – Society" at the Gewerbemuseum Winterthur. The show, which runs until 14 May 2023, is based on the exhibition "Here We Are! Women in Design 1900 – today" at the Vitra Design Museum, but expands it to include positions and perspectives from the Swiss context. At the same time, according to the museum, it "opens up a forum for a forward-looking discussion with a view to current developments in design and social change" with selected works.
Even though women are naturally present, recognised and successful in design and design education nowadays, their achievements have not been adequately noticed and appreciated for a long time. A look at the history of design shows how much stereotypical ideas and role models have determined the perspective. It is only today, the museum informs us, that "exhibitions around the world are putting women's design work and their impact in the spotlight and telling the story of design differently". At the same time, museums are critically examining their own collection practices, including gender relations and diversity, social justice, ecological and economic sustainability. Accordingly, "The Bigger Picture" not only aims to make women's achievements more visible and to introduce social dimensions of design, but also to explore "how we can make our world more inclusive and diverse in the future".
The arc is wide. It begins with "Reform and Revolution 1900 – 1930", followed by "Pioneers of Modernism 1920 – 1950" – with works by Aino Aalto, Ray Eames, Eileen Gray, Florence Knoll, Charlotte Perriand, Lilly Reich and Flora Steiger-Crawford, among others. In the following section, "In Motion 1950 – 2000", Gae Aulenti, Rosmarie and Rico Baltensweiler are represented as well as Susi and Ueli Berger, Cini Boeri, Anna Castelli Ferrieri, Nanna Ditzel and Trix & Robert Haussmann. In the last section, "The Big Picture 2000 – Today", the spectrum of women designers is also enormous. It ranges from Matali Crasset and Ilse Crawford to the designers of Front and Larissa Holaschke from the Gender Salon in Switzerland, from Hella Jongerius and Louise Schouwenberg to Patricia Urquiola and Paulina Zybinska.
The show is complemented by an accompanying programme (calendar only available in German): on 7 December from 6.30 to 7.30 p.m. there will be a talk with Hella Jongerius in English under the title "Designer as Researcher". And on 19 January, under the heading "Changing Roles: Designers and their Forms of Work", Therese Naef will discuss the following topics
Therese Naef (CEO Milani Design & Consulting AG), Sandra Kaufmann (Zurich University of the Arts ZHdK), Monika Gold (Lucerne University of Applied Sciences and Arts) and Meret Ernst (design critic and lecturer in design history) will discuss "the transformation of a profession that has become more diverse in historical comparison". Among other things, they will discuss whether the change of roles is sufficient, what less or non-hierarchical forms of work have to do with diversity, and which forms of work will shape design in the future. Both events can be attended free of charge; registration is not required.
---
More on ndion
Discover more articles on the topic of design.
---
Share this page on Social Media: