2

Min Lesezeit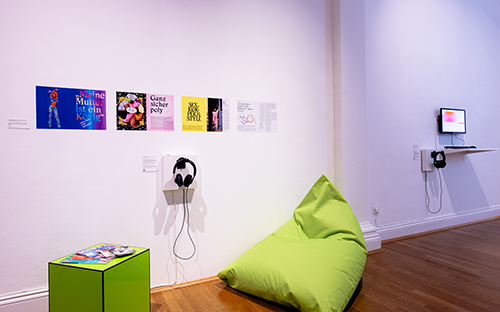 How is a poster actually created? What is important when designing a website? What about a magazine? In the exhibition "audio – graphic. 16 designs and their creation", which can be seen at the Hamburg Museum für Kunst und Gewerbe until 26 February 2023, designers explain selected works in short audio clips and provide insights into design processes and working methods. In this way, individual attitudes, views and stories that usually remain hidden behind the scenes are also brought to the fore. What steps did it take until the design was ready? How was the choice of materials made? What influence did the clients have on the brainstorming and implementation? And how did the designers deal with their own attitudes and aesthetic preferences?
The framework is broad. According to the museum, "activist-motivated works, infographics with an enlightening claim, designs driven by aesthetic considerations, created collectively or by individuals, commissioned or self-initiated" will be presented. It is also important to note that since the designers comment on the design process with their own voices, hearing and seeing are equally important in "audio-graphic". The variety of visual offers for communication is amazing: In addition to posters, websites, animated videos, infographics, book and magazine designs as well as textile and sculptural works are shown.
The Hamburg design studio Rocket&Wink, which has designed posters for the Deutsches Schauspielhaus and Fritz Kola ads, tells us how they find their images. Jan Schwochow, who designs full-page infographics in the weekly newspaper Die Zeit, talks about the responsibility involved in designing them. The art director of Missy Magazine Daniela Burger addresses queer-feminist potentials in editorial design. Mark Bohle and Raffael Kormann give just as open an insight into the creation of their work as the Hamburg office Klass, which specialises in the design of book covers. And the renowned graphic designer and university lecturer Uwe Loesch talks, as they say, "self-ironically about "the idealisation of creative processes and raises the question of whether one should talk about design at all or whether it has to speak for itself". Other designers talk about politically motivated poster campaigns, the power and message of Arabic characters, the choice between digital and analogue, the use of colours and shapes, collages and much more. The audio recordings in the exhibition were made in cooperation with the Macromedia University of Applied Sciences Hamburg.
More on ndion
Discover more news on the topic of design.
---
Share this page on Social Media: