1

Min Lesezeit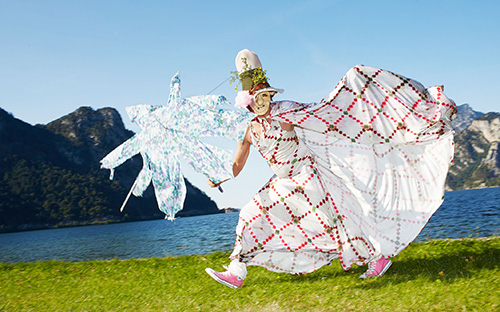 Who doesn't like to celebrate! Festivals and festive cultures have always played an important role in history and the present. Whether private or public, whether celebrated for family, religious or political reasons, community experiences were celebrated and social cohesion was experienced and strengthened. Sometimes taboos were broken, and not only at wild artists' festivals. In this respect, as the announcement of the exhibition "The Fest" at the Vienna Museum of Applied Arts says, festivals "challenged people to activist experiments or even artistic announcements". Sometimes a champagne glass or a forbidden costume, an immersive party sound or a festive staging is enough to "trigger surprises and even provocations". Accordingly, an ephemeral event like the festival has always prompted designers in art, architecture, design and music to "translate design traditions and art discourses into the excesses of a wild night or the celebration of a worthy occasion". Conversely, the "ephemeral freedoms of celebration" have fired the imagination and inspired new formats.
The MAK exhibition "The Fest. Between Representation and Revolt" therefore aims to bring cultural and social history to life from 14 December to 7 May 2023 and illuminate the "significance of design strategies for lived everyday culture". To this end, it spans the time "from the beginning of the Enlightenment to new festive calendars of a forming working class at the time of industrialisation to current formats of the festive". Audacious masked balls of the rococo, festivities of artistic avant-gardes of the interwar and post-war periods are recalled, discussed and celebrated just as much as forbidden raves. The list of participating contemporary artists is long and ranges from Astro Polygon and Petra Bacher to Heimo Zobernig and Matthias Zykan. A comprehensive publication edited by Lilli Hollein, Brigitte Felderer and Anne-Katrin Rossberg will be published by Birkhäuser Verlag to accompany the exhibition at a price of 49 euros.
---
More on ndion
Discover more articles on the topic of design and current exhibitions.
---
Share this page on Social Media: