4

min read
The Model Group promotes young talent with its international Model Young Package competition and thus ensures innovation for the packaging industry. The winners of the international competition were honoured in Prague on 4 October 2023. For the first time, the event also included a design challenge, where the best designers created a customised solution based on a commission from Clock Craft Brewery in the Czech Republic.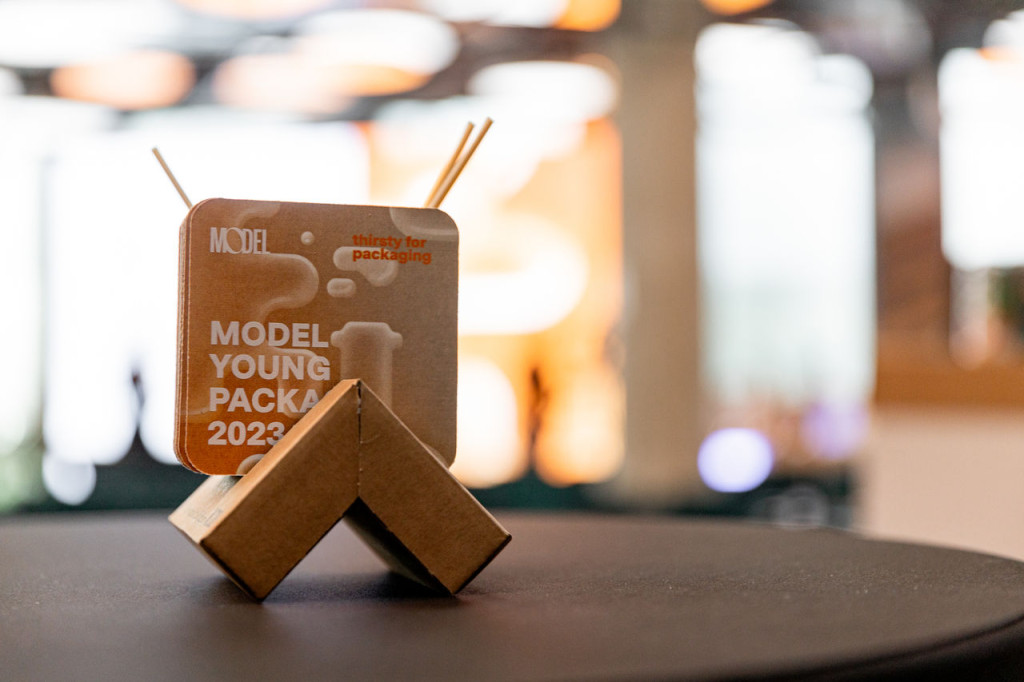 Under the motto "Thirsty for Packaging", the Model Young Package competition looked for creative and innovative beverage packaging worldwide. In a two-stage process, students and young designers aged 15 and over were able to submit their ideas. A total of 240 prototypes for creative beverage packaging were submitted from 29 countries. In the second round of the process, designers selected by the Model Group from the first round competed against experienced designers to solve a real design task of a beverage start-up.
The prizes, worth a total of 31,000 euros, went to the following projects:
High School Category

First place in the high school category went to Sebastian Sikora from the School of Arts, Ostrava with his project "Jägermeister #SAVETHENIGHT". The design and look of the packaging impresses with a minimalist and high-quality look as well as an unconventional opening. The Limited Edition #SAVETHENIGHT packaging by Jägermeister, consisting of 3 parts, serves as a display/gift carrier for a 0.7-litre bottle. Second place went to Eduard Špička from the Higher Vocational and Higher Industrial School, Sumperk. His project "Box Wine" was inspired by prestigious, fragile wine boxes that require additional packaging for transport. In this case, the wine box allows for easy stacking of shelves while being easier to transport, unpack and ship. Third place went to Sára Hejčíková with her project "Tatra Tea". The packaging is made of coated cardboard with silver partial varnish. Magnets are embedded in the base and insert to strengthen the packaging when it is closed. The colours are black and silver, based on the Tatra Tea bottle itself.
Category Unlimited

In the category Unlimited for students and designers without age restriction, Se Hyeon Won, Namju Kim, Kyoungjin Lee, Hyeonjeong Lim from Burg Giebichenstein Kunsthochschule Halle won the first prize. "Fold up Pick up" is a versatile packaging that adapts to different stages of the supply chain and offers a single solution for different needs. It starts as a standard box for distribution and storage and transforms into a promotional banner by tearing off the side wings and folding it up. Second place went to Mariia Sokolova from the Technical University of Prague with the "Flat Juice" project. The flat juice packs offer a distinctive beverage packaging solution. Their A5 format fits comfortably in pockets or backpacks and can be folded in half for smaller handbags. These packs feature a top paper layer and a sealed plastic interior to ensure nothing spills during transport. After use, it is easy to separate the paper and plastic layers and dispose of them in different containers. Third place went to Olaf Stachurski from the Academy of Arts in Szczecin. His project "Geovine" celebrates local wineries and their unique locations. The pop-up opening provides convenient access to the bottle, while the slightly torn label adds an element of discovery. Made from eco-friendly materials, it enhances the wine experience and supports sustainability in the industry.
Special Awards

At the Online Award, the audience also had the opportunity to vote for their favourite from a shortlist of 29 prototypes. The winner was Samuel Bratko from ŠUP Josefa Vydru, Slovakia, who also won the Innovation Centre Prize with "Le Tosque", which earned him a paid internship at Model Group and 1,000 euros in prize money. Le Tosque is a prototype beverage packaging that defies conventional angular designs and creates an optical illusion about its centre of gravity. Although the packaging was primarily designed for ice wine, it is suitable for a variety of bottle types and materials. The special Chairman of the Jury's Award went to Katarina Davidová from Strážnice Secondary School for her particularly intelligent concept "Foltio". The project addresses the problem of overfilled paper bins during waste sorting. The strategic compression of the cardboard minimises wasted space. The brown recycled cardboard solution is designed for 0.5-litre glass alcohol bottles.
Round 2 – Design Task of a Real Customer
In round 2, the task was to solve a real design task of the beverage start-up Brauerei Clock. Here, Rolf Weilmann won first prize. "Fab Four" is a retail packaging designed to present Clock's cans. It is user-friendly, with easy assembly and closure, a built-in handle for transport when closed, a perforated back for easy can removal and the option to add a shipping cover for extra protection. Second place went to Philipp Hainke. The "Clock Pack C6x0.5" is a flat single-sheet pack that holds six standard 0.5-litre cans. It has an automatic build-up function with dividers for efficient handling. The integrated handles provide flexibility. Norman Drescher came in third place with the "Diamonds Inside" project. This compact, protective box impresses with its attractive design, which is reminiscent of a faceted diamond cut. When opened, it reveals all the doses, making it easy to choose and enjoy.
---
More information about Model Young Package.
An overview of all winners from 2023.
---
More on ndion
More articles on the topic of design and packaging.
---
Share this page on social media: