7

min read
Patric Draenert has been the second generation to run the family business of the same name on Lake Constance for almost 20 years. We talked to him about the tradition of furniture manufacturing, current trends and challenges.
Interview by Gerrit Terstiege
Mr Draenert, furniture with natural stone is still your core business. How do you keep a brand young and up-to-date that is known for processing stone slabs that are millions of years old?
We try to keep the brand young, for example by constantly working with new designers – or by trying out other materials. We not only offer natural stone tables, but also wooden and glass tables. So we are always breaking new ground. Above all, the additions to the collection and the entire chair range have moved the brand forward and kept it up-to-date – which is now an important pillar of sales. We have seen major trends and also trend changes in natural stone over the past decades. For example, while homogeneous granite used to be more popular, we call it "salt and pepper stone", today it is practically irrelevant. Nowadays, the decisive factor is that the stones have a great colour structure – they are rather wild in character and exciting in colour. These are usually certain types of marble and limestone.
You just mentioned it: DRAENERT has already worked with a whole series of renowned architects and designers, including Oswald Mathias Ungers, Hadi Teherani and Ron Arad. What criteria do you use to select your designers?
Most new contacts are made at trade fairs or in conversations. Sometimes the designers come to us with their ideas. In the end, it's important that we get along personally. Product development is always a lengthy process, and also a matter of trust. And when the chemistry is right, it's fun to optimise a project together. It's best to pull together. On the other hand, it is important that the designers get involved in our niche. We have a relatively narrow range with a focus on tables and chairs. That's why we go into depth. So he or she has to understand the DNA of DRAENERT.
How would you describe the DRAENERT brand to a young designer?
Quite simply, we are an exclusive German furniture manufacturer. We manufacture high-quality products in the field of classic modern design, but with an international orientation. Our export share has increased significantly, and this must also be reflected in the collection. Individuality is sought after, and perhaps also exclusive design that is not found in the mainstream. And that can be quite sophisticated in terms of materials. We look for the best technical solutions in each case, adapted to the different materials – for example with our 3D printer. We are broadly positioned in this respect.
What exactly is important to you in the work processes?
The handicraft part of our production is still high. We also use CNC machines, stone scanners, and we have recently acquired a cutter for cutting the fabrics. But what dominates our actions and thinking is the manufacture. We have all the trades under one roof. That means not only stone processing, but also wood, metal, glass, lacquer and upholstery – we can process all these materials here. Everything is Made in Germany. Of course, we have a large network of suppliers for components, for raw parts and so on. But every product is manufactured, refined, finalised and assembled here in Immenstaad on Lake Constance. The final value-added step is always done here.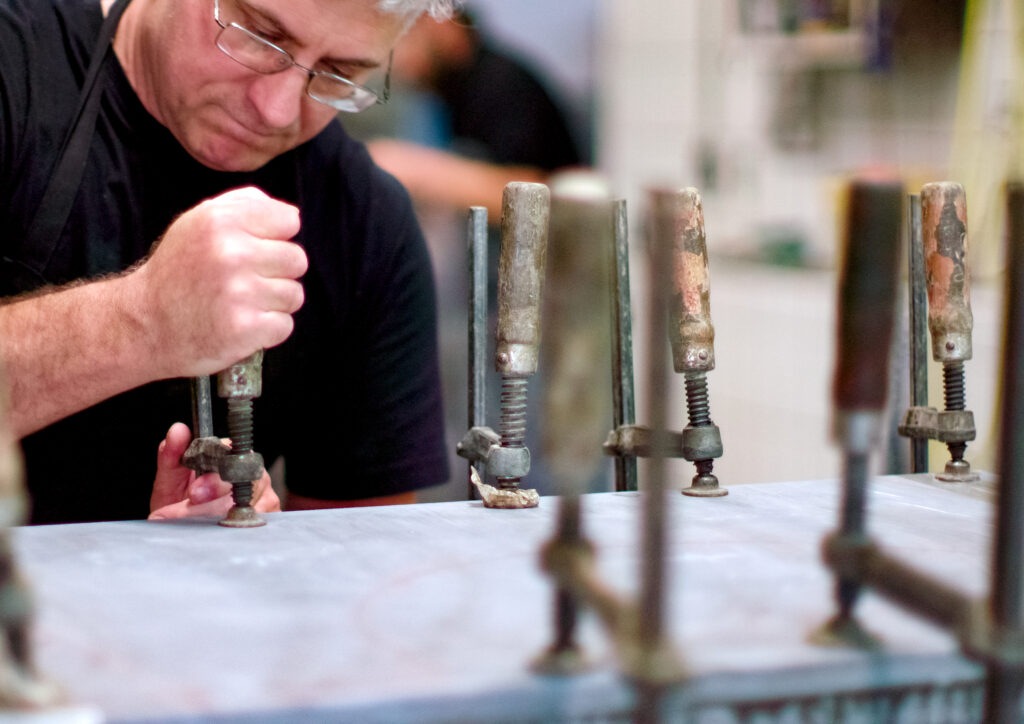 But the stones themselves, the stone plates come from all over the world. Do you have scouts in the different countries who unearth stones for you?
Yes, the natural stone sector is incredibly international. We get materials from all over the world, many specimens from Brazil, India, Italy, but also New Zealand, Australia or South America. We actually have stone agents in the large plants who keep us up to date, who inform us when a new material comes onto the market. But you have to know: the biggest stone market is traditionally Italy. And the Italians have many mining rights all over the world – mines that they operate themselves and then bring the blocks to Italy for further processing. Over the decades, we have built up a broad network of different contacts who inform us regularly, now digitally, and offer us new materials very quickly simply by taking a photo.
In general, the situation for furniture companies has not been easy in recent years. Corona has greatly reduced visits to showrooms and shops, important international trade fairs have been cancelled. And the war in Ukraine is currently causing transport costs and timber prices to rise. How do you get through these still challenging times? You are certainly particularly affected by higher transport costs because the stones are simply infinitely heavy, aren't they?
Indeed, the last five years have been very turbulent times with many uncertainties and big cuts. Corona was an issue at the beginning that we all could not assess, especially due to the long lockdowns. In retail we had huge drops in sales. However, things went up again incredibly quickly when the shops were allowed to reopen. All in all, in retrospect, the Corona period was rather positive for the furniture industry. People concentrated on cocooning, on their homes, renovated their houses and yards and invested a lot because they couldn't travel either. Their own four walls were very important again and people really spent money on them. But we knew that the pendulum would swing back in the other direction. At some point the demand will be met and people will want to travel again. And that's what we're feeling today. The consumer mood is rather in the basement at the moment. And it's really enormous how expensive materials have become. Not only the freight costs, which also affect us a lot, especially in the area of stone and the purchase of raw materials. Then we are also affected by the shortage of skilled workers, which you hear or read about every day in the media. But this is really an enormous problem, something I have never experienced in 25 years. The market is really empty.
It is probably not due to your location – many people appreciate Lake Constance as a holiday region. But how do you manage to attract customers from far away, from Düsseldorf, Hamburg or Berlin, for a trip to Immenstaad?
For one thing, people really like to travel. In summer, many guests come here anyway. And in winter, many go to the mountains, be it to Austria or Switzerland. Customers then really like to take advantage of that, either as a stopover or even with a little extension here at Lake Constance. When there is the possibility of choosing an individual plate for the table, many have the feeling: "Gosh, this is worth taking the time to choose." And the time is really well invested. After all, the dining table is the central point of the whole family. It's where you spend several hours a day. Not just eating, but the children do their homework, we discuss topics, plan our holidays and all sorts of other things at the table. That is the central place.
Cue social media: you have an official Draenert account on Instagram – and a personal one, where you can also find out a lot about your family business. So why this separation?
As a family business owner, you can't exactly separate the two, of course. Our whole life is always private and company together. Sure, we have a company account, which is also professionally managed by a freelancer and an agency, together with my wife, who determine the content there and create an editorial plan for the next few weeks. My private account, I do intuitively, spontaneously, with little strategic thought. If there's a nice thing in my life, I post it, no matter whether it's private, from a holiday or from a trade fair or other topics. I just go with my gut feeling, not strategically.
One last question: What are you planning in the near future? I have the impression that the topic of outdoor is just becoming more important.
This is indeed a big new trend topic that we are now playing on and expanding. We have also noticed through Corona: The appreciation for one's own home is growing and it is moving more towards the terrace and garden. For us, this means making existing dining tables, which sellers already know well, suitable for outdoor use. And here, of course, natural stone plays into our hands. There is no better material for outdoor use. Stone comes from outside, it belongs outside, it has been outside for millions of years. Many companies are now trying to take up outdoor themes, which often seems contrived. It doesn't really fit into their corporate philosophy. It's different with us, natural stone is the perfect material for outdoors. And so we have built up an outdoor collection and will now also present it here at our Orangerie. We are currently in the process of creating a new area of 500 square metres with our landscape gardener, where we will stage the furniture and create our very own world of experience. It's a very credible story that we can tell there.
---
More on ndion
More articles on the topic of design, brands and interviews.
---
---
Share this page on social media: