1

Min Lesezeit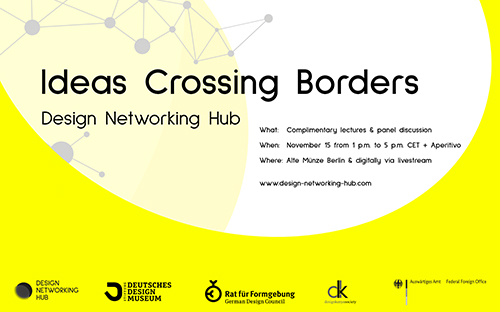 Internationally engaged designers, architects and creative professionals come together in Berlin, Germany, and online for an open discourse to inspire intercultural cooperation and mutual learning.
Entitled by »IDEAS CROSSING BORDERS«, the German Design Museum Foundation – initiator of the Design Networking Hub – will host a conference on November 15, 2022 at 1 pm CET in Berlin.
Focusing on ways of international cooperation to solve global problems, engaged designers and architects will talk about and introduce their ideas, challenges, solutions and best practices.
Among the expected guests will be Samson Malaki and Kyesubire Greigg of the Design Kenya Society. The German Design Museum Foundation will be represented by Julia Kostial and the German Design Council by Lutz Dietzold.
»Ideas Crossing Borders« will welcome architect Lars Krückeberg (GRAFT), designer Kimia Amir-Moazami (Young Designers Circle, WDO), designer Mona Mijthab (Mosan) as highly appreciated speakers.
Furthermore, the Design Networking Hub pilot group of five Kenyan and five German young designers and architects will share their experiences and talk about their product / business ideas and non-profit concepts, which they have been jointly developing for more than a year as part of the Hub.
Participants are welcome to join the discussion and contribute their own thoughts and perspectives.
The event will be held in English. Participation is possible both physically on site in Berlin and online in a hybrid format. Please register in advance here.
Participation is free of charge.
---
More on ndion
Discover more news on the topic of design.
---
Share this page on Social Media: