2

Min Lesezeit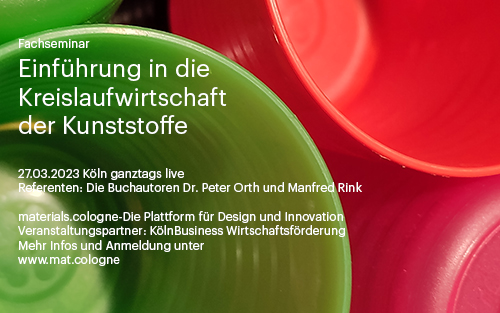 Materials.cologne-The Platform for Design and Innovation launches off the year with a real highlight: the specialist seminar "Introduction to the Circular Economy of Plastics," for which ndion is the media partner this year. On March 27, 2023, all day in the wonderful premises of event partner KölnBusiness Wirtschaftsförderungs-GmbH at Cologne's Börsenplatz. Dr. Peter Orth and Dipl. Ing. Manfred Rink, authors of the groundbreaking book "Kunststoffe im Kreislauf- Vom Recycling zur Rohstoffwende," are the renowned expert speakers. The expert seminar is moderated by Eric Falaise and Martin Beeh of Team materials.cologne.
The clock is ticking: We are all aware of how critical it is to fundamentally transform our industry from a linear, waste-producing, and thus problem-creating way of doing business to a sustainable, holistically circular way of doing business. The European Green Deal aims to make Europe the first continent to achieve climate neutrality by 2050. This can only be accomplished in collaboration with industry, politics, and society. It is up to the professionals in the companies to finally tackle the problem together in a knowledgeable and decisive manner! This expert seminar provides first-hand insights, discusses leading practice examples, and provides practical assistance in agile group work to that end. It provides information, comprehension, empowerment, and the opportunity for collaboration. The detailed and comprehensive perspective of the authors and expert speakers is unique, their expertise impressive, and their passion for the transformation of the plastics industry and all participants in the value chain infectious for all participants.
Who is the specialist seminar intended for? Managers and experts from medium-sized businesses, design offices, architectural offices, development offices, and anyone professionally involved in the design, construction, manufacturing, and circular economy of plastic products.
Register early because space is limited. Members of certain professional and industry associations, as well as members of the Materials Lounge, receive a discount. cologne-The Design and Innovation Platform.
The book on which the live seminar is based, "Kunststoffe im Kreislauf," is available in bookstores for 59.99 €.
For more information and registration please click here.
---
More on ndion
Discover more articles on the topic of circular economy and recycling.
---
Share this page on social media: