9

Min Lesezeit
The debate about the pros and cons of "all gender toilets" has long since flared up. Because we are confronted with the question of gender diversity almost every day when we go to a public toilet. How the conflict can be resolved by designing the "unisex toilet".
By Martina Metzner
Toilet culture has been formed by social rituals and conventions since time immemorial. People "did business" on marble latrines right next to each other in ancient Rome. People did their business in public until the 18th century. Urination and defecation became more private and relocated behind closed doors with the creation of the water closet. The gender-separated bathroom in public places was not adopted until the nineteenth century, beginning in the United Kingdom, when women began to work. Women, according to Victorian moral concepts, were considered to be more vulnerable.
New VDI Guideline on the Design of the Unisex Toilet
In the context of the currently debated "gender diversity," the topic of whether and how previously separate public restrooms can be redesigned so that non-binary, inter, and trans people can use them without further ado. This topic has been gaining popularity in Germany since the summer of 2022. The Association of German Engineers' revision to the VDI 6000 guideline now includes a description of the design of gender nonconforming toilets in public settings. In addition, the Federal Ministry of Labour and Social Affairs will update the Workplace Ordinance to reflect this change. Currently, communal toilets can only be constructed in companies with up to five employees. Separate sanitary facilities must be constructed otherwise.
There are advantages and disadvantages to having unisex restrooms in public places. On the positive side, gender equality and discrimination are avoided. Non-binary, inter, and trans people no longer have to choose a gender when using restrooms and are no longer subject to exclusionary reactions. Parents with children can also take advantage of the inclusive facilities easier and without conflict of interest. Furthermore, the unisex toilet saves a lot of room. According to Dirk Lange of Kadawittfeldarchitektur, compared to separate toilets, around 40% of space can be saved. They are ultimately cleaner, as evidenced by the Sägefeld School in Ulm. Another advantage is that the usual lines in front of the women's restrooms can be avoided.
Shelters for Women
However, there are growing fears that the shared toilet may deprive girls and women of safe spaces. "Under the guise of diversity and inclusion, women's rights to privacy, dignity, and safety are being violated," Hanna Dahlberg writes on the feminist website stoerenfriedas.de. Separate toilets, according to feminists, are a victory for women's rights. There are further arguments. According to the United Nations, in the global South, females are more likely to attend school if there are separate, lockable restrooms. Separate toilets are difficult to imagine not having, especially in foreign countries with different customs and religions, such as the Islamic world.
Dissemination in Public Buildings, Educational Institutions, Offices
Universal toilets, on the other hand, are already common in Scandinavian countries, as well as in Australia, New Zealand, and some US states. Toilets on aeroplanes and trains, as well as those for people with disabilities, are gender-neutral. The state of New York, for example, declared in 2016 that all existing single-person public restrooms would be converted to all-gender restrooms. In 2016, Berlin also decided to install unisex bathrooms in public buildings. In recent years, educational institutions such as universities and schools have been very active in this country with shared restrooms – after all, it is primarily the younger generation that is interested in gender issues. Offices with shared toilets are significantly more uncommon.
Nonetheless, there are some examples: Such a facility can be seen in the workplace of the US online business Mozilla, which was built by De Winder Architects. On its new campus in Frankfurt am Main, the German Football Association has installed a diverse restroom. This is justified by the fact that "everyone feels welcome here and can use a toilet without any problems." In most situations, however, there are also gender-separated bathrooms.
Variety of Variations
A unisex toilet's design may or may not differ from that of a regular toilet. It is determined by whether you are dealing with existing or new buildings, single-person or multi-person facilities, and the number of people who use them. Finally, guidelines varies based on the type of public building. According to Villeroy & Boch, the toilet as a product is gender-neutral. As a result, the product form will not change. This is a different topic in the case of the urinal, although there are also female urinals. But we'll get to that later. Most of the time, you have to work with existing structures: if the construction codes allow it, you can rename the separate toilets to make them accessible to everyone. However, there are other variants: For example, the women's restroom can be opened to the public. However, it is preferable to convert the men's restroom to an all-gender facility in order to preserve the safe space for women. In practise, however, this reinforces gender segregation. Of course, both men's and women's restrooms can be configured for universal use. To prevent against prejudice, it is not advisable to make the disabled bathroom available to the general public.
Redesign through Pictograms
Whatever decision is made, the transformation will be assisted by new signage. Designations such as "All Gender Toilet", "WC for all genders", or simply "WC" or "Toilet" have been proven and preferred by the non-binary community. Pictograms are also used. The restrooms at Frankfurt's Museum für Moderne Kunst, for example, are now adorned with stickers designating the respective sanitary facilities. Gender symbols for men and women are added elsewhere. Non-binary people, on the other hand, have a variety of options. Among them is a pictogram showing a person wearing trousers on one part and a skirt on the other. This promotes gender stereotypes and should so be evaluated.
Design Recommendations for All Gender WCs
It is simplest in new construction with multiple restrooms: The "All Gender Toilet" can be installed here as well. Certain design criteria must be followed in order to maintain the users' protection, privacy, and hygiene requirements. The focus on transparency in the toilet anteroom has proven to be effective: The facility's washbasin area should be partially or completely visible from the outside. This protects against potential attacks. It also shouldn't be too crowded here: More space is more pleasant for users since it prevents them from getting too near to one another. If you have a lot of space, you can also place washbasins in the individual toilet facility.
Above all, a choice must be made about the installation of urinals. Space efficiency is mentioned as a benefit by supporters. Nonetheless, the men's urinal is a device that is specifically made for guys. If you wish to design for both genders, put it behind a closed door if you don't want to go without it entirely. After all, the sight of usually masculine standing peeing makes women and non-binary people feel uneasy. Cubicles with WCs, on the other hand, are open to the public. Make sure that the walls and doors are flat from floor to ceiling when building WC cubicles. They provide both privacy and noise reduction. However, they are more costly in terms of providing light and air conditioning. It is also advisable to equip each toilet with its own lockable waste bins so that women do not have to carry used tampons or sanitary towels to the waste bin in the anteroom.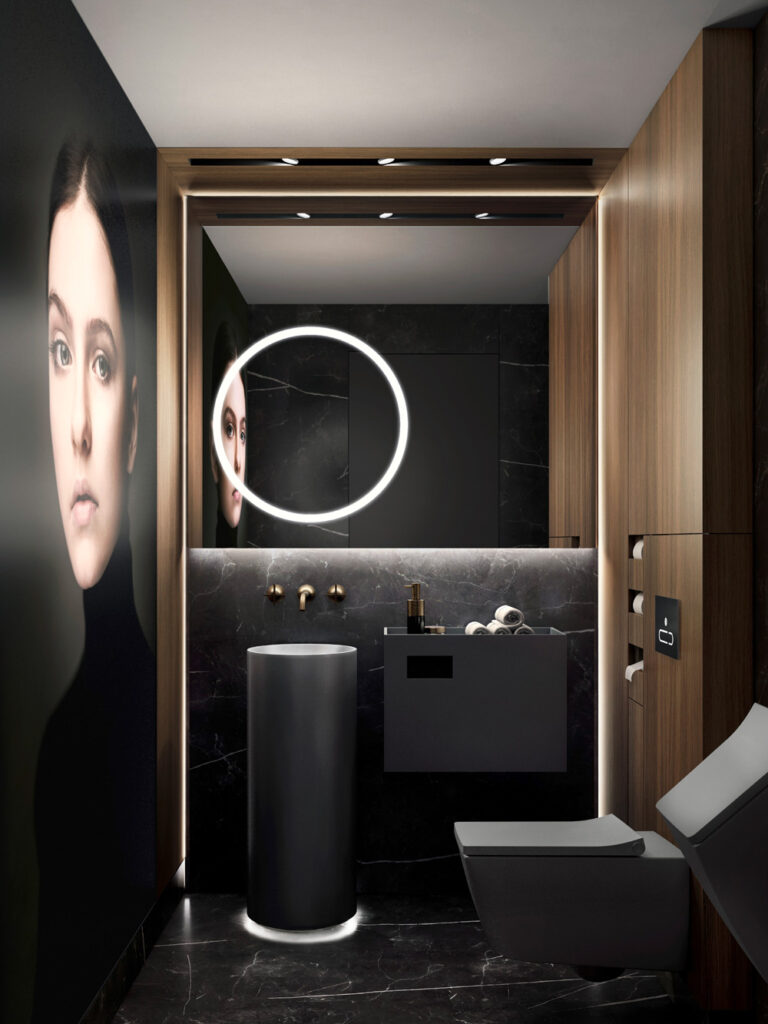 User-Centred Research in Advance
One thing is certain: there is no universal solution to the toilet issue. It is, first and foremost, a cultural task that should be planned with care along with comprehensive needs- and user-oriented research. There will undoubtedly be fans and opponents, especially in the run-up. Both sides must be heard and acknowledged; else, the outcome will be different. If the unique criteria for the design of "all gender toilets" are taken into account, general acceptance will improve greatly at the very least through use. "All genders welcome has something to do with safe intimacy. If this is guaranteed, it is then easy to pay attention to aesthetic design and good function in the bathroom equipment," summarises Roger Furrer, Global Marketing Director of the sanitary manufacturer Laufen from Switzerland.
Design Guidelines for All Gender Bathrooms – further links (extract)
www.stalled.online
www.gensler.com/blog/a-restroom-for-everyone
www.conceptcubiclesystems.co.uk/resources/things-to-consider-when-planning-a-gender-neutral-toilet.html
---
More on ndion
More articles on the topic of design and gender.
---
---
Share this page on social media: