7

min read
Sesame Street, produced by NDR, celebrates its 50th anniversary this year. To mark the occasion, a major exhibition at the Museum für Kunst und Gewerbe Hamburg is highlighting the wild ideas and design processes that led to the TV classic. We spoke to director Tulga Beyerle about her attitude to design and branding.
Interview by Gerrit Terstiege.
Ms Beyerle, how has the response to your Sesame Street exhibition been so far? I would imagine it's unusually crowded, loud and colourful in your house at the moment.
Our house is very bustling and well attended, especially at the weekends. That is a great joy. We observe that people already go in with cheerfulness, and then come out much more radiant and happy.
You certainly have a different audience than usual at the moment – one that is perhaps not primarily interested in design, right?
Presumably. The house has done exhibitions with a popular orientation in the past. That has also led to its profile being a bit more diffuse. For example, there was an Udo Lindenberg exhibition that people are still talking about to this day. Or one with works by Otto Waalkes, which was very popular. Many people say about the MK&G: "This is my favourite house." There are very positive associations on the part of the audience. With Sesame Street, we have now made an effort to look closely: How are puppets like this actually created? How is animated film made? How are broadcast formats developed? What is set design? All these aspects come up and correspond to my goal of clearly positioning the MK&G as a house of design.
Leafing through and reading your exhibition magazine, one also understands: the individual characters of Sesame Street are regular brands that can be reduced, for example, to the colours of the jumpers, to distinctive external features. In your magazine, the Cookie Monster is simply a big googly eye, a biscuit, and that blue "fuzz". So each of the really strong characters on Sesame Street is its own brand and charged with a strong personality, instantly recognisable.
Yes, and you first have to manage to design characters in such a way that they don't age. They are timelessly good.
The relationship between Ernie and Bert, for example, has never changed. Ernie will always be the cheeky, boundary-pushing character. And Bert the cautious one who gets upset and tips over backwards. But why is Sesame Street relevant in the context of design at all?
The exhibition organisers have set out to really work out this history of the German Sesame Street, including the protagonists who were involved in it, in detail. And to make an exhibition that also satisfies the nerds, the real fans. But also those who simply like to think back nostalgically to their childhood. Then, of course, it's also important to win over today's children, who have grown up with a completely different range of media, for the themes and exhibits. And grandparents will also come. It was important to us that the exhibition offers something for everyone.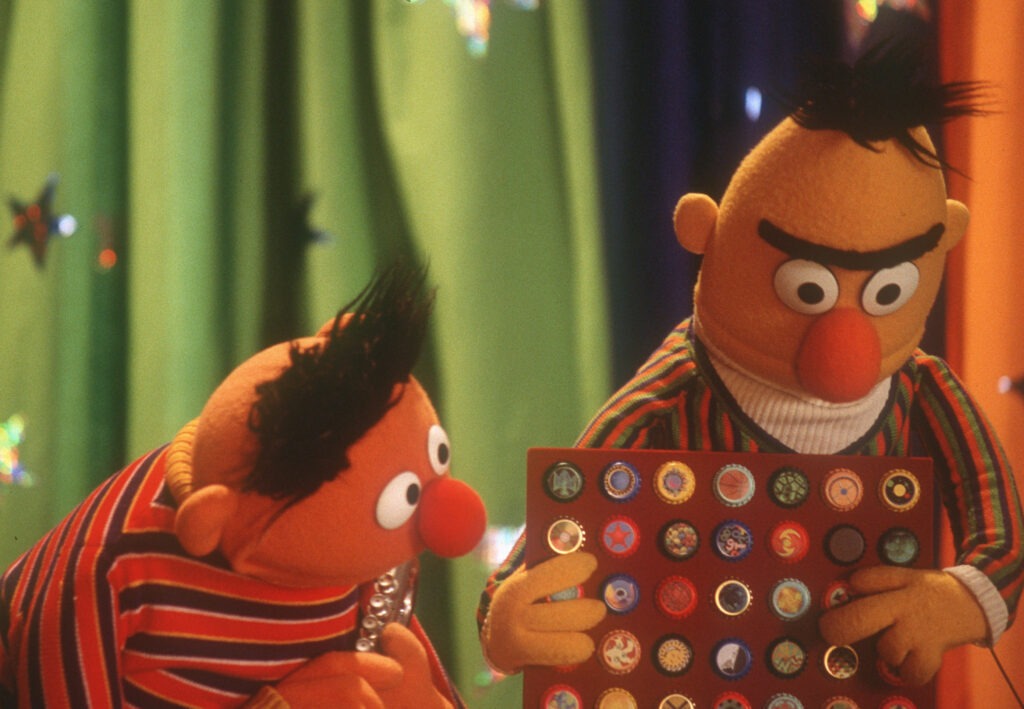 In your home country of Austria, ORF did not broadcast Sesame Street in the past, but it was available on German stations there. Do you have any personal memories of Sesame Street? A favourite character?
Yes. My personal relationship goes back to the beginnings of the show: My father spent a year in the USA on business – and we went along as a family. I was in Cincinnati, Ohio in 1970 and 1971 and got to know Sesame Street through three records that I listened to up and down. Every song I knew by heart, in English of course. But if you ask me about my absolute favourite – it's the Cookie Monster.
Wonderful, that leads me to the American roots of the series. They are taken up, but not so strongly thematised. In design, it is very important who had an idea, who created the original, isn't it?
Exactly. But many people were involved in the original concept. Not just Jim Henson. We received facsimiles of Henson's original drawings from the Sesame Street Workshop in New York. So we also look at the American origin, but we go very much into the German Sesame Street, because it's celebrating 50 years. But it is indeed still the case today that no puppet may be built in Germany that has not been approved by America…
Which is indeed part of branding. Corporate design often relies on rigour and clarity to keep a brand on track. Or everything falls apart…
The Sesame Street workshop decides on the branding. There was only this one character, "Herr von Bödefeld", who was in the German programme for a while. He was perhaps a bit idiosyncratic. There was even criticism from the Americans in the early years about the educational concept of the Germans. It was often too modern for the Americans. So this reform pedagogy of the seventies.
The pedagogical concerns from the early days of the programme still exist today in the age of smartphones and iPads, or are becoming more pronounced again. Many parents ask themselves: Should preschool children be offered such attractive media as Sesame Street at all?
I would say: yes. You can't escape the media on offer. My parents' pedagogical stance of not having a TV has become superfluous in that people rarely have a TV anymore, but they do have a number of other devices lying around somewhere in the house. With Sesame Street, you have at least one really high-quality children's programme that still tries very hard to represent diversity. And I think that's what the puppets do so wonderfully, because they still have something so anarchistic about them. The Cookie Monster is an impossible guy who just eats everything. Many characters go beyond boundaries.
Let's move on to the exhibition graphics and the Frankfurt agency you chose for the advertising campaign and the design of the catalogue magazine. Why "Pixelgarten"?
Many years ago I did a bicycle exhibition in Dresden together with Petra Schmidt. She had suggested the theme to me at the time and then also brought along the team: Pixelgarten, Marc Ulm and Max Wolff for the media. Working with this team was very pleasant. Pixelgarten is a very good graphics agency. I think the campaign for the Sesame Street exhibition is one of the strongest we have ever done. We are getting the posters out of our hands. Pixelgarten has also ensured a really good graphic realisation in the exhibition. It is important to me that we, as a design museum, also show very different ways of designing. Of course we have an agency for our CI, that's Fons Hickmann m23, and sometimes we also work with them for an exhibition. But as a rule, we outsource the exhibitions to different agencies.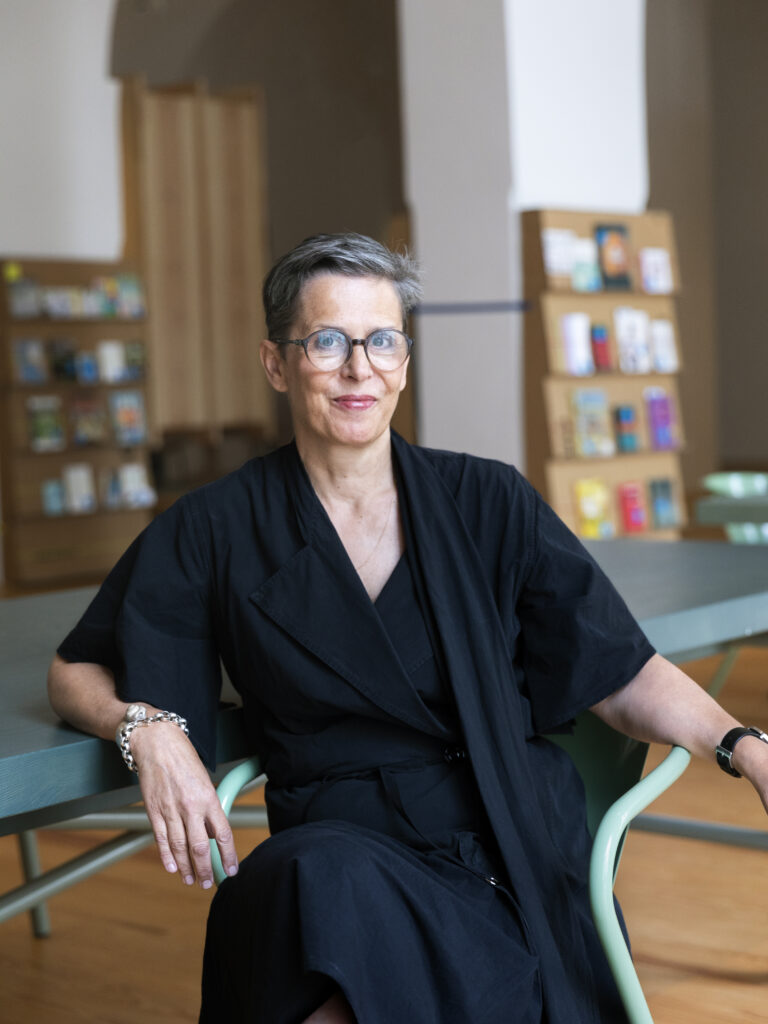 The particular agency must fit the exhibition theme.
That's it, exactly. And then it's not so much about putting the branding of the house in front for every exhibition, but rather to proceed a little more sensitively and individually and to create a very unique identity for the individual exhibition. And it also speaks for the good CI that Fons Hickmann m23 has developed, because the new logo can hold its own very well, it always has its own power, but it doesn't force anyone into a special corporate design.
A word again about the cheerful magazine produced for the exhibition. Is that a tradition at the house, to do a magazine instead of a thick catalogue?
No, not at all. But a catalogue, I think, would not have been the right medium this time. Today, you also have to think very carefully about when to make this enormous investment and when not to. So we simply went down a hybrid path. So we tried to develop something that we think people will be happy to take. That they are happy to spend this money, and in case of doubt, the children have fun with the stickers and the colouring pictures and the parents with the text contributions.
Your contract has just been extended for another five years. What are your plans for the future? When is the exhibition about the Muppets finally coming?
(laughs) I think we've had enough puppets in the house now, they whirl around and make our lives colourful. And there are so many other exciting topics that we want to work on now. I can reveal one thing: Next year, we as a museum will deal intensively with the topic of water.
The Hamburg exhibition "SESAMSTRASSE 50 Years and Counting" runs until 7 January 2024.
---
More on ndion
More articles on the topic of design, brand and further interviews.
---
---
Share this page on social media: