8

min read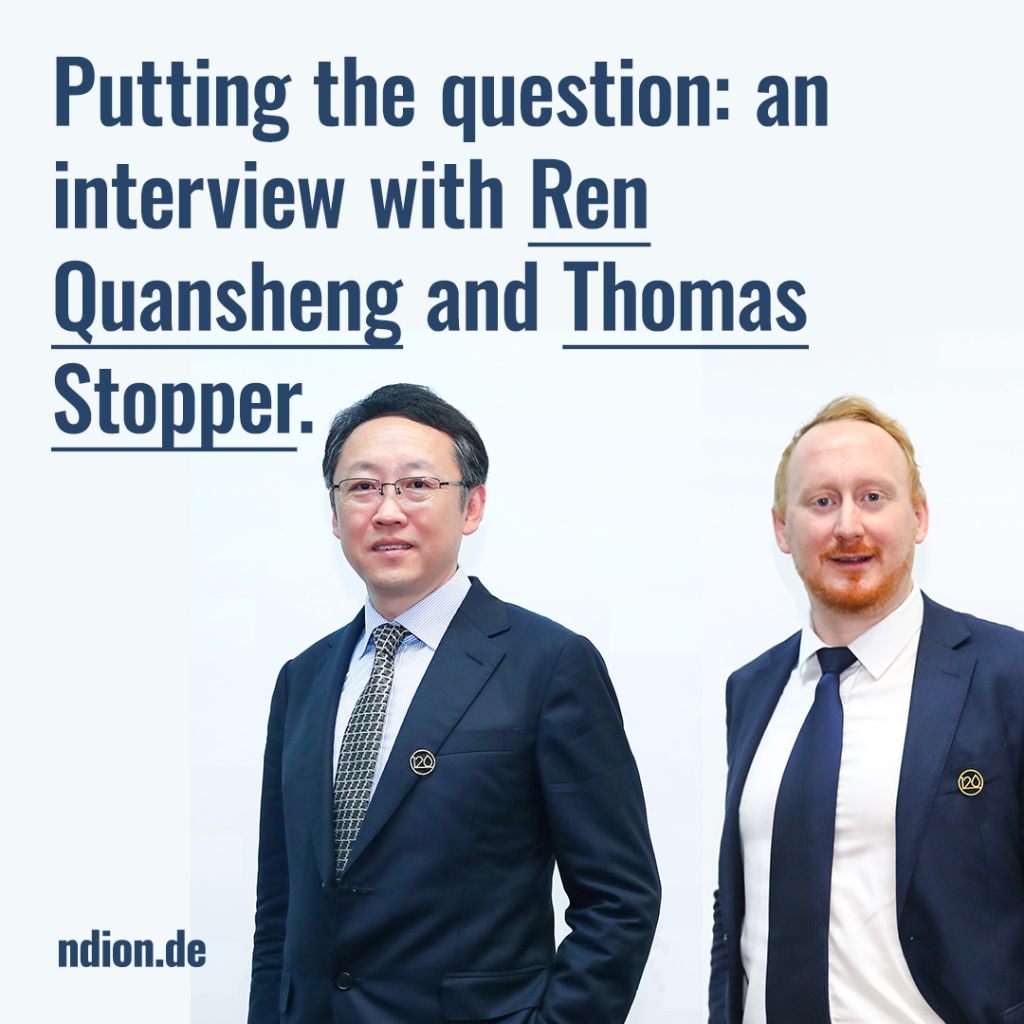 Hansgrohe is one of the German companies with an outstanding relevance in China. We spoke with Thomas Stopper, Vice President Sales Asia, and Ren Quansheng, President of Hansgrohe China, about their efforts to strengthen the company's design brand AXOR in China.
Interview: Gerrit Terstiege.
Mr. Stopper, what role does the Chinese market play for Hansgrohe and what strategies are you pursuing with AXOR in China?
Thomas Stopper: The Chinese market has been one of the key contributors to the Group's growth for the past decade. Last year, we celebrated not only the company's 120 years anniversary, but also 25 years of presence in China. We have moved far beyond bringing our brands to the market. Today, we perceive China as our "second home market".
What exactly does this term mean?
Thomas Stopper: Germany is our first home market. We know the German market like the back of our hand. We now have the ambition to make China our second home market. We want to understand the Chinese consumers as well as the German ones and this starts with market intelligence, consumer intelligence. We are building up structures locally, to further deepen our insights.
The second pillar is about value proposition: creating product concepts that excite the Chinese consumers, and provide high quality service, too. Over the past couple of years, the growing digitalisation has shaped the service expectation of Chinese customers. We operate within a fast-paced environment. We feel that the level of impatience has increased. If we want to make sure to satisfy the consumers' needs, we must consider our general supply, and our technical services. Chinese consumers are hesitant to wait for imported products that require two and a half months of shipping time. Our factory in Shanghai enables us to increase the level of service provided locally.
The third pillar is about strengthening our sales organisation to achieve a nation-wide coverage in China. Like other imported brands, Hansgrohe started to sell along the coastal areas, where the purchasing power has been traditionally strong. Now, we extend our focus to make our products available in every major city in China. Just like in our first home market Germany, where you would expect a leading company like Hansgrohe to be present with its brands in almost every wholesaler exhibition or with every installer.
That is something we need to build up here, and that is why understanding the consumer, increasing the service levels through the local operations and having a good penetration across the country will be the key tasks.
What differences between Chinese and Germans do you see in the way bathrooms are used? Different rituals or trends?
Thomas Stopper:
Let me start with the biggest difference: When do you take a shower?
In Germany or Europe, in the Western world, most people shower in the morning. In China, virtually everybody showers in the evening – after a long day, freshen up before they go to bed. And if you look at China and the bathroom environment from a broader perspective, beauty plays an important role in peoples' lives. That obviously influences the way that bathrooms are being used. More storage spaces are needed, for example.
Also, China is a market with a huge desire for experiences. Given the rising purchasing power, Chinese consumers are willing to spend money on emotional experiences. Not only the product itself is important but also the greater well-being. Purchasing decisions focus on the feeling rather than on the function. In terms of design and aesthetics, China is a melting pot of different influences. European design trends, such as the Bauhaus style, are part of the design debate, but we also perceive trends from Japan, for example. And there are Chinese design styles emerging, as well. Consumers here become more culturally confident. Everybody is looking for the new. Chinese consumers are open to follow new trends, whilst European consumers are more cautious about their choices.
Mr. Ren, Hansgrohe was founded over 120 years ago. What role does the company's long history and tradition play in the communication of AXOR in China?
Ren Quansheng: A corporate anniversary of 120 years means a very long history for China. In Germany, it may not appear as such, because there are many companies that are several hundred years old. Here, our heritage plays an important role for our perception as a reliable partner by our customers. Looking back, we can tell many stories about our history of innovation power and innovative technology that we as a company stand for. And AXOR, as a brand of the Hansgrohe Group, can build on the reputation of the company. We cooperate with international design masters, which makes Axor special, exclusive and desirable with Chinese consumers, because it means both: design and quality.
What means do you use to make the brand better known in China? It's a big country.
Ren Quansheng: Over the past years, we have extended our network of showrooms. We have equipped around 500 showrooms in China by now. They are a great way to present AXOR, not only the products as such, but the entire ambience that can be created with and around AXOR products. Our customers need to experience us. And we, in turn, receive valuable insights in their needs and requirements concerning design and architectural trends. In China, it is rather usual to commission the interior design of an apartment or a villa to a professional interior designer. This is why they become a key figure for AXOR. We reach out to interior designers and enable them to propose individual design solutions for their customers.
Thomas Stopper: In Germany, individual house builders would usually not employ an interior designer, except for the high-end market. In China, people always rely on what is called a home decoration company. Unlike in Germany, you would not commission different craftsmen such as the plumber or the electrician. In China, the home decoration company covers all of it and delivers the turnkey solution to the customer. That is why it is very important for us to provide inspiration to these businesses, as well as to train them on how to install the products according to our high standards. We pursue an end-to-end service delivery from design inspiration to professional installation and the high quality realisation of projects.
Ren Quansheng: For AXOR, the most important communication touchpoint with the home decoration businesses and their interior designers is the showroom. We perceive this as the best platform to convey our messages and knowledge. But we also have several other activities and events in different cities in China that also allow us to promote AXOR. Of course, we also use our social media channels to promote our brand messages. Short videos offer dynamic and visual communication and are very popular with the community. With these we can easily reach around ten million views within a short time.
AXOR is associated with very individual author design for example by Philippe Starck or Patricia Urquiola. And at the same time, with a very purist design. How is European design generally perceived in China?
Ren Quansheng: China is a big and diversified market. And it is currently at a turning point. If you look at people of my age, they would prefer a rather opulent, heavy kind of product design. To them, all AXOR designs seem rather purist (laughs). Minimalism on the other hand is a new trend amongst young people. The younger generation is reconsidering and redefining the notion of luxury. At the same time, they move into the city. With urbanisation speeding up in China, even high-end residential apartments are compact and bathrooms rather small. So, minimalist design is becoming more and more popular.
And what role does "Made in Germany" play in the purchase decisions of Chinese customers?
Ren Quansheng: Put simply, when the Chinese consumers see "Made in Germany", they associate it with high quality. It adds to the perceived value of a product and strongly influences the purchase decisions.
The "AXOR One" collection was developed in collaboration with the British design studio Barber Osgerby. You launched the collection in China. What makes such a minimalistic, boldly technical design relevant for China?
Ren Quansheng: There are two main factors laying the grounds for minimalist design in China: One, the younger generation becomes more affluent and they have a strong preference for minimalist design. Second, the urbanisation level is now at about 70 per cent, and continuously increasing. AXOR One combines intelligent functions, which are required in small spaces, with a very aesthetic design, which is a perfect match for this part of the Chinese market.
In the future, you plan to increasingly fulfil special design requests from customers. There's always the question of how far you go or how exactly you define the range of choices. Do the Chinese customers appreciate product individualisation to the same extend as Europeans?
Ren Quansheng: I think today, the young generations worldwide, are not that different from each other. They become more self-confident, self-expressive and they all look for their own style. This reflects in their consumption behaviour as they would look for individual product solutions. This is where the different types of our individualisation services come in: AXOR Finish Plus works with colour and surfaces, and AXOR Signature offers a variety of personalisation options.
They want something personal.
Ren Quansheng: Exactly. And AXOR is an avantgarde brand. I asked several young AXOR customers about their preferences, about what matters to them. Mostly, design was mentioned first. They choose the beautiful, the aesthetic. And then, technical strengths are important to them, too. These two elements are crucial aspects for them to make a final decision about bathroom design.
---
More about Hansgrohe und AXOR
Visit the website of the Hansgrohe Group.
Discover AXOR.
---
The ICONIC AWARDS 2022: Innovative Architecture
The ICONIC AWARDS 2022: Innovative Architecture honour the best international achievements and communication concepts in architecture, product and interior design.
Architects, interior designers, but also the real estate sector and the design and manufacturing industries are invited. Show that your projects and products make you one of the trendsetters in your sector! Architects, engineers, specialist planners, agencies and design offices, companies in the construction and real estate industry as well as manufacturers in the design and production industry can submit their projects until 3 June.
---
More on ndion
More Articles on the topic of interior design .
---
Share this page on social media: