5

Min Lesezeit
First Norway, then Belgium, now Canada: New passports should not only be more secure, their graphic design should also be original and appealing. This arouses sympathy and serves nation branding.
By Thomas Wagner
How does a nation present itself internally and externally? What shapes the image that its own citizens, but also foreigners, gain of a country? Can successful design help to create a sympathetic impression? Or is the image of a country abroad still tainted by clichés? In times of permanent global exchange and communication trimmed for attention, a nation branding related to marketing strategies from the economy seems quite appealing. The goals are obvious: to emphasise national characteristics, to generate a positive image in order to promote tourism, exports and investments by foreign companies. In short: to be seen positively and perceived as likeable. It may come as a surprise to some: Germany landed in first place in the Anholt-Ipsos Nation Brands Index (NBI) for the sixth time in a row in 2022, ahead of Japan and Canada.
The Passport as the Nation's Figurehead
One of the many ways a nation can gain sympathy in a comparatively simple way is through its passports. Not only as part of citizenship, but as an attractively designed signboard that is noticed every time a person travels abroad. Cleverly designed passports can make a country look distinctive, cosmopolitan, creative and forward-looking where others seem backward, even old-fashioned. Norway (ndion of 9 November 2020) and Belgium (ndion of 8 February 2022) have shown in recent years how to win over their own citizens, but also those with an affinity for design from other countries, with a convincing passport design. The main reason for revising the existing passports may be the introduction of the most modern security features; however, the new passports must also be convincing on a symbolic level through their concept and the quality of their graphic design.
The Passport as a Sign of Being a Proud Citizen
The Canadian government confirms that the passport design has the nation's branding in mind when it writes: "The Canadian passport is one of the most important and respected travel documents in the world. Some use it to reunite with loved ones, to explore and adventure. For others, it is the final step in their immigration journey to become Canadian citizens and join a diverse and inclusive society that values democracy, freedom and human rights."
The Passport as a Fraud-Proof Document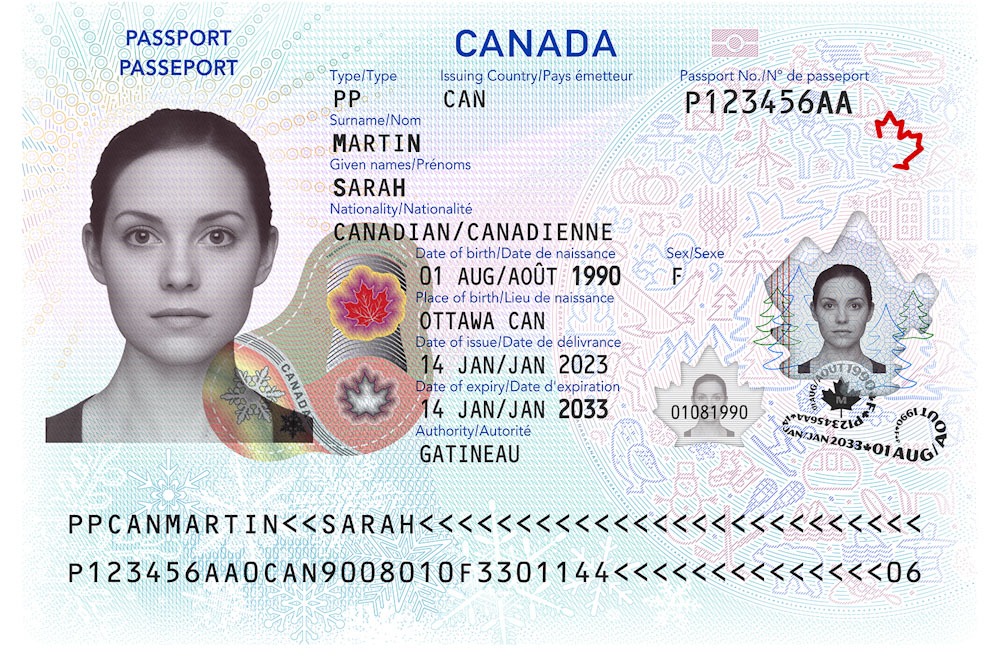 The current version of the Canadian passport was issued in 2013. In 2019, the government had signed a 14-year contract with the Canadian Bank Note Company to have the next generation of passports developed and designed. New security features designed to protect Canadians' identities include a polycarbonate data page (which is more durable and less likely to be damaged by water) that has personal information engraved by a laser instead of just printed on it. Both are intended to make manipulation and forgery more difficult. In addition, there is a kinegram above the main photo, a see-through window with a second picture of the passport holder, a variable laser image and temperature-sensitive ink (in the shape of a deer and a snowflake).
New King, Old Crest
Canada is one of the first Commonwealth countries to introduce a travel document series with reference to His Majesty King Charles III. Whereas the new passport still shows the former coat of arms of the British Queen, as it was designed before the new royal coat of arms was approved. The cover of the new passports, which are to be issued for the first time in late summer, how could it be otherwise, is decorated with various maple leaves, in outline on the front.
People, Landscapes, Animals
The visa pages celebrate Canada's natural beauty across all four seasons. They make use of the effect that the stylised, nice-looking images of people, landscapes and wildlife clearly appear only in ultraviolet light. In the spring scene, a mother bear and her cubs are depicted on a faded blue and green background. In summer there is paddling and jumping joyfully into the water next to reeds. The autumn scene, in bright red and yellow tones, shows a large corncob and children harvesting pumpkins in a field. And in winter, birds of prey cavort in front of a farmhouse. All the scenes are partially backed with small-scale patterns and take on a more vivid form as soon as they are viewed in ultraviolet light.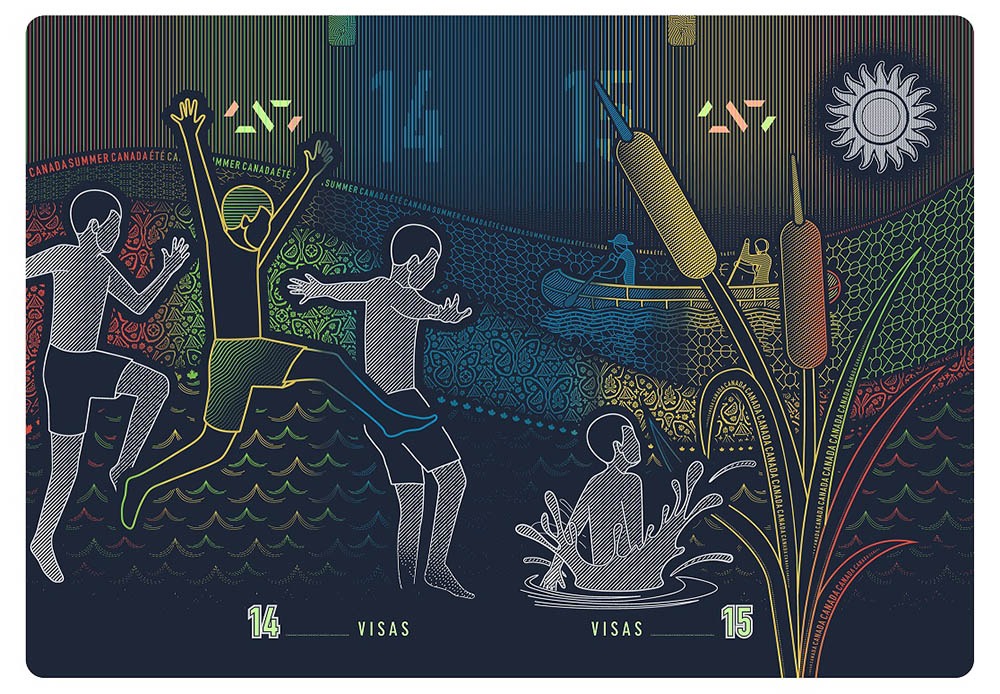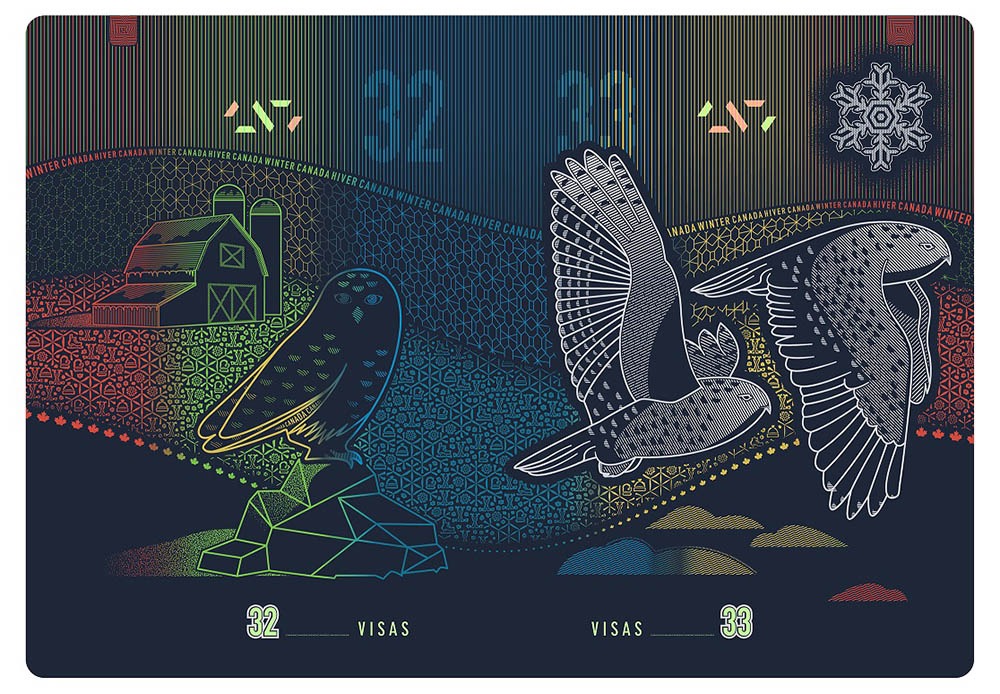 "The new Canadian passport", said Sean Fraser, Minister of Immigration, Refugees and Citizenship, "is more than just a travel document; it is a representation of our national identity and values. It's a reminder of Canada's beauty and diversity and reflects the country's commitment to welcoming people from all over the world." Ottawa also understands nation branding verbally.
---
More on ndion
More articles on the topic of design.
---
---
Share this page on social media: