7

Min Lesezeit
Geta Brătescu and Sou Fujimoto, Thomas Ruff and Rodney Graham: the sensual minimalist designs of the Swiss fashion company Akris thrive on dialogue with artists and architects.
By Andrea Eschbach
Cheerful, naive and exuberant: For his spring-summer 2018 collection, Albert Kriemler was inspired by the diverse and colourful work of American designer Alexander Girard. It was a cheerful collection that the creative director of Akris sent down the catwalk – flowing silk-crepe tunics and trousers with prints of the famous "Wooden Dolls", glowing red cocktail dresses with Girard's signature "Double Heart" motif and coats adorned with little-known pencil sketches by the designer.
Kriemler was taken with the cheerful colours, patterns and drawings of the American designer and textile artist Alexander Girard (1907-1993). He had discovered them on the occasion of a 2016 Girard exhibition while visiting the Vitra Design Museum on the Vitra Campus in Weil am Rhein. "I visited the exhibition three times, so fascinated had I been by the creative genius of Alexander Girard. He had a different way of looking at things and in his own way he changed the way we look at the world," Kriemler explained. The collaboration was realised in close cooperation with the heirs of Alexander Girard. Vitra CEO Nora Fehlbaum explains her fascination with Kriemler's designs in a video: "The way the patterns move and where they are attached to the clothes makes them come alive".
A formidable exhibition of the collections of the last decade now shows how important the engagement with art and architecture has become for Kriemler – a homage to the 100th anniversary of the St. Gallen family business. "Akris. Mode. Selbstverständlich" is the title of the show at Zurich's Museum für Gestaltung. Akris fashion also wants to be self-evident. And it has succeeded in conquering the fashion world in Paris, Milan and New York from St. Gallen in Eastern Switzerland. As the only Swiss fashion house at Paris Fashion Week, Akris stands out with a fine balancing act between spirit of the age and independence, between experiment and tradition.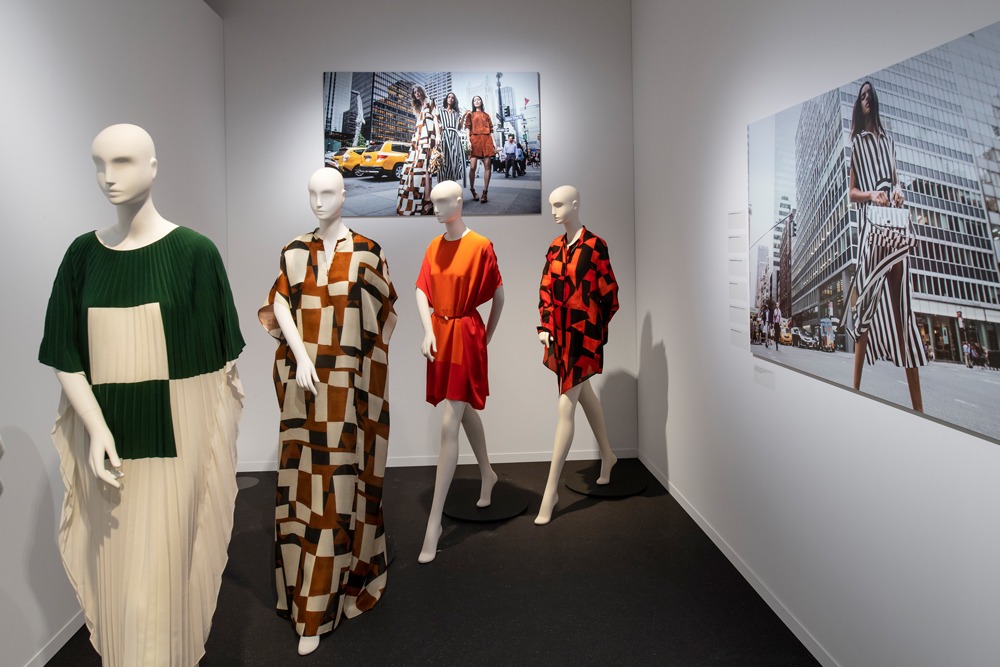 Akris – Fashion for Confident Women
It all began with an apron. Alice Kriemler-Schoch, Kriemler's grandmother, began sewing – and selling with her initials – embroidered aprons in the textile mecca of St. Gallen in 1922. The name Akris is made up of the initials of her name, joined by 5 fine needle stitches. Son Max continued to run the business together with his wife Ute, in a showcase you can see catalogues with the Akris hits – Caro blouses and pleated jupes from 1963. Finally, in 1980, Albert took over the creative leadership of the house on Felsenstraße at his father's side, and since 1987 he has run the fashion house together with his brother Peter: The youngest by two years is CEO, Albert creative director. For more than three decades, he has been shaping the company's collections with his signature: sensual minimalism, exquisite materials and clear cuts as well as frequent fabric innovations characterise the collections. In doing so, Albert Kriemler has women in mind who pursue in goal – "women with a purpose" – like his grandmother. "They should be dressed for all the activities and tasks they want to perform from morning until late at night in a way that makes them feel confident, free and comfortable," Kriemler explained in a recent interview with the NZZ am Sonntag.
For some years now, inspiration from artists and intensive involvement with art, architecture, graphics and photography have become a trademark of Akris. Probably also because at Akris it is never a marketing thing, but Kriemler is serious about the collaborations. Not only is he inspired by artists, he has also been working with them regularly since 2005. They are a kind of catalyst for him to move forward in his fashion. The show traces this in a scenography by the design studio Atelier Oï in western Switzerland. 10 collections between 2009 and 2022 can be admired, "inspirational surprises", as Kriemler calls them during the tour. The mannequins that carry the works interact with the works and models of the architects and artists – who were happy to provide them. "Every interaction with an artist triggers something different in me and leads to very different creations," he says.
Pioneer in Digital Photo Printing
A collection that set the course dates back to 2009. For the first time, Kriemler's designs link to the work of a contemporary artist. A visit a few years earlier to Little Sparta, the garden of Scottish poet and artist Ian Hamilton Finlay (1925-2006) was the inspiration for far-reaching fabric innovations. This resulted in abstract floral prints and prints on sequin fabric, with which Akris pioneered the digital photo-printing process. The wickerwork of the garden gate served him as a starting point for an evening gown made of satin ribbons in soft colours specially woven onto the cut. Designing fabrics that go far beyond what seems feasible is Kriemler's speciality. From the company's headquarters, it is not far to embroidery producers such as Forster Rohner, Jakob Schlaepfer or Bischoff Textil, who have established St. Gallen's fame as a textile centre. For example, thanks to Forster Rohner, fabrics with a completely new type of LED embroidery were created. The aim: to translate motifs from Thomas Ruff's "Stars Series" onto fabric. The small battery-operated flashing lights create a similar pull to the works of the German photo artist.
In Zurich, you can also admire how Kriemler brought the 3-D effect in Ruff's works to the surface of Mars on feather-light raingear. Kriemler has been friends with Ruff for many years, as well as with Imi Knoebel. The large-format aluminium paintings of powerful colour are reflected in Akris' spring/summer 2021 collection. But lesser-known female artists are also godfathers at Akris: at Documenta 2017 in Athens, Kriemler discovered "Linia", a five-part series of geometric collages by the Romanian artist Geta Brătescu. Not only had he noticed the unusual shade of pink, but also that the black lines Brătescu had combined with them were not drawn, but glued. The avant-garde artist's pop-like self-portrait now not only adorns the Akris headquarters, but has also been translated into a knitted poncho for the spring/summer 2019 collection – a captivating translation of the artist's wit and charm into something wearable.
In addition to art, Kriemler's curiosity is also directed towards architecture. "Collaborating with others allows me to take my collections to another level," Kriemler explains. "When I reflect on some of my most memorable collaborations, I remember working with architect Sou Fujimoto. We share a vision of creating an effortless relationship between the body and the environment with extreme simplicity." In 2013, he had seen Sou Fujimoto's Serpentine Pavilion and was impressed by the lattice-like structure of the building, which looked like a white cloud. In 2015, he travelled to Japan to visit Fujimoto's Naoshima Pavilion, made of white sprayed reinforcing grids in Kagawa, and to meet the architect in his Tokyo studio. A visit with consequences: Architect and fashion designer worked closely together for the spring/summer 2016 collection: Kriemler translated Fujimoto's characteristic red sketches and the delicate mesh structure of the pavilions into airy clothes. Thus, embroideries by Forster Rohner as graphic guipure lace reshaped the reinforcing grids, and subtly shimmering dresses were created from square Plexiglas discs enclosed between two layers of organza. The much-acclaimed défilé took place at the Grand Palais in Paris, where the models walked the runway through the Japanese designer's recreated "House N".
Akris is worn by politicians, actresses, models and influencers all over the world – Lily Colins appreciates the fashion from St. Gallen as much as Cate Blanchett, Michelle Obama, Amal Clooney and the former Swiss Federal Councillor Doris Leuthard. The public can try on the coats made of the finest double-face cashmere for themselves: A small dressing room with comfortable leather armchairs and a large mirror invites visitors to admire the luxurious creations on their own bodies.
---
---
More on ndion
More articles on the subject of exhibitions and fashion.
---
---
Share this page on social media: