7

Min Lesezeit
A new book illustrates the Loewe brand's eventful 100-year history – and thus covers a piece of German design history. In this manner, an entire century is reduced to a condensed case study from which much can be learned.
Reviewed by Gerrit Terstiege
This foundation was founded by two brothers, as has been the case throughout German business history. Siegmund Loewe, a doctor of physics, provided technical expertise, while export specialist David Ludwig Loewe used his many years of commercial experience, including in the American market. Their business was initially known as "Radiofrequenz GmbH," which sounded rather ordinary. However, in 1923, the year the business was founded, Loewe Audio GmbH (electron tubes) and Loewe Radio GmbH (loudspeakers and resistors) were founded, which produced accessories and individual parts. This was certainly brave, given that the young medium was only getting started that year. A broadcast made on October 29, 1923 is regarded as the birth of radio in Germany, which is also celebrating its 100th birthday this year.
An Author Close to the Subject
Kilian Steiner, who received his doctorate in the history of technology and business at the Technical University of Munich, wrote the commemorative publication for the anniversary. He worked as a research assistant at the Deutsches Museum after working as a corporate historian and public relations expert. He joined Loewe as PR Manager International in 2008. This means that Steiner is naturally near to the topic, so a detached view of the manufacturer's developments, of the ups and downs of the brand, is not to be expected. But a capable one: Steiner has already published several pieces on Loewe, including a book about the company's years until 1962 and an essay about the company's "Aryanisation", which was published by Metropol Verlag in Berlin.
Naturally, the focus of this publication is on multifaceted praise for the accomplishments of the business that shaped German design and continues to do so today. Even in the early years, there are independent cabinet shapes and decorative echoes of Art Deco, such as the Opta 537 model, which is also known as the "ice skate" model because its decorative strips on the front bend around the circular speaker like the tips of skates.
The Dark Years from 1933 to 1945
The company, now headquartered in Kronach, Franconia, also documents its temporary demise in National Socialist Germany with this publication: the founders, who were of Jewish origin, were forced out of the company. And, like every other German radio manufacturer, Loewe was forced to produce the VE 301 Volksempfänger (People's Receiver) shortly after Hitler's seizure of power at the behest of Goebbels – its type designation, by the way, bore the date of Hitler's seizure of power, 30 January 1933, hidden but telling in its name. With the outbreak of the war, German radio manufacturers were compelled to shift production to military radios, direction-finding transmitters, and other similar products.
However, after the war, the Loewe brothers returned to their job. During the Nazi period, their name was first changed to Loewe, and then to Opta. "The brand name Opta had already been part of the type designation of Loewe products since 1935," says Steiner. It was most likely introduced at this time to divert from the company's "Jewish" name. Thus, after a few successful years of development, the Loewe brand was already – for the time being – history." Löwe-Opta is no longer a brand name; instead, the capitalised family name is boldly followed by a dot in bold type: LOEWE. In fact, this was the idea of the famous Stuttgart graphic designer Hubertus Carl Frey, also known as "hace."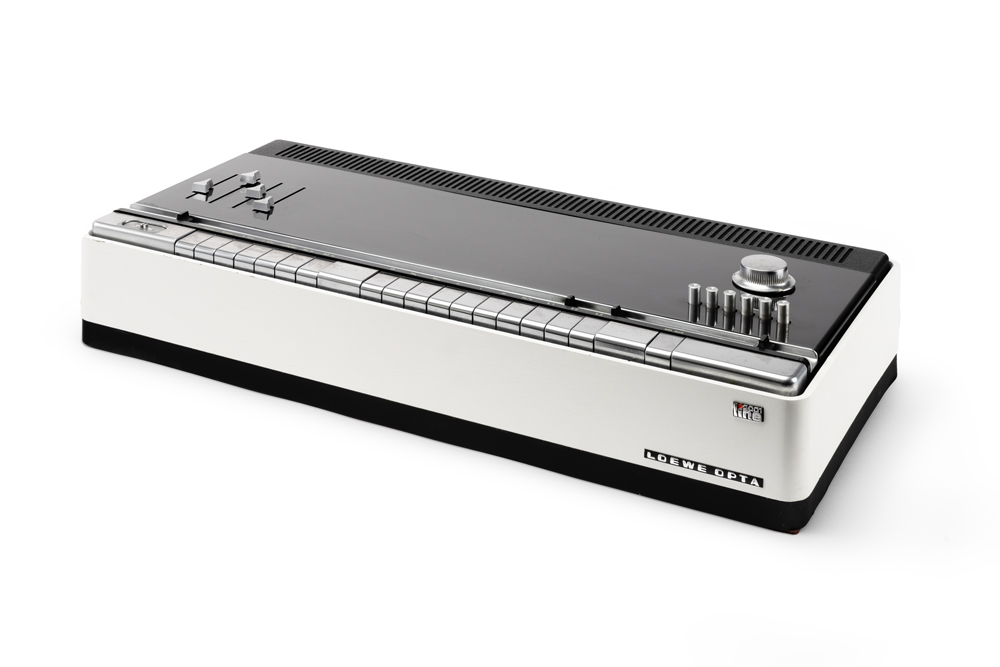 Renowned Designers Shape the Loewe Design
It will also discover some surprising facts, such as the fact that HfG Ulm graduate and ICE designer Alexander Neumeister designed for Loewe, or that renowned brand consultant and branding expert Jörg Zintzmeyer (1947 – 2009) developed the concept of "Loewe Individual": interchangeable flanks and exterior elements in a wide range of colours and materials allowed Loewe televisions to be customized to personal preferences and the respective furnishing style. A brilliant idea that anticipated today's individualisation concepts, such as in the automotive industry, interior design, or office design.
However, Tom Schönherr and Andreas Haug of the Stuttgart-based Phoenix Design studio were mainly responsible for Loewe's recent revival as a luxury and design brand. If some Loewe appliances are mentioned in the same breath as Braun and Wega designs in terms of design history, it is largely due to the Phoenix designers. Between 1988 and 2012, they received numerous design awards for Loewe and strengthened the branding with an innovative, striking, and elegant design.
They additionally developed the "Loewe Eye," with its central display function on television fronts, as a sign with a high recognition value. This is how Loewe was able to remain competitive for so long, despite the fact that its products were always considerably more expensive than the competition from the Far East. Although the author conducted an interview with Tom Schönherr for this publication, only individual quotes from Schönherr have been included in the text. Giving Haug and Schönherr more room in this book would have been both exciting and appropriate. A designer who has shown such consistent leadership for a company for nearly a quarter-century would surely have deserved his own detailed interview.
Last-Minute Rescue
Numerous examples from the last 50 years, particularly in the consumer electronics sector, demonstrate that good design is only one factor – albeit an important one – for economic success. In the summer of 2019, Loewe appeared to be insolvent. However, when investor Aslan Khabliev arrived on the scene, the tide turned. Without him, the great German brand would have died quietly and definitely, just before its 100th anniversary. So now that televisions are being manufactured in Kronach again, it is time to celebrate. Not only with this 200-page book, but also with a large exhibition on the company's history, which is presently on display in the Franconian Gallery at Kronach's Rosenberg Fortress. It will be running until October 29th 2023.
---
Kilian Steiner, made by Loewe Technology GmbH
200 pages, Hardcover, 100 photos and plans 17 x 24 cm
German / English
av edition, Stuttgart 2023
ISBN: 978-3-89986-390-1
32,00 Euro
---
Mehr auf ndion
More reviews and other articles on the topic of brands.
---
---
Share this page on social media: